Hiking matters #358: Up to the Pastuchov rocks as our final Mt. Elbrus acclimatization hike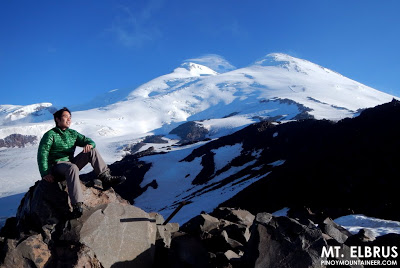 MT. ELBRUS BASECAMP (3915 MASL) – Today our team headed up the trail to Mt. Elbrus, reaching past 4500 MASL, as our final acclimatization hike. Wearing crampons, mountaineering boots, two layers of clothes, balaclavas, and ski goggles, we performed the hike which lasted a good six hours or so. We started at 0900H, in good weather.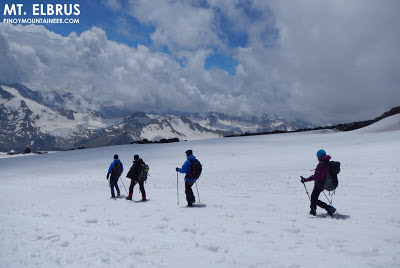 We had occasional splendid views of the two-headed Elbrus, though for the most part we had limited visibility during our hike. It was basically straightforward: just hiking up the slopes that vary in incline but fairly monotonous. The snow was mostly soft but sometimes there are sections of ice where the crampons become useful.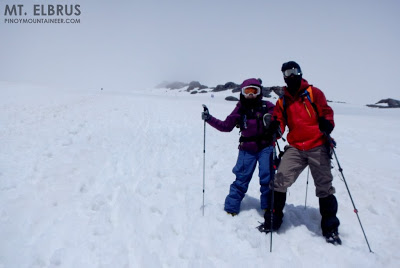 Two members of our team decided to withdraw from the summit attempt, due to the sheer physical demands of the mountain. Though sad about their decision, I understand it; this whole journey has been experience enough for all of us and I am only thankful that I still have strength for the days to come. Anyway tomorrow is a rest day and hopefully it improves our acclimatization: 5642 MASL is still a big leap from where we are.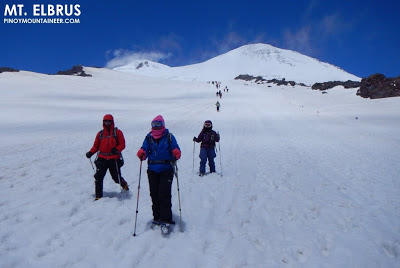 MT. ELBRUS EXPEDITION 2013
Hiking matters #354: Training climb – Ma On Shan in Hong Kong
Hiking matters #355: The start of our Mt. Elbrus climb
Hiking matters #356: First acclimatization hike – Mt. Terskol
Hiking matters #357: Mt. Elbrus basecamp and beyond
Hiking matters #358: To the Pastuchov rocks
Hiking matters #359: First summit attempt – Aborted!
Hiking matters #360: Successful and dramatic ascent of Mt. Elbrus