Hiking matters #359: First summit attempt – aborted due to bad weather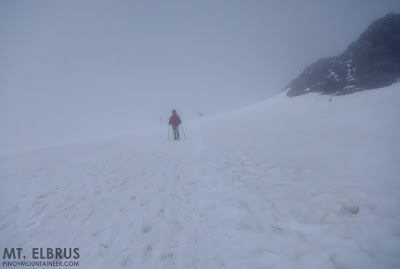 MT. ELBRUS BASECAMP (3915 MASL) – We were all set to go and reach for the summit, and I had put on all the layers but a snowstorm – fierce winds and heavy snow – was upon us and we had no choice but to turn back. I am disappointingly back in my bunk bed, instead of climbing to 5642 MASL. Meanwhile the bad weather has not abated and it continues to snow.
But I am also grateful for the experience. It is easy for a mountaineer to be overconfident, especially when successes come in succession. But setbacks teach us humility, which is a far grander virtue. Those thirty minutes upon a snowstorm reminded me that God has his own plan, and I can only be grateful that we have a second chance tomorrow.
The notion of 'second chance' is a very powerful one for imperfect beings as ourselves. Medicine, for instance, is all about giving people a second chance – to get back to their work, their family; to live meaningful, fulfilling, happy lives. In Christianity we see Christ as the second chance for humanity's redemption. I will have the whole day to contemplate about these things.
As for our team, tomorrow we have a second chance and I hope things will work out and we will still reach the summit. The chances, our guide says, are slim and we will have a window of only 9.5 hours to ascend and and go back to the Pastuchov rocks where the snowcat can take us back to the basecamp. Whatever happens, I will humbly accept whatever God has in store for us.
MT. ELBRUS EXPEDITION 2013
Hiking matters #354: Training climb – Ma On Shan in Hong Kong
Hiking matters #355: The start of our Mt. Elbrus climb
Hiking matters #356: First acclimatization hike – Mt. Terskol
Hiking matters #357: Mt. Elbrus basecamp and beyond
Hiking matters #358: To the Pastuchov rocks
Hiking matters #359: First summit attempt – Aborted!
Hiking matters #360: Successful and dramatic ascent of Mt. Elbrus