Hiking matters #360: Successful and dramatic ascent of Mt. Elbrus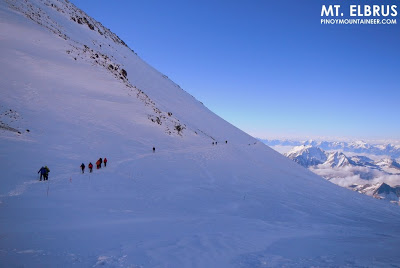 It almost never happened, and when it did, we were filled with such delight that even our stiff, reserved Russian guide was hugging us in congratulations. But reaching the summit, as they say, is just half the journey and the way down was another struggle, and thus the final relief came only much later when we were safely back in our hotel.
The odds were clearly against us. The day before, the weather was so bad that all groups – including ours – were forced to cancel any attempt to reach the summit. Like a fireworks display that never ignited, we were dressed up in the complex array of a mountaineer – crampons, ice axes, harnesses, and all – only to come face to face with the very real possibility that we may not reach the summit, not even get to try.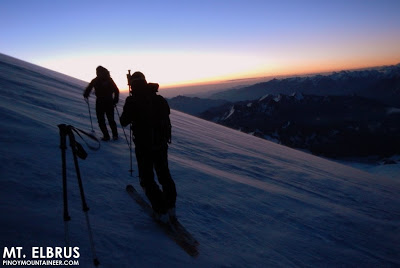 Twenty four hours – and countless rounds of pusoy dos later – at 0300H we were once again ready to go, with the same clothes, the same gear, the things inside our bags. But there was one major difference: This time, there were stars and we could see the faint outline of Elbrus against the night sky. We had a chance.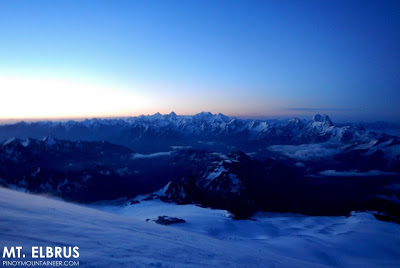 But the time was limited. The chair lifts – the only ordinary means of transport to the basecamp – operated only until 1500H, which meant that if we can start at 0430H, we only had around 10 hours to get up and down. The average time, our guide candidly admitted, to reach the summit, was 7-9 hours; and 3-4 hours to get down. As if to confirm our fears, he said: "It is unlikely that you will reach the summit."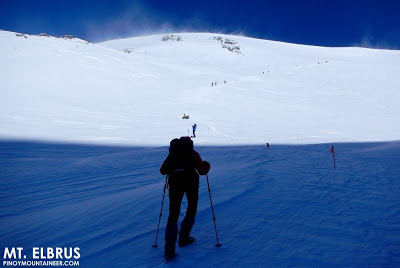 Still, we didn't lose hope. There was nothing to lose in trying. As soon as the snowcat stopped and we started trekking at 4700 MASL, I knew that the only way to convince our guide that we can make it is by making a strong performance early on. And so we started the ascent at 0430H, with the slopes immediately steep and the air very cold – around -10 degrees Celsius.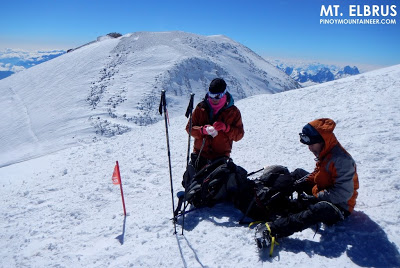 Soon we were making good progress, and at first light we were already past 5000 MASL. My mantra as we were climbing: "take it one step at a time". With the extreme cold and mittens, I had limited mobility and my ski goggles were sometimes blurring out. Great was my relief when we finally reached the Saddle (5300 MASL) at 0810H – and the sun was finally upon us, bringing warmth. Amazingly, the guide offered a 10-minute rest, which meant that he had some confidence that we actually had time to summit!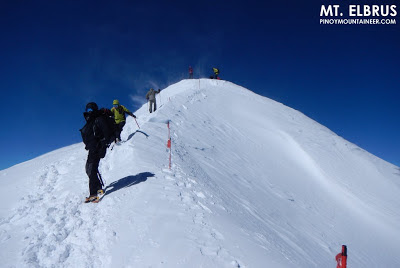 From the Saddle, however, the trails became steeper and we really had to rely on our crampons to keep us from falling down the slopes. The air was also palpably thinner, though fortunately I didn't feel headache or any symptom of altitude sickness. We pressed on, even as the trail seemed endless at times. To add to the suspense, there was a roped segment that made us of our harnesses.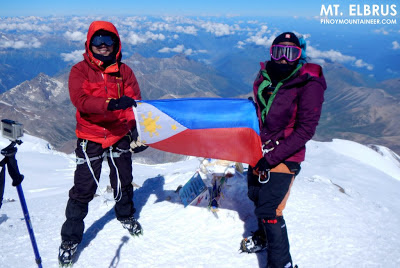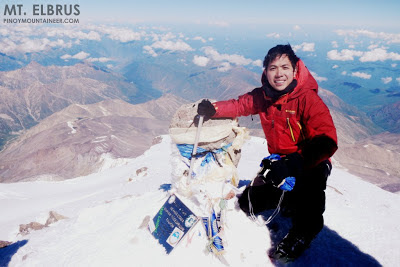 Finally, after much struggle – at 1010H the summit was visible to us and at 1025H Moscow time (1425H Philippine time) we reached the summit of Mt. Elbrus – the highest peak in Europe! With me were Dr. Koko Roura, Coby Sarreal, and Carina Dayondon, who was on her third Seven Summits peak. Still mindful of the time pressure and wanting to hang out with strong winds at the top (~35 kph), we started the descent after just a few minutes at the summit.
Only when we were going down did we realize how much energy we expended on our way up, and we felt the fatigue creeping in as we tried to beat the 1400H deadline set by our guide. Still, buoyed by the triumph of reaching the summit, we pressed on. We learned that the rest of the team performed well, reaching at least 5300 MASL before turning back. Had there not been any time limit, I'm confident that most, if not all of us, would have summitted.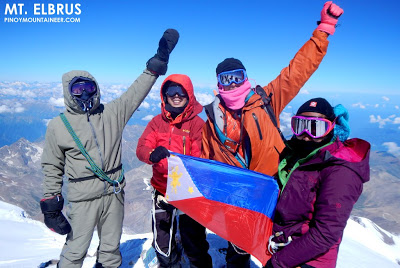 Everything happened so quickly as soon as started heading down to basecamp. We quickly boarded the chairlifts, transported our bags to the two lower cable cars, and took the short ride to Terskol. It was a very long and tiring day, but one filled with action, excitement, and of course – gratitude, for a successful ascent. This experience will surely inspire me to pursue the challenges to come! Thank you, God, for giving us safety and success, and thank you to my team for your positive energy and determination!


MT. ELBRUS EXPEDITION 2013
Hiking matters #354: Training climb – Ma On Shan in Hong Kong
Hiking matters #355: The start of our Mt. Elbrus climb
Hiking matters #356: First acclimatization hike – Mt. Terskol
Hiking matters #357: Mt. Elbrus basecamp and beyond
Hiking matters #358: To the Pastuchov rocks
Hiking matters #359: First summit attempt – Aborted!
Hiking matters #360: Successful and dramatic ascent of Mt. Elbrus