Hiking matters #162: Hiking up the summit of Mt. Masaraga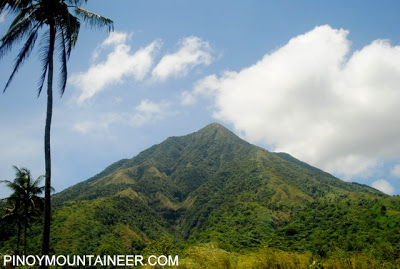 For the seventh and final climb of the 'Bicol Express' – a week-long hiking trip in the Bicol peninsula I did from April 7-14, 2011 with Iron Lady Jo Steven – we climbed Mt. Masaraga in Ligao City, Albay. This is one of the three peaks of Albay, together with Mayon and Malinao. They comprise the 'Magayon Trio'. We were very fortunate because when we arrived at the jumpoff in Sitio Sabluyon, Brgy. Amtic, we were told that on February 14, 2011, a year-long effort to make a trail all the way to the summit finally came to an end – marking what may be termed the 'first ascent' of the mountain. We would only be the second hiking group to reach the summit!
We started hiking at 1240H – the boat ride from Rapu-Rapu island took a good 2.5 hours, and we had to travel from Legazpi to Tabaco, and from Tabaco, we took a jeepney to Ligao City, and dropped off at the trailhead. The Umayao brothers, Tupe and Toy, guided us – we were referred by Glen of CAMP ONE. They were already waiting for us when we arrived.
The trails were quite steep towards the end of the trail, and covered with cogon – making for some '4 wheel drive' trekking to reach the peak. We were lucky that the weather was nice, however, and behind us, there was always Mt. Mayon to give us encouragement. The trails, although steep (and laden with lipa, and water source-less) was straightforward, it is just one continuous ascent, and after 2 hours 20 minutes we had reached the summit.
Amazingly, at the summit, you can see the mountains of Camarines Sur: Mt. Asog, and Mt. Isarog, and beneath them, the famed Lake Buhi. You can also see Mt. Malinao and of course Mt. Mayon – the other mountains of the Albay Trio – and also, the island province of Catanduanes, and the smaller islands of Batan and Rapu-Rapu (where we came from, earlier in the morning). Finally, you can see the city of Tabaco situated right in the middle of the three Albay mountains. Since during the first ascent, our guides had bad weather, our climb was also their first time to see the view from the summit, and they said that if only they knew it were that beautiful, they would have done the exploration long ago!