Hiking matters #405: Beautiful Mt. Beaufort in Puerto Princesa, Palawan
PUERTO PRINCESA – I have often lamented that I couldn't find time to go hiking in Palawan, where the mountains largely remain unexplored and undocumented, by mountaineers and scientists alike. It has been six years since my unforgettable climb in Mt. Mantalingajan – a little-known peak back then and now a mecca for serious hikers; this was the last hike I did before I began the Hiking matters blog series which continues to this day. Three years later, Iron Lady Jo Steven and I did Mt. Thumbpeak, which was also a very nice hike.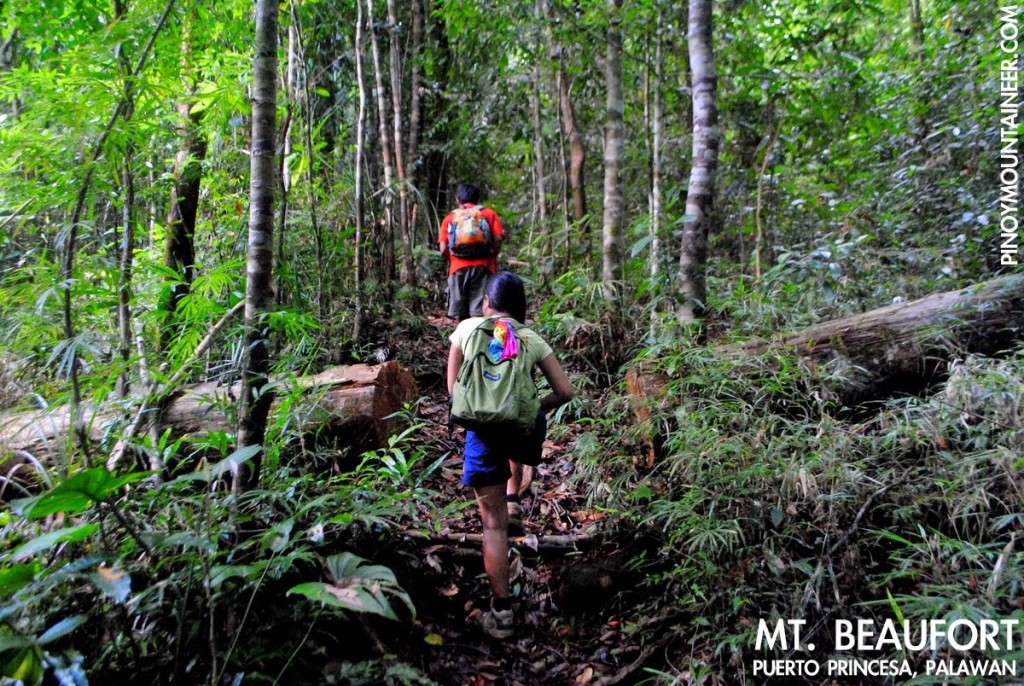 Fortunately I have a new opportunity to explore the mountains of Palawan, and to begin with, I did a very nice dayhike of Mt. Beaufort, accompanied and guided by my newfound friends from Puerto Princesa: Jessa, Ronald, and Edgar – environmentalists all from Puerto Princesa. At 1148 MASL, this mountain is north of Thumbpeak, flanking it on the right if you are from Puerto Princesa's Baywalk.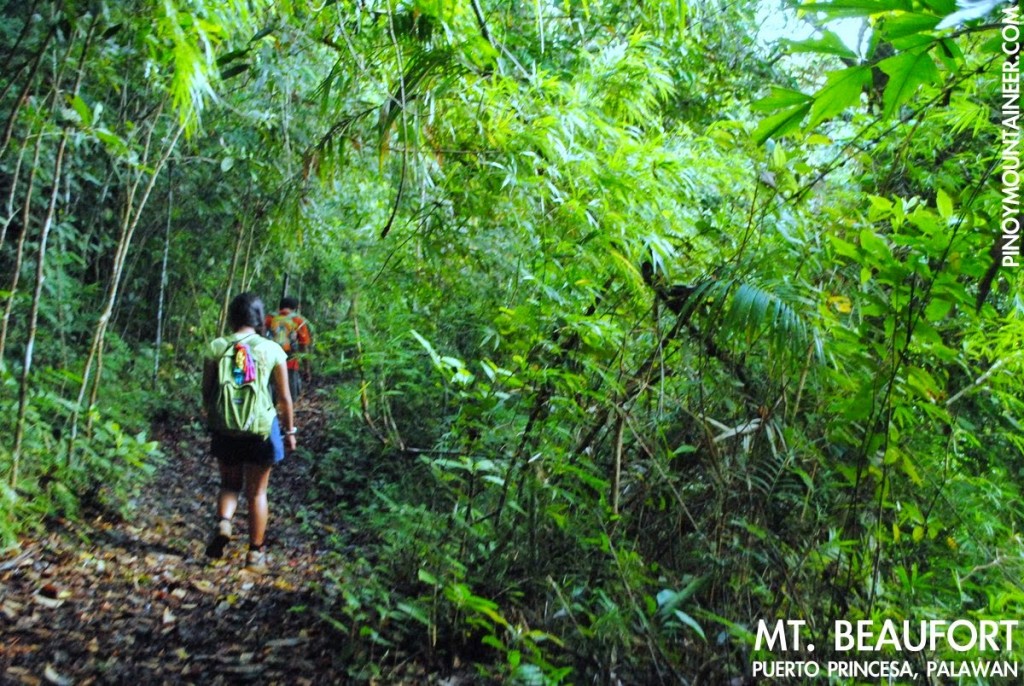 We met up at the entrance of Irawan Eco-Park – reachable within 20-30 minutes from Puerto Princesa city proper; and took motorbikes for several kilometres more of roads, rough roads and trails. The motorbike ride through mountain trails – and several streams – is an experience in itself, requiring driver and passenger alike to duck when low hanging branches are upon us – reminding me of a scene in Return of the Jedi.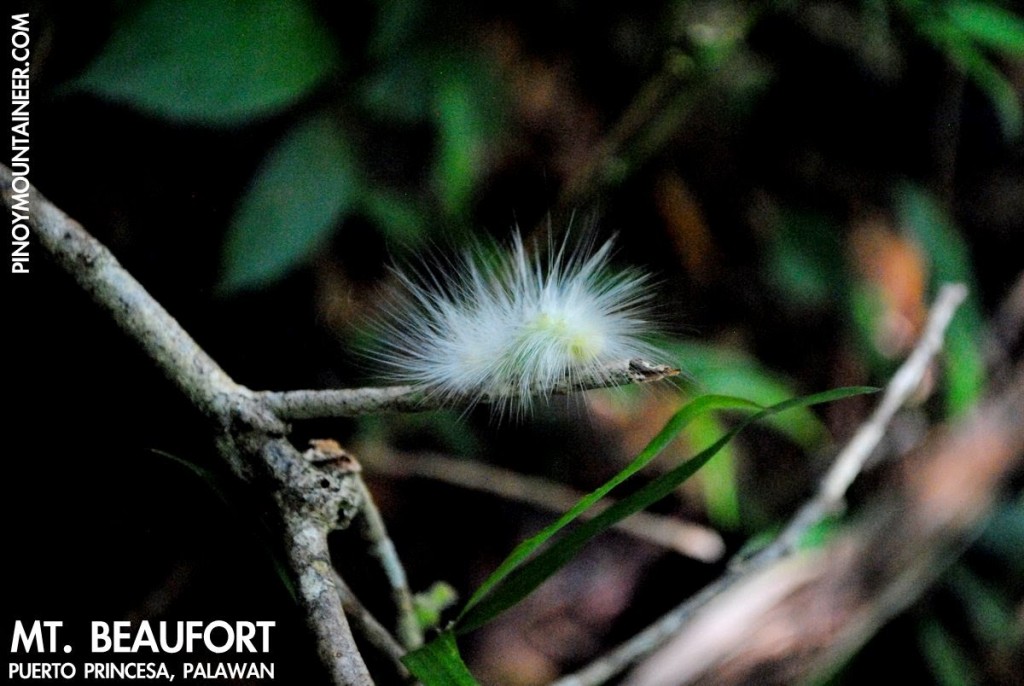 Completely covered by forest from the trailhead to the summit, Mt.Beaufort is teeming with flora and fauna; to begin with we saw a freshwater crab crossing the trail; this was followed by sightings of birds, snakes, and of course, so. Edgar became our resource person for the identities of the. The wildlife slowed down our pace; if you go too fast you'll miss the fauna lurking in the trees and on the ground – but it kept us going.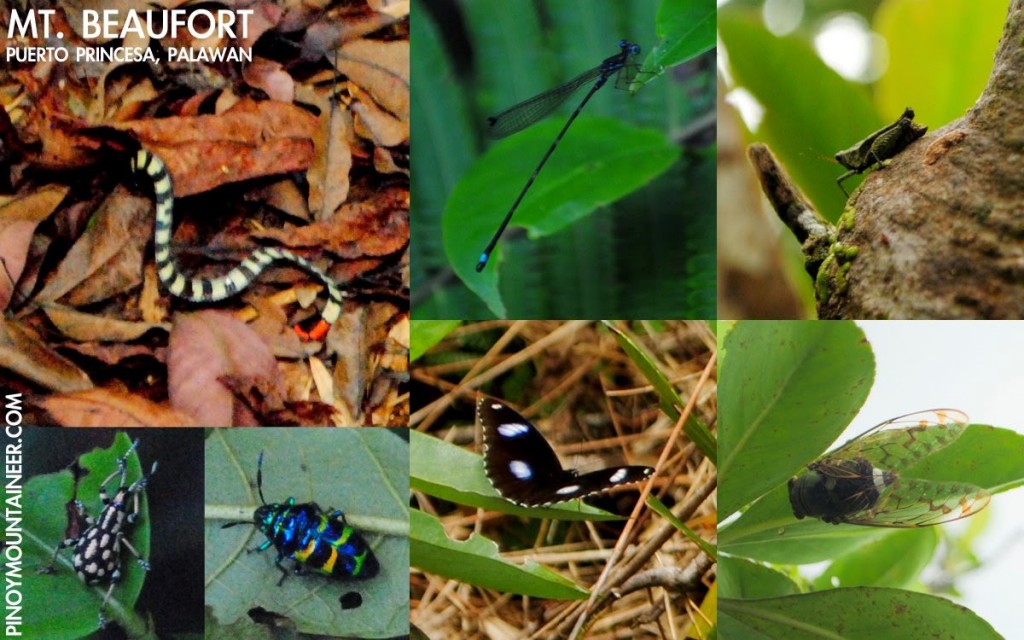 The trails are gentle at first, and it gets a bit steep past the junction where the trail diverges – the original trail goes on the northwest, down a Batak village by the West Philippines sea; while the trail on the left leads to the summit. As we ascended it, I was reminded of Mt. Thumbpeak and its verdant peak. Unusual plants and tree frogs greeted us as we breached past 1000 meters.
We reached the summit at 1130H, after four hours of trekking. There we were rewarded with views of Honda Bay and Puerto Princesa Bay, as well as the other mountains of Puerto Princesa. There was Mt. Thumbpeak (WNW), Mt. Pinamunuan, Mt. Tapyas (not to be confused with its Coron counterpart) flanked by Mt. Bahile (N), and further, the mountains of Sabang (NE),  including the mystical Mt. St. Paul as well a distant Cleopatra's Needle.
We had lunch at the summit, sitting under the shadow of the repeater station that sits atop the mountain. We were ready to descend by 1300H, and were back at the motorcycles by 1540H. Another exciting ride brought us back to Irawan, and by 1700H we were back in the city. Thank you Jessa, Ronald, and Edgar for this wonderful hike…Looking forward to more!