Hiking matters #408: Mt. Mantalingajan Traverse Day 1 – From Brgy. Ransang to Cabugan campsite
PUERTO PRINCESA – Six years after I first climbed Mt. Mantalingajan, the highest mountain in Palawan, I came back, this time to do the much-celebrated traverse from its original entry point in Rizal town to Brooke's Point, virtually a crossing of Southern Palawan's horizontal axis. I was joined by my hiking buddy Coby Sarreal, who flew from Manila to join me here in Palawan, which for me is becoming more and more of a hiker's paradise.
The municipality of Rizal, Palawan is 5 hours away by van from Puerto Princesa's San Jose terminal (P300). En route, and with the kind permission of the Charing van driver, we stopped by the DENR-CENRO office in Quezon town, where we paid P100/person registration fee and met the affable Ma'am Claris Pador, the PASU for the Mount Mantalingajan Protected Lanscape.
The long travel time and the lack of night trips necessitate a Day 0 where you can stay either in Rizal proper, or if there's still time, you can do the 45-minute trek to Balin-Balin village to have a headstart. We opted for the former, staying at the Mountaineers' Lodge in Rizal (P500 per room), which boasts of a nice view of the Mantalingajan Range. Prior to having dinner in one of the carinderias by the public market, we registered at the tourism office and the police station.
The next day, we were brought by motorcycles to Brgy. Ransang, where we did a fourth registration, this time with the barangay officials, who also collected a P100 registration fee. Then we were met by Binoy and Abner, local guides. Binoy is particularly famous among mountaineers as the guide that has joined most of the hikes, particularly the traverses, in the past four years.
Like the initial trail of Apo via Kidapawan, or Kanlaon via Wasay, the initial trek is quite typical of big Philippine mountains – grassland to woodland, some ups and downs, on mostly narrow trails – but there are special attractions in Mantalingajan, such as the indigenous villages that one has to pass through. Balin-Balin is a very nice village that hikers can reach within an hour, and past it, some smaller clusters of huts, or even isolated huts. In 2008, I remember visiting the house of a Tau't Bato man who had two wives – he showed me his blowpipe with its poisoned darts, and gave me a wood carving of a beetle as a souvenir.
The flora and fauna was impressive at the onset: blue-headed racket-tails chirped and hovered around us as we began the trek, and there were blue-green mushrooms, not to mention the tall, stunning forest trees. One of them had fallen and served as a bridge that one had to cross along the trail – very reminiscent of the traverse from Talomo to Apo.
The altitudes ranged from 600-800 MASL – we were only in the lower slopes of the mountain range, and seemingly very far from the 2037 MASL altitude of Mantalingajan's summit. We had to cross several streams – water sources aplenty – though in some streams drinking water is a Tau't Bato taboo. Midway through the morning trek, it started to rain. Later, it would seem to us that the rain was a fifth companion, following us all the way to the summit, and though wet shoes are one of the great nuisances for a hiker, it was not entirely unwelcome, since it made us walk faster, unaffected by heat or humidity.
We had lunch in Magtangob, a forested hill that doubles, taking shelter from the rain in the house of a certain 'Bulldog'. Thinking that we will end up camping in Baluin, and not wanting to cook in the rain after the hike, we decided to do some pre-emptive rice cooking while having lunch, and resumed the trek at 1300H, after two full hours of rest.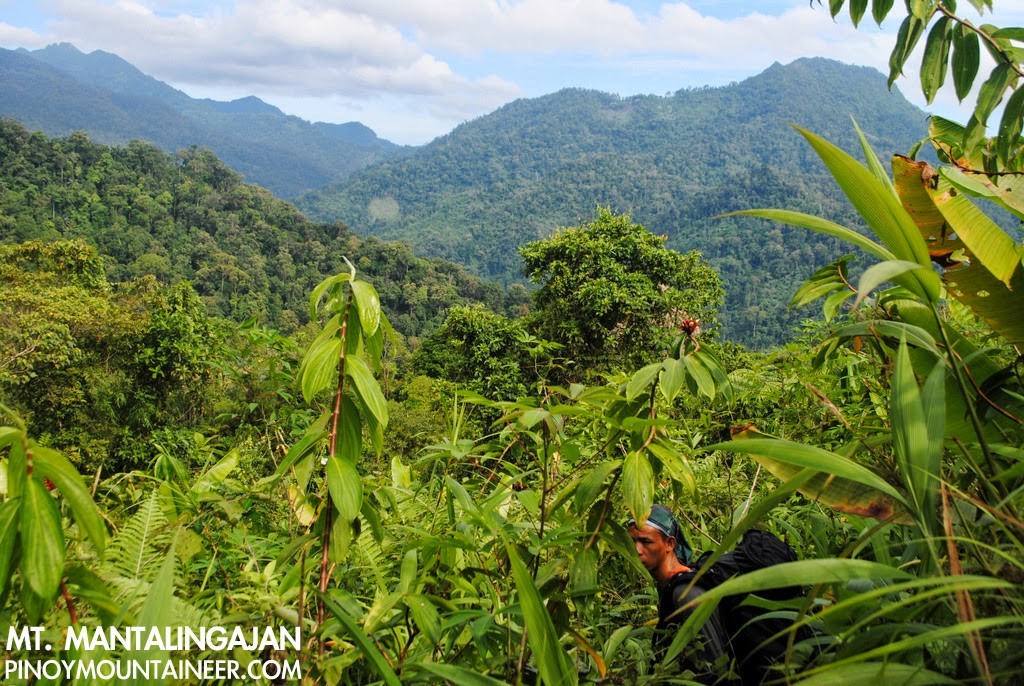 From Magtangob, we continued to experiences the trails characteristic of Mantalingajan: Almost narrow, oftentimes loose, and sometimes precarious. The trails are a bit more established now but little has changed since I did the hike in 2008. For a while, the rain stopped, momentarily opening up a view of some of the peaks in the Mantalingajan Range. Distant as these peaks were, I didn't know that we were actually to pass through some of them on the traverse to Brooke's Point!
The day ended at Kabugan campsite, which we reached by 1600H. According to Binoy, this campsite was abandoned by villagers who were once overwhelmed by the sight of too many mountaineers: a sad reminder of the impact hikers can have not just on the environment, but on indigenous peoples. We based ourselves in one of the huts, ate hearty servings of beef tapa, and had a long and restful sleep for the days ahead. Continued in Hiking matters #409.
MT. MANTALINGAJAN TRAVERSE
Hiking matters #408: Day 1 – Brgy. Ransang to Cabugan campsite
Hiking matters #409: Day 2 – Cabugan to Paray-Paray campsite
Hiking matters #410: Day 3 – Mt. Mantalingajan summit assault
Hiking matters #411: Day 4 – Traverse to Brooke's Point