Updated: The First DENR Forum for Mountaineers on April 25, 2015!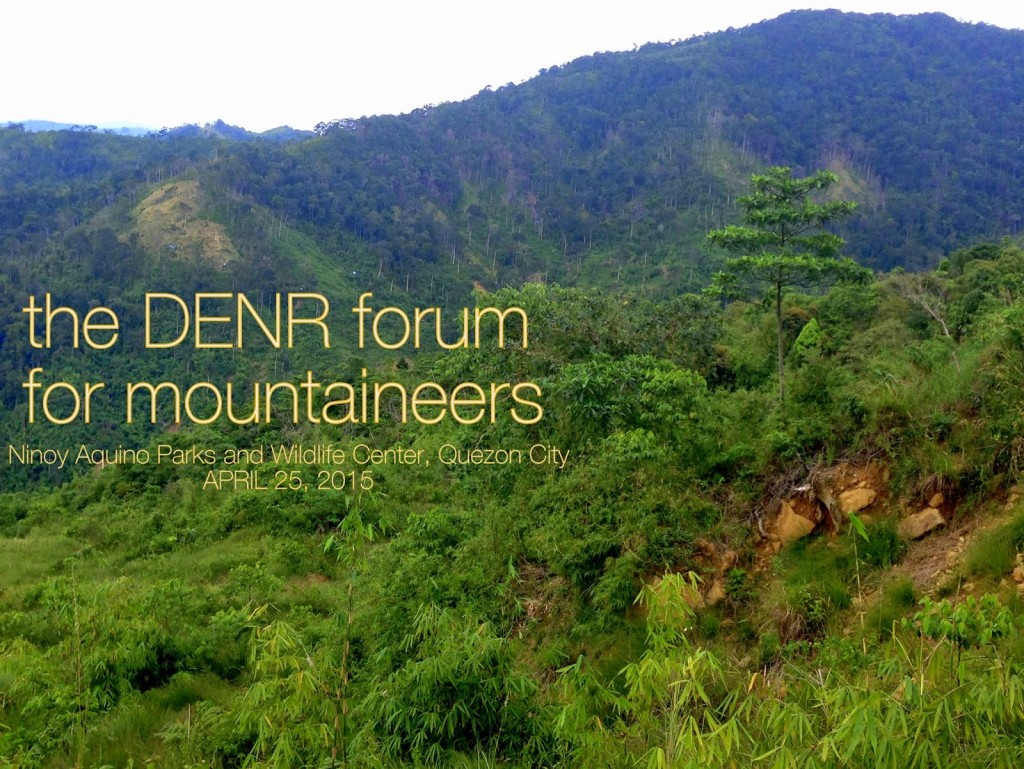 As mountain climbing gains popularity in the Philippines as a recreational activity, there are many issues that we would like to raise involving the mountains (i.e. illegal logging), local officials (i.e. registration fees) and hikers themselves (i.e. littering in the campsites and trails). There have been growing calls for the DENR to limit the number of participants in mountains like Pulag, as well as to come up with a way to regulate hikers. However, the DENR, too, is just one party among others, which include local government officials, mountain communities, among others.
Rather than simply discussing these issues among ourselves in mountain 'socials' or on Facebook, it would be more productive to bring them out in a forum where different stakeholders will have a chance to air their side, and listen to what mountaineers have to say. This is an important first step in building, firstly, communications channels among all the stakeholders, and secondly, in coming up with solutions that are agreeable to all.
With these in mind, and in the tradition of last year's National Mountain Clean-up Day, I am pleased to announce that the First DENR Forum for Mountaineers  will be held on April 25, 2015. This whole-day activity, to be held at the Training Building of the Ninoy Aquino Parks and Wildlife Center – Biodiversity Management Bureau in Quezon City,  is our chance to talk to DENR officials about our environmental and other concerns.
The objectives of this First Forum for Mountaineers are the following:
a. To collect information and suggestions from Mountaineers about environmental issues concerning the mountains.
b. To recommend guidelines and common line of actions in the field of Mountaineering.
c. To build a network of mountaineers who are willing to partner with the DENR in creating solutions.
d. To carry out any other activities in protecting and preserving the Mountains.
Topic clusters include (1) Mountain Cleanliness; (2) Visitor Management (3)  Cultural Aspects of Mountaineering; (4) Intersectoral Issues; (5) Mountain Tourism (6) Guides and Guideship Issues
Some tourism officers and PASUs are also expected to join the activity.
Heads and officers of mountaineering clubs, as well as other concerned mountaineers, are invited to join the forum. Kindly email Carlo Cunanan (cp.cunanan@yahoo.com) to sign up! Please give him the following information: Name, Affiliation, Position, and Contact Information. For the participants our priority is involving as many clubs as possible so we can hear their perspectives.