Hiking matters #466: Pico de Loro Traverse Part 2 – Up to the Monolith and traversing down to Nasugbu, Batangas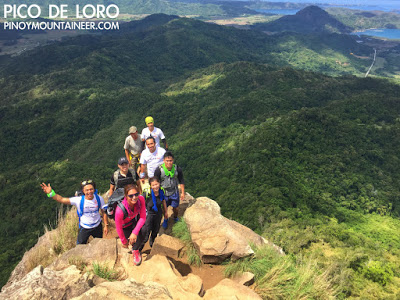 Continued from Hiking matters #465
: From the summit of Pico de Loro we headed up the Monolith, doubtless one of the most famous rock formations among the Philippine mountains.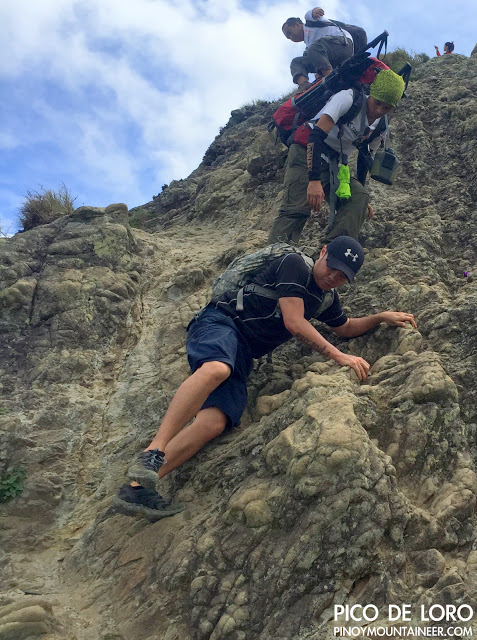 Going atop the Monolith is largely optional – indeed on weekends there is a sizeable queue – but we decided to push through for a full Pico de Loro experience. As a standard precaution we had brought extra ropes in case it would be needed.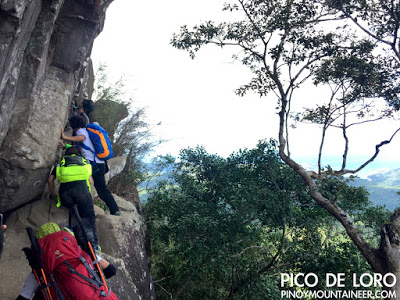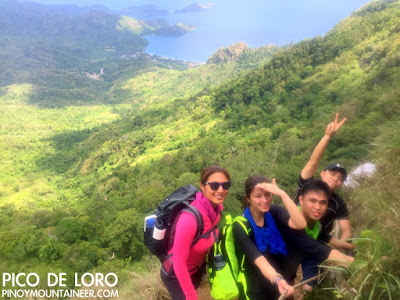 The Monolith looks quite insurmountable from the vantage point of the summit but it is actually more feasible from the other side. Still, it is not to be underestimated — though no fatal accident has been recorded, there was report of someone who had a spinal injury because of a fall in this section. Fortunately, everyone managed quite well and soon we were atop the Monolith.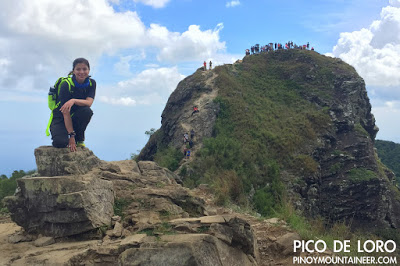 With dark clouds approaching, we went on with the traverse. It was initially very steep and rocky, but the traverse is actually a wonderful, quieter part of the mountain, with bamboo groves and woodlands. Unfortunately there was a lot of trash in the trail and we couldn't pick up all of them. Still, the trail has a lot of promise specially for those who want to see more of the mountain.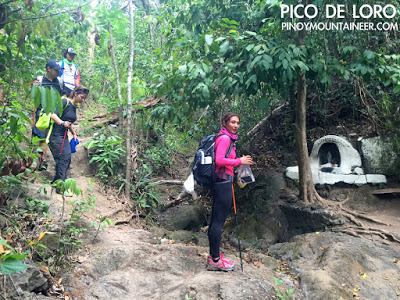 Doubtless, Pico de Loro is one of the most beautiful dayhikes near Manila. The mountain itself, part of the Mts. Palay-Palay/Mataas na Gulod National Park, is a wildlife sanctuary, with new species discovered just recently. To be sure, I have also seen changes, and certainly there are many environmental issues that need to be threshed. The newly-formed PM Environmental Committee will be coordinating with groups active in protecting the mountain to see how we can help.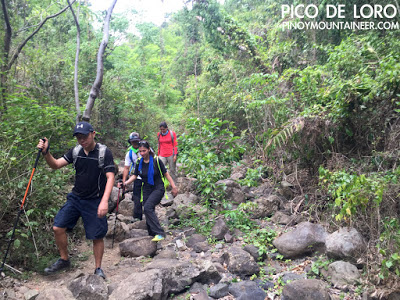 By 1400H, we had reached the firing range in Sitio Fronda, Brgy. Papaya in Nasugbu. What a great day! Congrats, Angel, Angelo, Bubbles, and Chito for not only summitting Pico de Loro, but also gamely accepting the extra challenge of climbing the Monolith and doing the traverse. And of course, thank you to our Trail Adventours guides Bani, Brenton, Cathy, and Coby! It's a great honour to meet all of you. As they say, hiking is not just climbing new peaks, but meeting new friends.