Mt. Lubog (955+) in Rodriguez, Rizal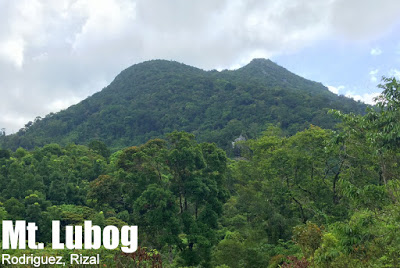 MT. LUBOG
Rodriguez, Rizal
Trailhead: Sitio Lubog, Brgy. Puray, Rodriguez
LLA: 14°50′10.4′′ N, 121°14′12.9′′, 955 MASL (+337)
Specs: Minor, Difficulty 4/9, Trail class 1-4 with rock scrambling
Feautures: Limestone formations, scenic views of the Sierra Madre
Article history: Created June 29, 2015
Author: Gideon Lasco
CALL TO ACTION
Mt. Lubog is part of an area that is severely threatened by illegal logging, even as it is precariously close to Ipo Watershed, which supplies the water of Metro Manila. PinoyMountaineer is imploring hikers to help fight illegal logging by spreading awareness and doing what we can do in our respective fields and positions to help address this threat.


BACKGROUND
The Sierra Madre mountains of Rizal are revealing a beautiful pattern: Forested hikes that culminate in limestone-decked summits that offer spectacular views of the surrounding blue mountains and verdant forests. Mt. Daraitan, Mts. Pamitinan and Binacayan, and Mt. Irid are part of this cluster of peaks. Another thing they have in common is that they are relatively "new" destinations, owing to previous lack of documentation, difficulty in access, and security issues.
A welcome new addition to this cluster is Mt. Lubog in the town of Rodriguez (formerly Montalban). Near the border with Bulacan, Mt. Lubog in the neighborhood of Mt. Balagbag and Mt. Oriod (a traverse, says Koi Grey, is very possible). With its neighbors it also shares the same predicament of illegal logging – which is manifest in the daily transport of logs through the same rough road that they hikers will pass through via habal-habal-style tricycles. This ride, which can take anywhere between 1-3 hours depending on the weather-dependent road conditions, can be even more challenging the hike itself, as passenger-hikers will be asked to walk through some difficult and slippery "ascents". Surely this ride will be memorable to all the hikers of Mt. Lubog!
From the trailhead, the hike itself is fairly straightforward. Hikers would very soon enter a tropical rainforest, strewn with limestones that foreshadow the rocky peak. Two flat areas with wooden benches make for comfortable rest stops, and the first one offers a fifteen-minute sidetrip to Lubog Cave. From the second one, the summit is no more than a 10-minute ascent.
At 955 MASL, the summit is a wonderful haven of rocks, where hikers can feel themselves perched in one of the gateways to the Sierra Madre range. Warning: There are countness photo-ops but hikers should be reminded that dramatic poses also pose a risk to one's life, as the rocks can be precarious, and a fall fatal. Otherwise, enjoy the well-deserved view! Though the treacherous rough road poses a challenge, Mt. Lubog is a very promising dayhike in Rizal.
ITINERARY
DAYHIKE WITH SIDETRIPS
0400 ETD Cubao for Brgy. San Rafael, Rodriguez
0500 ETA Brgy. San Rafael. Ta
0600 Take habal-habal to Brgy. Puray
0800 ETA Brgy. Puray. Register, secure guides.
0830 Resume habal-habal ride
0900 ETA trailhead; start trekking
0930 First rest stop. Optional sidetrip to Lubog Cave
1030 Second rest stop
1045 ETA summit (955m)
1200 Start descent
1330 Back at trailhead. Optional trek to Panintingan Falls
1415 Take a dip at the lagoon
1500 Back to rough road; take habal-habal
1630 ETA Brgy. San Rafael. Take van to Mania
1800 ETA Mania
PRACTICALITIES: MT. LUBOG
Transportation

Public

 (1) Van, Cubao to Montalban, [P50; 1-1.5 hours] (2) Habal-habal to Sitio Lubog [P1000/up to 4 persons/roundtrip]Alternatively, take any transport to Montalban (i.e. via Marikina) then take (2)

Approximately 3.5-4.5 hours travel time due to the nature of the rough road ride to the trailhead.
Private.

 Head out to Rodriguez, Rizal via Commonwealth-Payatas then take the habal-habal ride as above. 

Approximately 3-4 hours travel time due to the nature of the rough road ride to the trailhead.

 

Registration

Note: Prior arrangement is required in order to make arrangements for guides and habal-habal.
(1) Logbook at the barangay hall (P50 registration fee)
(2) Courtesy call with military detachment

Available; assigned at the barangay hall. 400/guide/5 persons
Required? Yes.

Kagawad Peter: +639284647447Contact Kagawad beforehand to make arrangements for transportation and guides.

Campsites and waypoints

Camping is possible in a view deck near the registration area.Trailhead 14°49′57′′N 121°13′48′′ E 686 MASL

Water sources

None at the hike proper

Cellphone signal

+/- Not reliable throughout the trail; sporadic in higher reaches

River crossings

None

Roped segments

None

None

Minimal

Rattan

+

Hiking notes

As in other limestone mountains be very careful of your holds and footing. Consider wearing gloves.

Sidetrips

Lubog Cave (+15 min off first rest stop)
Panintingan Falls (+20-30 min off trailhead)

Alternate trails

Possible traverse to Mt. Balagbag and Mt. Oriod-Maranat via Macabud

Yes

Facilities

(+) Sari-sari store at registration area
(-) Carinderias / paluto
(+) Wash-up / shower places
(+) Habal-habal rental
No facilities at trailhead proper.

600-800 (dayhike)
800-1000 (overnight)
MT. LUBOG PICTURES
To be added
TRIVIA
To be added
THE MOUNTAINS OF RODRIGUEZ, RIZAL
Mt. Ayaas