Is it safe? Hiking-related decisions based on weather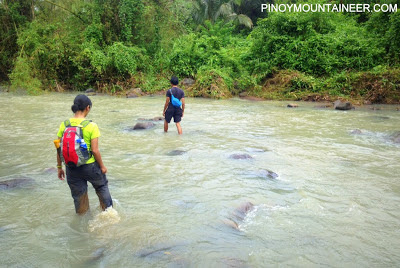 Whenever there's a storm that's forecast to hit the country – or whenever it's raining heavily – I get a lot of questions on whether it is safe to go hiking.These are questions for which I cannot make specific answers. In the first place, I must state that no mountain is 100% safe at any given time. Accidents happen even in the best weather.
Moreover, the determination of safety, and the decision on whether to continue, must be made by each group, taking into account their capabilities, experience, number of participants, logistics, itinerary, as well as preferences (i.e. is it okay for you to climb without a view?), on top of the circumstances presented by the weather disturbance (i.e. where exactly is it going to hit). The mountain itself must also be considered.
Here are the three dimensions that you must consider when making a hiking-related decision in relation to weather:
Weather-related factors. If there is a storm, how far is it from your destination? What is the storm signal? If it's a tropical depression in the Visayas and I'm hiking in Luzon, I might still push through. But even if it's just a low pressure area and it's making a direct hit in the area I'm planning to visit, I'll prepare change plans. If there's forecast of heavy rain and you're planning a dayhike, exactly when is the rain going to come? If it's forecast in the afternoon or later in the day then instead of cancelling I will tweak my itinerary a bit for an earlier departure, just to maximise the morning.
Participant-related factors. How experienced are your participants? If you're doing a multi-day hike, is your team going to comfortable with possibly setting up camp in the rain? Will you be able to manage with cooking? Is your equipment (i.e. tent) in good shape and can withstand an stormy night?
Learn more: Seven pointers for hiking in the rainy season
Are your participants expecting a view? Or are you just going for a regular training or workout hike? If they are expecting a view then going on a stormy day may not be a good idea even if the storm itself will not hit the region you're hiking in.
Mountain-related factors. Are there river-crossings? Are they known to swell in bad weather? What is the difficulty rating, and what's the trail like? If it's a rocky trail that gets very slippery when wet then I'll think twice. Does the mountain get muddy? These are some questions you need to ask to help you decide.
Oftentimes, you cannot make the decision until you're already in the trailhead or on the mountain. This is okay. Part of the risk of hiking is having to abort midway, or even before the hike starts. Don't be afraid to do so if it's necessary. Listen to your guide, and consult him or others who recently climbed the mountain.
Moreover, whatever the forecasts are, no matter the mountain, and whoever you're with, being prepared at all times is very important. Never underestimate the mountain!