Gear Review: Ray-Ban Folding Wayfarer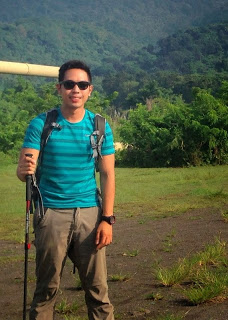 Recently I got a new pair of glasses from Glasses Online and I was reminded of the need to write an article about how important wearing sunglasses are when climbing mountains or going outdoors.
The American Association of Ophthalmology recommends that "Sunglasses should be worn anytime you are outdoors." It adds that too much sun exposure to the eyes can cause macular degeneration, cataracts, growths in the eye, and even cancer.
Plus, the glare can affect your hiking performance, making your eyes tired and preventing you from enjoying the view – or seeing possible dangers on the trail. This is especially as you reach higher altitudes.
Since the Visayan Voyage in 2009, I have always favoured wearing a Ray-Ban Folding Wayfarer – a classic – whenever I'm on the mountains. It is very portable and easy to keep on your pocket or bag. After more than five years of use, having brought it on the mountains so many times – including Kilimanjaro, Elbrus, and the 6143-meter Stok Kangri – I would really say that it's one of my most worthy purchases. I've lost so many things in my journeys and I'm very grateful that somehow my sunglasses managed to cling on to me!
The Folding Wayfarer offers 100% UV protection and this is an important feature of sunglasses that you have to consider when making a purchase, in light of the above-mentioned risk of sun exposure. There is also the option to get polarised lenses, which offers more glare protection and improves contrast. I have a second pair of Ray-Bans that offer this feature but I'm not really too stressed about not having it.
Of course, your choice of sunglasses will depend on comfort and style which would in turn depend on the shape and size of your head, among other considerations. Personally, I think that since you only need one pair of sunglasses, investing on one good quality pair is a smart move. With Glasses Online (Glassesonline.com.ph) now available in the Philippines, offering discounted glasses, good sunglasses are now more accessible for outdoor enthusiasts!