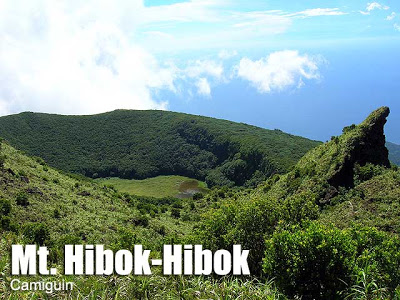 Mt. Hibok-Hibok
Camiguin Island
Jump-off point: Ardent Hot Spring, Mambajao, Camiguin
LLA: 9°12′2″N; 124°40′5″E; 1332 MASL
Days required / Hours to summit: 1 day / 3-5 hours
Specs: Minor climb, Difficulty 4/9, Trail class 3
Features: Volcanic crater, tropical forest, scenic views of Camiguin
Last updated: August 22, 2013
BACKGROUND
In the mystical island of Camiguin in Northern Mindanao stands its most famous volcano, Mt. Hibok-Hibok. Not many people know that Camiguin is a literally a hot plate with no less than seven volcanoes in the small island. Mt. Timpoong, at 1450 MASL is actually higher than Hibok-Hibok, but the latter has risen to fame because of its explosive history. Five eruptions have been recorded since the 1827. The latest, in the early 1950s, killed 600 people.
Today, although Hibok-Hibok remains an active volcano, it has no signs of activity. In fact, the only signs of volcanism are the hot springs that count among Camiguin's tourist destinations. One of them, Ardent Hot Springs, is actually the jump-off point for a Hibok-Hibok climb. A rewarding dip at the 37 C pools is a great post-climb treat.
Climbing Hibok-Hibok is quite challenging for a daytrip. It takes 3-4 hours to reach the peak depending on your pace. The altitude gain is quite rapid and sun cover is minimal.Yet the views are unique and spectacular. At the peak, on a clear day, you can see the mossy crater of the volcano. To your north is Bohol, and you can even see Surigao at the east, and Siquijor on the opposite side. Flanking the island of Camiguin is White island, which truly looks white from atop the mountain. Even more unique to Hibok-Hibok is the blade-sharp rocks at the peak area. The pitcher plants that grow on these rocks make the landscape a little bit eerie. All these elements make Hibok-Hibok a must-stop for hikers who are visiting Camiguin.
ITINERARY
REGULAR DAYHIKE (FROM BALINGOAN)
0500 Take ferry to Camiguin from Balingoan port
0630 ETA Benoni; take FX to Mambajao (P50)
0700 ETA Mambajao. Meet with guide / Drop by DENR office (P200)
0800 Take motorcycle to Ardent Hot Springs (P30)
0830 ETA Ardent; Start trek
1200 ETA summit. Explore the area. Lunch.
1300 Start descent.
1530 Back at Ardent Hot Spring; take a dip at the spring (P50)
1700 Take motorcycle back to your hotel or lodging place in Camiguin.
TRAVERSE FROM BRGY. YUMBING
Main article: Mt. Hibok-Hibok via Brgy. Yumbing
Day 0
Take ferry to Camiguin from Balingoan port or CDO
Stay at the lodges at Brgy. Yumbing or Mambajao
Day 1
0500 Early departure to Brgy. Yumbing
0600 ETA Brgy. Yumbing, start trek via Mt. Carling
0800 Arrival at DENR outpost; rest
0830 Resume trek
1030 Arrival at crater of Hibok-Hibok; dip/rest
1100 Begin assault to summit
1145 Arrival at Mt. Hibok-Hibok summit
1200 Head back to crater
1230 Back at crater; lunch; dip/rest
1300 Start descent
1600 Arrival at Ardent Hot Springs – end of trek
SPECIAL CONCERNS
Getting there. In Camiguin transportation is by motorcycles which you can rent and jeepneys as well. Arrange to go to Brgy. Yumbing by these, or stay in the beach resorts in Yumbing on the night before so as to be able to leave early for the dayhike.
Guides and registration. There is a P200/person registration fee collected by the DENR, which you can arrange by yourself at the DENR office in Mambajao; the guide can also facilitate this. Our latest information suggests that the guides have set P1,200 as the fixed price for a dayhike. One guide is Jackie (+639158123686 Globe; +639104963820 Smart). She can guide you on a Hibok-Hibok Traverse or a regular Hibok-Hibok hike.
MT. HIBOK-HIBOK PICTURES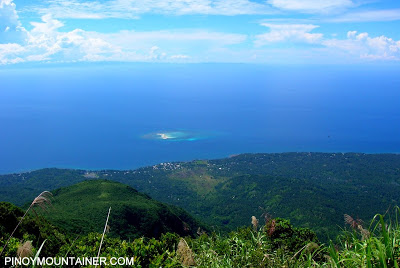 White Island as viewed from the summit of Mt. Hibok-Hibok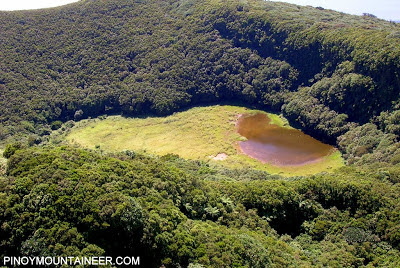 A closer view of the crater from the summit (May 2007)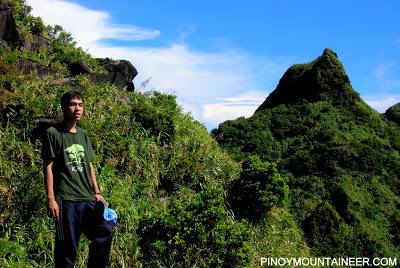 On the trail overlooking one of the high peaks (May 2007)
Pitcher plants (Nepenthes alata) at the summit (May 2007)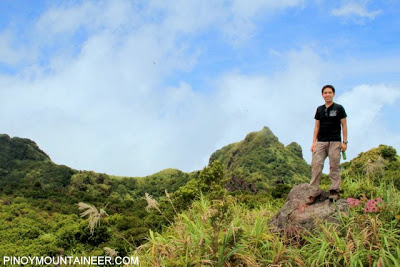 At the highest point of the trail (May 2012)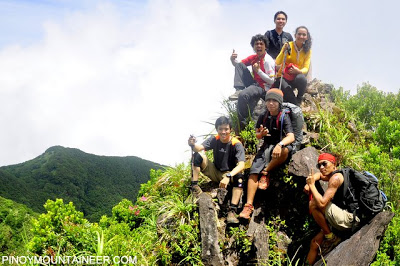 The summit trail is filled with excellent viewpoints and rock formations (May 2012)
TRIVIA
Hibok-Hibok is also known as Catarman Volcano. Aside from Ardent, there are four other hot springs at the foot of the mountain.
WEATHER OUTLOOK: MAMBAJAO, CAMIGUIN