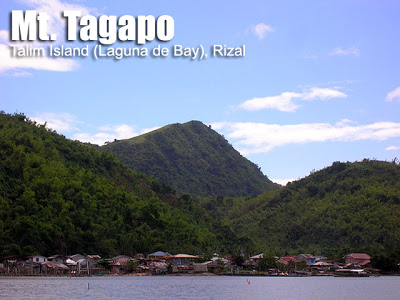 MT. TAGAPO
Talim Island, Laguna de Bay
Major jump-off: Brgy. Janosa (Talim Island) Binangonan, Rizal
LLA 14.32° N 121.23° E, 438 MASL
Days required / Hours to summit: 1 day / 2 hours
Specs: Minor climb, Difficulty 2/9, Trail class 1-2
Last updated: February 25, 2015
BACKGROUND
At the heart of Laguna de Bay lies Mt. Tagapo. Its unique geography makes it a worthwhile hiking destination. You will have to board a pumpboat from the towns of Rizal to reach the island; this boat ride will take you to the scenic lake and its fishing villages. You will realize that Laguna de Bay is so huge it's almost like a sea. Then, on Talim Island, as you start hiking, you will be surrounded with bamboo; the whole island is like a grove, and people live on the bamboo, which islanders use to produce furniture, toothpicks, and even charcoal (hence the name Tagapo, from 'taga' which means 'to chop').
The trails are easy and in 1.5 hours you will be at the peak; There you can behold the entire Laguna Lake and its coastal towns; the skylines of Makati and Ortigas; as well as nearby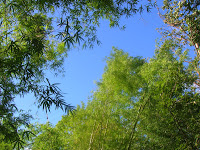 Mt. Sembrano. Visible also are Mt. Makiling and a faint Mt. Maculot on its right (SW); Mts. Atimla and Kalisungan (S) and behind them, Mts. Banahaw and Cristobal (SE). The innominate peaks of the Sierra Madre are on the opposite side, and to the far north, even Mt. Arayat can be appreciated. This is not a popular hiking site, but it is recommended, although I must warn you that it can be very hot during the summer.
Talim Island is technically under the municipality of Binangonan, Rizal. Pumpboats ply the routes to different barangays in the island, connecting them to mainland Rizal. Less frequently, there are also trip to Calamba Laguna. Talim island, as its name suggests, is shaped like a blade, cutting across Laguna Lake from south to north. Its uniqueness, as an island community within a large lake, is unparalleled.
The Tagalogs, having a rich imagination, call Mt. Tagapo 'Mt. Susong Dalaga'. From the towns of Laguna, you can readily spot the peak of Tagapo, which indeed has the form of a young woman's breast.
ITINERARY
0500 meet up at EDSA-Crossing terminal; take jeep to Binangoan.
0700 ETA Binangonan port, take passenger ferry to Brgy. Janosa.
0830 ETA Brgy. Janosa; register; arrange for guides, start trek
1100 ETA summit, lunch
1200 start descent
1300 back at jump-off, take return ferry
1530 ETA Binangonan
1800 ETA Manila
PRACTICALITIES: MT. TAGAPO
Transportation

Public

(1) Jeep or van, EDSA Crossing to Binangonan Port [41-50 pesos, 45 minutes-1 hour]

(2) Pumpboat/Ferry, Binangonan Port to Brgy. Janis [30 pesos, 45 minutes]

*Note: Hourly ferry trips but it is best to anticipate delays. First trip is at 0600 and last trip at 2130H but some ferries are slower than the others because they stop in more barangays. Double check the last return trip from Janosa to Binongonan with the boatmen or the locals so you can adjust your itinerary accordingly. It is also possible to charter a one-way trip for around P1500.

Approximately 2-3 hours travel time because of various stops and delays.

Private. Head out to Binangonan via Manila East Road and then take the ferry as above.

Approximately 2-3 hours travel time.

Registration

(1) Logbook at the barangay hall of Janosa. P20 registration fee.

Available; assigned at the barangay hall (300 pesos/guide)

Henry Arambulo (Brgy. Captain) -+639435440524
Archie (Guide)- +639216530089
Jose (Guide) – +739465331573

Campsites and waypoints

There is a basecamp at Brgy. Janosa near the start of the trek

Water sources

(+) Near summit prior to grassland

Cellphone signal

Present at the jumpoff and n the upper reaches

River crossings

None

Roped segments

None

None

None

Rattan

Minimal

Hiking notes

The entire trek can be very hot and humid especially during the summer months, so prepare accordingly

Sidetrips

It is possible to explore other areas in Talim Island or include Mt. Tagapo as part of a 'Twin Dayhikes' with Mt. Sembrano.

Alternate trails

None to our knowledge

Yes (2.5-4 hours to summit; 1.5-3 hours down on either of the above-mentioned trails)

Facilities at jumpoff

(+) Sari-sari stores
(+) Wash-up / shower places

500-700 (dayhike)
800-1000 (overnight)
MT. TAGAPO PICTURES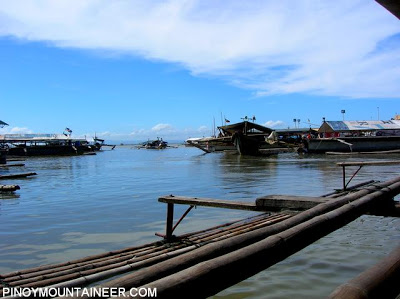 The port of Binangonan is the major starting-off point in travelling toTalim Island. This is where the adventure begins!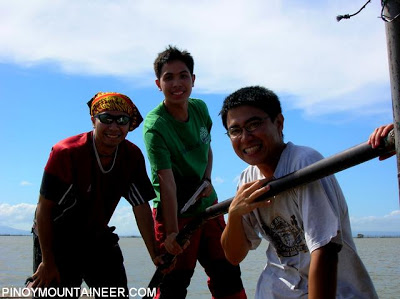 There is the unique experience of riding a motorboat acros Laguna de Bay to reach the island.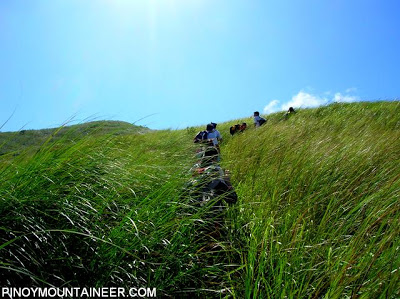 The final leg of the trail is a fifteen-minute assault on grassy slopes to reach the summit.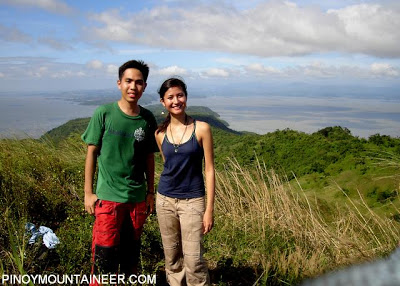 At the summit of Mt. Tagapo, 438 MASL with my classmate Siena Ona.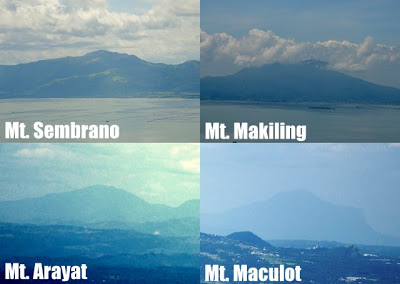 There is a 360-degree view at the summit of Mt. Tagapo, on which you can see many mountains. I had to use an 18-105mm lens with my Nikon D3000 to resolve Arayat and Maculot.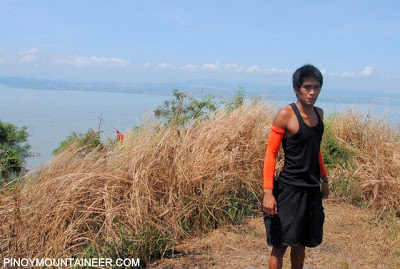 Kuya Archie has probably guided more people up Tagapo than any other person; he can be reached +639216530089.
TRIVIA
Jose Rizal, aboard the Salvadora, wrote in his diary that on their approach to Singapore, there was "a long chain of islands forming a sort of mountain range. They remind me of Talim Island with the Susong Dalaga." This entry was dated May 8, 1882. In El Filibusterismo, Rizal also mentions Talim Island, as well as Calamba Island – a smaller island in the Lake visible from the peak of Mt. Tagapo.
Geologically speaking, Talim island was once a stratovolcano, and now it is part of what is known as the "Laguna caldera".
Locals say that there is a rumored treasure on Mt. Tagapo. This explains the open pit at the summit. They also say that the name of the island may also be due to the sharp-toothed crocodiles which used to roam free in the island.
Although logistically challenging, it is possible to combine Mt. Tagapo with Mt. Sembrano in one day as a 'twin dayhike'. Check out the Twin Dayhikes page for more information.

WEATHER OUTLOOK: BRGY. JANOSA, TALIM ISLAND