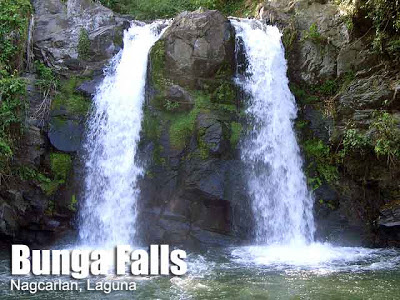 BUNGA FALLS (TWIN FALLS)
Nagcarlan, Laguna
Height: 15 meters
Jump-off point: Brgy. Bunga, Nagcarlan, Laguna
Trail length: 5-10 minutes
Entrance fee: P30.00
Although not as high as the first two waterfalls, the unique charm of Bunga Falls is the fact that it is a 'twin falls': two waterfalls, almost identical, descending side by side. Named after the Bunga (betel nut) palms that used to grow on the area, this waterfall is just 600 meters away from the jump-off point, and is also near the famed Underground Cemetery of Nagcarlan.
In keeping with the richness of Tagalog culture, Bunga Falls is steeped in the tradition of the locals of Nagcarlan. It used to be a 'test of manliness' for boys to jump from the falls down the deep basin. Also, local folklore has it that there is a creature that dwells in the pool of Bunga Falls, snatching unsuspecting dayo (outsiders) into the deep waters. Other locals would swear that they have felt the hand tugging their feet down. Perhaps these tales were inspired by the depth of the pool, said to be around 10 meters. As long as you know how to swim, however, there is no reason not take advantage of the large catchbasin of this waterfall. One resident of Nagcarlan explains that the perception of "being pulled" may be explained by the sudden plunge of the catchbasin into a deep pool.
The town of Nagcarlan is a jeepney ride from either Sta. Cruz or San Pablo in Laguna. There is a Sta. Cruz bus from Buendia or Cubao; The Lucena buses pass by San Pablo. Fares range from P20-30, with a travel time of less than one hour. From the town proper of Nagcarlan, you can hire tricycle/s to take you to the jump-off. Mountaineers visit Nagcarlan to take the alternate routes to Mt. Cristobal (traverse to Dolores, Quezon) and Mt. Kalisungang (traverse to Calauan, Laguna)
Part 1: The waterfalls of Laguna
Part 2: Pagsanjan (Magdapio) Falls
Part 3: Buntot Palos (Hidden) Falls
Part 5: Taytay (Imelda) Falls