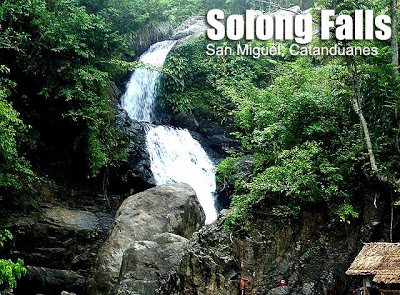 SOLONG FALLS
San Miguel, Catanduanes
Jump-off point: Brgy. Solong, San Miguel
Height: 40 meters
Trail time: 5 minutes
Specs: Difficulty 1/9, Trail Class 1
Nestled in the town of San Miguel, in the island province of Catanduanes, is a beautiful, cascading falls called Solong. Part of a waterfall system that is a popular picnic destination among locals, its beauty lies in its "canopy effect" and clean waters. Large rocks eclipse the main waterfall, providing a 'jumping board' into the catchbasin, also making the falls secluded. The waters are cold and refreshing, and the pools are deep. Trekkers could also explore upstream and downstream to find other, more secluded waterfalls. This "exploratory" nature of the site calls to mind Daranak and Batlag Falls in Tanay, Rizal.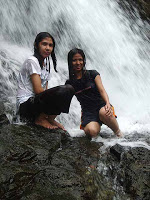 Going to Solong Falls is usually commenced from Virac, where one can ride a 20-minute multicab or tricycle to San Miguel (P13). From San Miguel, another tricycle can take you to the waterfall (P20). Solong Falls is popular among the locals so the tricycle drivers would know where you're headed. From the jump-off, you could already see the main waterfall, around 100 meters away. Swimming is a must, and the rocks are not that slippery unlike other waterfalls. You can also take your camera without the risk of being wet.
Catanduanes is popular for its Puraran Beach and the large waves that make for great surfing (this is in the town of Baras). Take note that catanduanes is in the eastern frontier of Luzon, facing Pacific Ocean to the east. The sunrise is spectacular. The town of San Miguel, for its part, is noted for its abaca industry. Going to Catanduanes itself is by plane (c/o Asian Spirit) or by bus (crossing the strait), taking 10-12 hours. Its relatively undiscovered wonders beckon backpackers and outdoorsmen craving for something new.
Thanks to Yousef Marino of the UP Med Outdoor Society for the information on Solong Falls