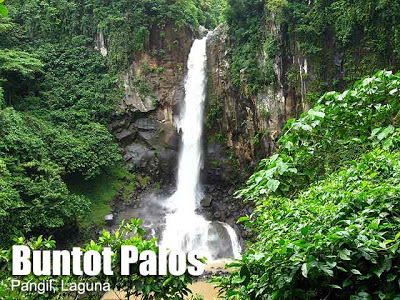 BUNTOT PALOS (HIDDEN) FALLS
Pangil, Laguna
Height: 80 meters
Jump-off point: Brgy. Balian, Pangil, Laguna
Trail length: 2-3 hours
Entrance fee: P30.00
Whereas other waterfalls in this series require no more than a ten minute trek, or a boat ride, Buntot Palos is a level 1 climb, taking 2-3 hours to reach. Because of this fact, it has also been dubbed the "Hidden Falls". But we prefer original name, which translates as "Eel's Tail". The resemblance may be difficult to see, but it nonetheless captures the local imagination.
The three-hour trek must not daunt the would-be explorer, as Buntot Palos is really grand, descending from a cliff to fall on a collection of sharp rocks called 'Kawa-Kawa'. The cascade of water is tall (around 80 meters; almost twice the height of Buruwisan Falls) as it is straight; it further descends to form a catchbasin that is big and deep, perfect for swimmers. The rocks are very slippery though. Beneath the falls, there is a small cave, which can house a tent for the very adventurous! For its part, the trail is a set of a typical rural Filipino setting. Carabaos and horses pass the same trail, and it can get really muddy in the rainy season, much like the trails going to Mt. Romelo the nearby town of Siniloan.
A campsite near the waterfalls is available, although it is small and not an campsite because of its uneven ground. The best time to go to Buntot Palos is summer, although if it gets too dry, the cascade won't be as strong. The advantage of the rainy season is a strong surge of water although it can get too strong that you can't even approach Kawa-Kawa. The usual route is similar to that of Mt. Romelo, via the Manila East Road. The usual itinerary takes two days, but the "Waterfalls of Laguna" itinerary below makes it a daytrip.
Part 1: The waterfalls of Laguna
Part 2: Pagsanjan (Magdapio) Falls
Part 4: Bunga (Twin) Falls
Part 5: Taytay (Imelda) Falls