Gear review: The North Face Borealis 30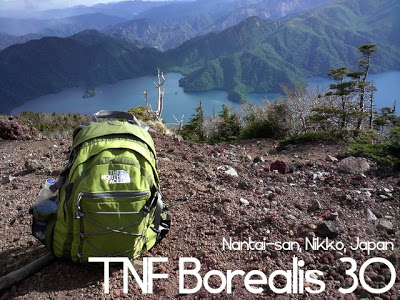 Starting June 2009, there will be weekly gear reviews under the Climb Gear section of PinoyMountaineer.com
A great climb gear is one that looks great and is functional even when you're in the city, at work, or travelling. My favorite all-around bag is the TNF Borealis 30, which I bought for my stay last year in Japan. It went on to be my duty bag in PGH and the bag I bring whenever I come home to Los Banos.
As a outdoor bag, it has Airmesh back panel, a very useful large secondary compartment with lots of pockets, and a respectable hip belt. It is also compatible with my 2L hydration pack. I've brought it to snowy mountains like Fuji and Nantai-San and muddy destinations such as Buntot Palos. It is not waterproof, but its water resistance is more than enough for most scenarios. Cleaning up the bag is also very easy as the dirt and mud doesn't cling to the fabric.
As a city bag, it can snugly fit my laptop and still have lots of space of other stuff. And it's always nice to bring those mountain gear down to town especially if it looks good as well. It will be almost a year since I bought it and the North Face Borealis 30. It may be relatively expensive at around PHP4000, but since I use it almost daily I think its one of the most 'worth it' mountain stuff I ever bought!
PinoyMountaineer.com is neither affiliated nor sponsored by any outdoor brand or product.