Mt. Bahile (747+) in Puerto Princesa, Palawan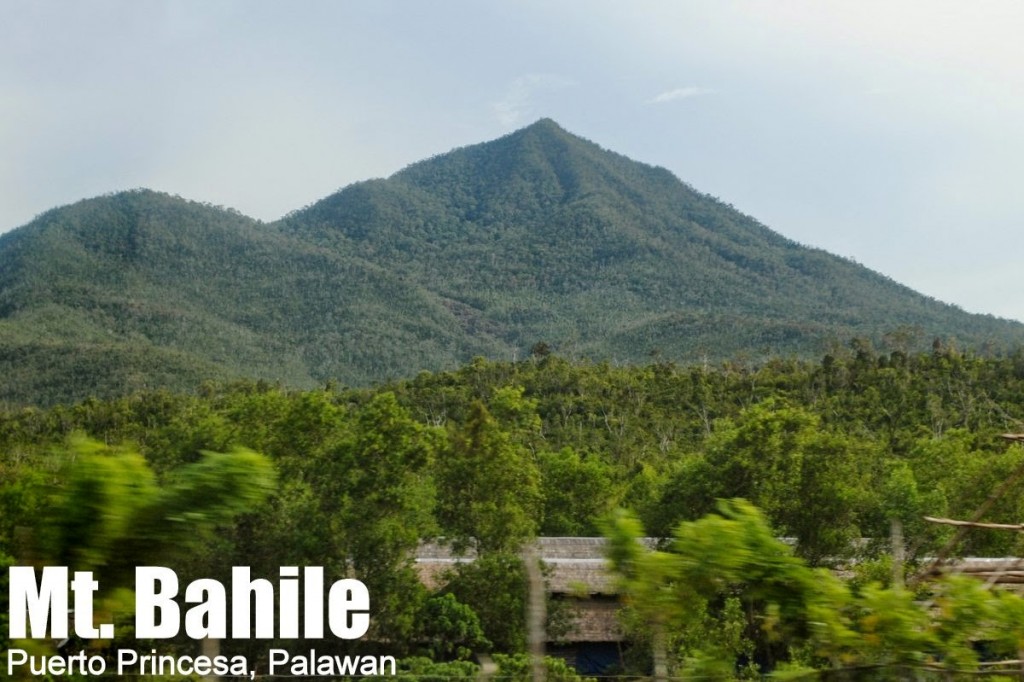 MT. BAHILE
Puerto Princesa City, Palawan
Major jumpoff: Rural Agricultural Center, Brgy. Salvacion
LLA: 9°59′7.87′′N 118°44′32.3′′ E, 747 MASL (+700m)
Days required / Hours to summit: 1-2 days / 4-6 hours
Specs: Minor climb, Difficulty 5/9, Trail class 1-4
Features: Ultramafic forests, unusual fauna, scenic views of east and west coasts of Puerto Princesa
Article created: August 18, 2014
Last updated: August 18, 2014
BACKGROUND
Palawan is known as one of the last hiking frontiers in the Philippines, but you need not go far to experience what the island offers. Mt. Bahile, for instance, is just 30 kilometres away from the city proper of Puerto Princesa, making it one of the closest mountains to the airport, and therefore a good candidate for a dayhike for people who are traveling in Palawan.
In some vantage points, Mt. Bahile is overshadowed by its larger companion mountain, Mt. Tapyas, with which it is connected by a saddle which is over 500 MASL, giving Bahile itself a prominence of only 200 meters with respect to Tapyas. From the trailhead in Brgy. Salvacion, however, the altitude is less than 40 MASL, giving the mountain a respectable 700-meter altitude gain.
Mt. Bahile is a little-explored mountain, and hikers must brace for rattan thorns for a good portion of the trail. However, it is a very rewarding hike, with the ultramafic rocks and forests characteristic of most mountains in Palawan. Then, there is the rich wildlife – from the mountain's many viewpoints one can spot eagles, and in the forests, woodpeckers, hummingbirds, and many other avian species. During our trek, we spotted two snakes – a pit viper and a mock viper. Surely, there were many more our untrained eyes failed to notice!
Because of its location, the scenery is fantastic. From Mt. Bahile, one can see Palawan at its most slender – with only a few kilometres separating Sulu Sea, represented by Honda Bay, and South China Sea, represented by Ulugan Bay. Islands on both sides enthral, particularly the vari-shaped ones of Honda Bay, each with a colourful name. At the summit, Cleopatra's Needle, monarch of Puerto Princesa's peaks, stands proudly to the north, while on the clear day, the cluster of Thumbpeak and Beaufort are also appreciable. Meanwhile, Mt. Tapyas looms to the northwest – inviting hikers to attempt a traverse in what promises to be another exciting hike in Palawan!
MT. BAHILE ITINERARY
DAYHIKE FROM PUERTO PRINCESA
0530 Take van or chartered multicab/vehicle to trailhead
0700 ETA Rural Agricultural Center, Brgy. Salvacion
0730 Start trekking
0900 ETA ultramafic rocks
1200 Arrival at summit. Lunch.
1300 Start descent
1630 Back at trailhead. Tidy up
1700 Take van or jeep back to Puerto Princesa
1800 ETA Puerto Princesa.
PRACTICALITIES: MT. BAHILE
Transportation
from Puerto Princesa

Public

(1) Sabang- or any northbound jeep or van from Puerto Princesa [40-50 pesos; 1 hour]

Private Take the Sabang-bound road. Follow through from the junction in Salvacion, and make a left turn at the Rural Agricultural Center. Follow the rough road for about 500 meters to reach the trailhead.

Registration

None as of Aug 2014

At least two locals have gone up the mountain and can guide, but availability is not always assured (Suggested rate is 400 pesos/guide/day)

Ronald Amada (volunteer coordinator): + 639106946227

Campsites

Balatikan campsite (13°40′18.1′′N 121°11′39.4′′ E, 548m)

Water sources

At the ultramafic rocks (9°58′37′′N 118°44′31.7′′ E, 380m)

Cellphone signal

Absent at the jumpoff

Present from 300m upwards, sporadic at first, but brisk at the summit

River crossings

Nothing significant

Roped segments

None

None

Present

Rattan

Abundant

Hiking notes

This is a very new hiking destination so many changes may still happen in the itinerary and in the process of going up the mountain.

Sidetrips

The hike itself can be done as dayhike that is part of a multi-day Puerto Princesa tour.

Alternate trails

Possible traverse to Mt. Tapyas but still undocumented

Yes (4-5.5 hours to summit; 3-4 hours down)
MT. BAHILE PICTURES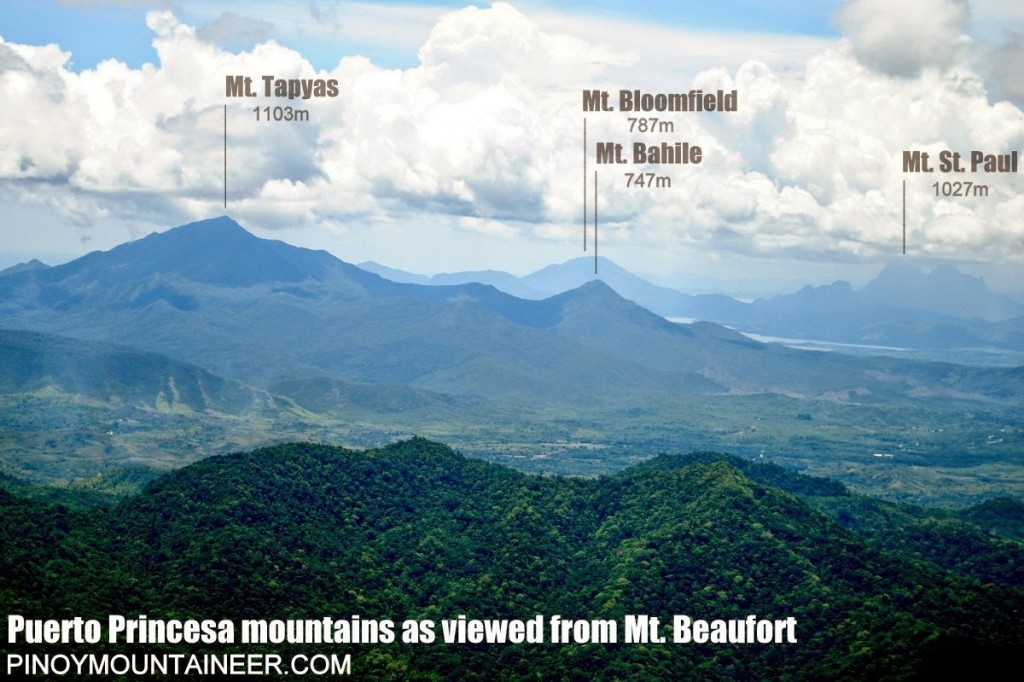 Illustrated picture showing Mt. Bahile in relation to the other
mountains of Puerto Princesa (G. Lasco, 2014)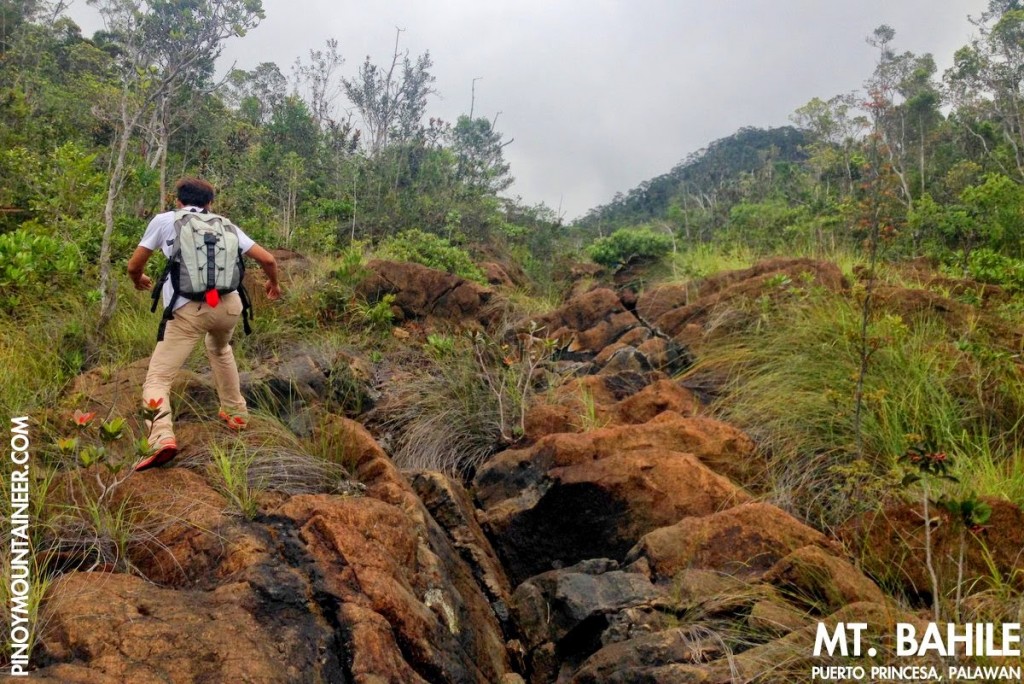 Hiking up the ultramafic rocks of Mt. Bahile (G. Lasco, 2014)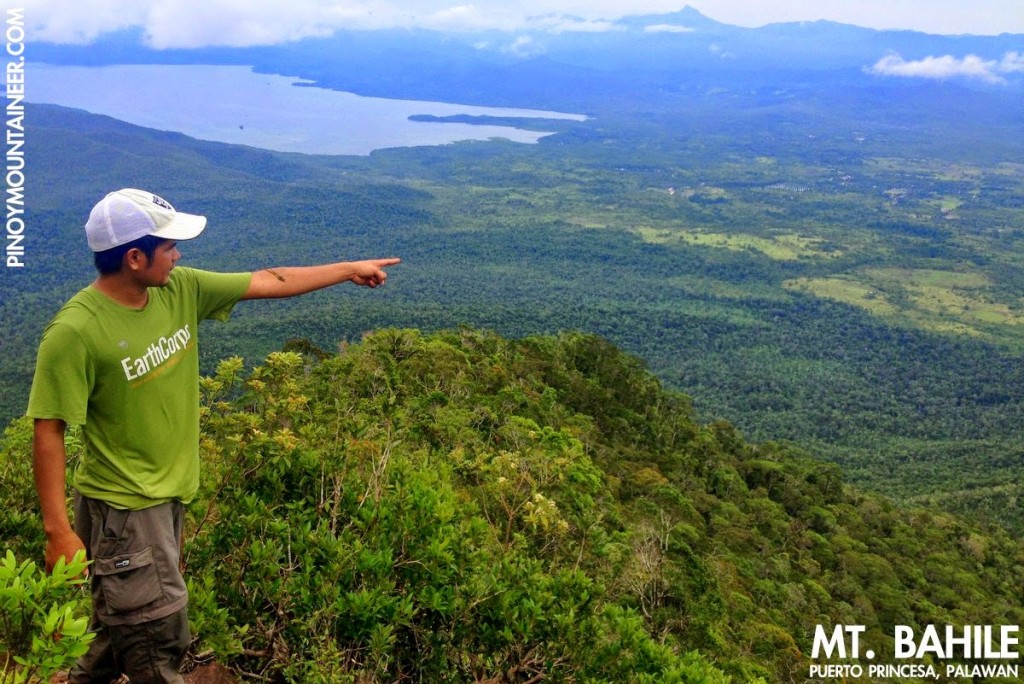 At the summit of Mt. Bahile with Ulugan Bay and Cleopatra's Needle
at the background (G. Lasco, 2014)
TRIVIA
According to Puerto Princesa environmentalist Jessa Garibay, the word 'Bahile' comes from the Spanish 'baile' – dance – because it used to be a place where festivals were held by the indigenous Tagbanua people.
An account of the blogger's hike up Mt. Bahile is narrated in Hiking matters #417.