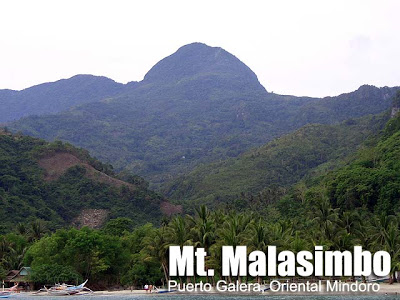 MT. MALASIMBO
Puerto Galera, Oriental Mindoro
Major jumpoff: Mangyan Village, Talipanan Beach, Puerto Galera
LLA: 13.45°N; 120.9°E; 1,168 MASL
Days required /Hours to summit: 1-2 days / 4-5 hours
Specs: Minor climb, Difficulty 4/9, Trail class 2-3
BACKGROUND
Towering over the famed Puerto Galera beach is Mt. Malasimbo, part of the series of mountains of Northern Mindoro – along with Mts. Talipanan, Alinbayan, and, farther to the west, Mt. Calavite. The Puerto Galera Mountain Trail actually cuts across these mountains, making for the most exciting climb in Puerto Galera. However, traditionally, Mt. Malasimbo was seen as a destination in itself, with enough fun and adventure especially if coupled with a beach trip.
Mt. Malasimbo dominates the background of Puerto Galera shore, if you are in Talipanan or White Beach. Like most of the mountains of Mindoro, it is a haven for fauna and flora: wild boar, deer, and rare species of birds are said to inhabit this mountain.
Mt. Malasimbo is home to the highlander Mangyan tribes; part of the experience in climbing this mountain is encountering our indigenous brethren. However, most of them have adopted modern styles of clothing already, unlike the tribes in Mt. Iglit-Baco who still wear the traditional garments (i.e. bahag for the males).
To climb this mountain, you will have to go to Puerto Galera; as such, it is very attractive to outdoorsmen who also want a dip at the beach. Alternatively, for the 'hardcore', a traverse on three mountains (in climb sequence): Alinbayan, Malasimbo, Talipanan is also possible (or vice-versa). This trip requires 2-3 days and starts off at Brgy. Tabinay. In February 2011, the blogger took this traverse route with Iron Lady Jo Steven, and we were able to do it in just one day – effectively establishing the Puerto Galera Mountain Trail (a future article will describe this trail in greater detail)
The views of Mt. Malasimbo include the entirety of the Puerto Galera coast and Verde Island (NW). Likewise, the mountains and southern coastline of Batangas can be seen. The dome-shaped summit of Malasimbo is another worthwhile sight. The trails go steep initially and beyond the watersource; otherwise there are no major obstacles in the climb. Unlike other descents, There is no regret when going down from Mt. Malasimbo. Puerto Galera, beach and nightlife, awaits!
ITINERARY
Day 1
0730 ETD to Puerto Galera from Batangas Pier (P200)
0900 ETA Talipanan Beach; Head to jump-off point
0930 ETA Jump off
1000 Start trek
1230 Lunch at water source
1430 ETA Guijo campsite (flat area); camp here before assaulting summit
1500 Summit assault
1600 ETA Junction. (Right for Talipanan summit; Left for Malasimbo summit)
1645 ETA Talipanan summit. Head back to the junction.
1730 ETA Mt. Malasimbo summit
1800 Back at Guijo campsite
1830 Dinner / socials
Day 2
0500 Wake-up call, Sunrise viewing, Picture taking
0530 Prepare breakfast
0600 Breakfast
0700 Start descent
0930 ETA Talipanan/Mountain Beach. Proceed to beach, or head back to Manila.
SPECIAL CONCERNS
Take note that a comfortable climb using the itinerary above assumes daylight until 1800hr; for the rainy season, a more conservative and convenient schedule would place the summit assault on the morning of Day 2. Feel free to ask the friendly locals where the jump-off point is; indicate that Mt. Malisimbo is your destination.
Experienced hikers would always recall the plethora of limatik of Mt. Halcon; in a way, Mt. Malisimbo is reminiscent of this, especially the forested portion between basecamp and the summit. Prepare accordingly. Foresters of Mt. Makiling would advice rubbing detergent bar in susceptible areas (i.e. socks, lower part of pants) to ward them off.
Total trek time is 4-5 hours. This is way a daytrip is possible if staying in Puerto Galera. No permits are necessary in climbing this mountain and the other nearby hiking destinations.
For emergency: There are two medical clinics OPEN 24 hours with licensed medical doctors ALWAYS on-call for home/resort visits. One is located in SABANG BEACH inside the SEASHORE LODGE Resort ([+6343]287-3156 and +639175620011) and another is located in WHITE BEACH (+9173231055)
The jumpoff is the Iraya Mangyan villlage in Brgy. Talipanan – walking distance from the beachfront.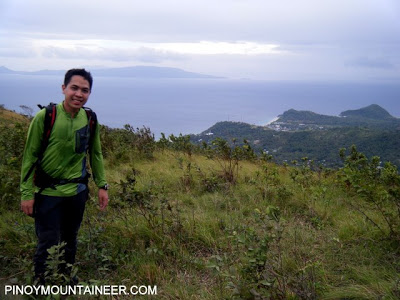 Open, grassy slopes characterize the initial part of the trail; and one is offered views of the Puerto Galera beaches.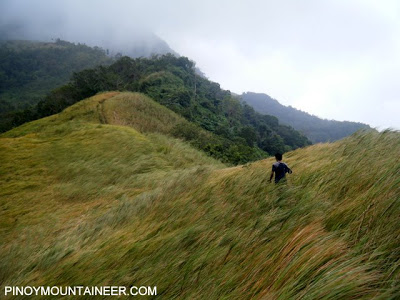 Past Guijo campsite, more grasses. You can see here that the trail leads to the forest, which leads up to the summit.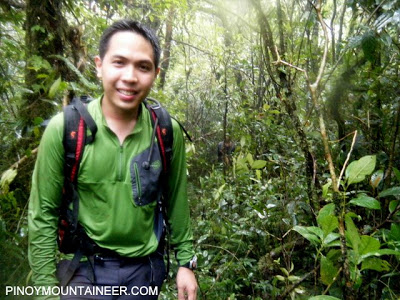 The blogger at the summit of Mt. Malasimbo (February 2011).
TRIVIA
Another Mt. Malasimbo is said to exist in Zambales, but the famous Mt. Malasimbo is that of Puerto Galera.
Initial information and main photo courtesy of Vanessa Lacson of OLAY Mountaineers. Information updated after the blogger's trip up Mt. Malasimbo in February 2011.