Open clmbs and future events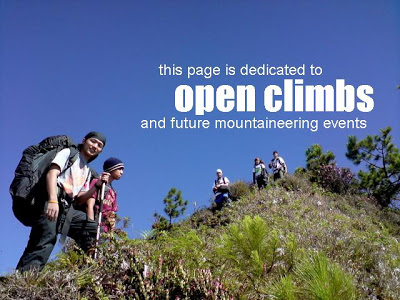 WELCOME TO THE 'OPEN CLIMBS' PAGE!
We have a 'negative' page on closed mountains, and now we're puttung up this positive page on open climbs! In response to people gamely looking for a climb, eager to visit new mountains and see new people; as well as for those guys who want to join a mountaineering club but don't know where to start, here it is!
Events of interest would be open climbs, outdoor events in general, basic and other mountaineering courses, as well activities related to hiking like rock climbing and spelunking. If you have an advocacy that would also interest outdoorsmen, such as about the environment – like a tree-planting day – let us know also. Mountaineering groups as well as individual hikers can plug their events.
Please post details or links to your events to this page, or email info@pinoymountaineer.com so we can put your event on this bulletin. Don't forget to leave a contact number so we can make inquiries.
OPEN CLIMBS AND FUTURE EVENTS
TURUKADAN SA MT.ASOG
OCT 25-262008
FEATURES
Mt. Asog is a volcanic mountain located in the southern part of Camarines Sur known as the Rinconada area. It is 4,823 ft. above sea level. It is grassy, rugged, and dry mountain, it has the feature that is uniquely his own, it is mythical and full of history. Though it is not as forested and tall as her volcanic sister mountain, Mt. Isarog that is just located at her side, being at the top or summit of Mt. Asog gives the climber a 360 degrees view of the Bikol region. The view at the peak is exhilarating and amazed the climbers.
Mt. Asog is still inhabited by local tribes commonly called the Aetas. It is also endowed by vast coconut trees and natural resources.
In the shadow of Mt.Isarog, just 20-km south, is MT. IRIGA near the city of Iriga, Camarines Sur. An extinct volcano, in ancient times it was known as Mt. Asog after an Agta chieftan that ruled the region. The local people also call this volcano Mt. Sumagang which means "Mountain of the Rising Sun." Reaching 1,470-meters, it is situated on the territorial boundaries of Iriga City and the municipality of Buhi. On the Buhi side, Mt. Iriga appears scarred because of a cavernous gully which is actually a collapsed crater left after a violent eruption in 1641.
The Kadlagan Outdoor Shop and Services, the 1st and leading outdoor shop in the Bikol Region, has the tradition, system and service to let the Mountaineers, climbers and nature lovers to experience the life in the outdoor, relax, rejuvenate, uplift their environmental consciousness, and create camaraderie among themselves by bringing them at the cool scenic places away from the city like Mt. Asog. So this coming, Oct.25-26, 2008,
the kadlagan is initiating again the TURUKADAN sa MT.ASOG. A two days
Trekking, camping and hiking. It is cool because it is cool.
Registration:P600 includes I.D, certificate,
local guide services,Souvenir items
Excludes: Fare, food and personal stuff,and climbing
equipments.
ITENERARY
DAY 1(oct.25)
6:00 am – Assembly time at Central Bus Terminal
7:00 am – Leave Naga City to Iriga City
8:00 am – ETA at Iriga City
8:15 am – Leave Iriga City to Brgy. Santiago
8:30 am – ETA Brgy. Santiago
8:30 am – Start of trek from Brgy. Santiago to Esplana Base Camp
12:00 a.m.- ETA Esplana Base Camp
12:15 a.m. – Lunch/Rest/tent pitching
1:00 p.m. – Start of trek from Basecamp to Crater
3:00 p.m. – ETA at the crater
3:30 p.m. – Leave Crater to ascend to Esplana Basecamp
5:00 p.m. – ETA at Esplana Basecamp
6:00 p.m. – Dinner
7:00 P.M. – Taps
DAY 2 (Oct.26,2008)
5:30 am – Wake up Call
– Breakfast
7:00 am – Start Assault to Mt. ASOG Peak
10:00 am –ETA Summit
10:30 am – Start descend from the Mt. ASOG peak to Esplana Base camp
12:00 am – Lunch at Esplana Base Camp
1:00 pm – Leave Esplana Base Camp to Brgy. Santiago
4:00 pm – Arrival and rest at Brgy Santiago
4:30 pm – Leave Brgy Santiago to Iriga City
5:00 pm – Leave Iriga City to Naga City
7:00 pm – Back to Naga City HOME SWEET HOME
REMINDER:
-The organizer deserves the right to change or alter the itinerary without prior notice and bring all necessary camping equipment and expect the trails to be cogonal or grassy so bring with you your long sleeve shirts and trekking pants with abundant water. Individual with special medication are advised to bring the sufficient amount of medicine. Mt.Asog is a level 3 climb(MODERATE 2 STRENEOUS). Waterproof, pack your camping stuff in plastic bags before putting them into you. Make a check- list and check it twice. First aid – bring safety with you all the times. First timer – exercise, to be physically fit. Waste- dispose it properly. Carry out litter left by you and others
TAKE NOTHING BUT PICUTRES, LEAVE NOTHING BUT FOOTPRINTS,
KILL NOTHING BUT TIME.
WHAT TO BRING:
Food: 2 days probation. Anything as long it is edible but we recommend lightweight supply of food with enough supply of water.
Equipment: Sandals and Hiking are highly recommended for the trails are rocky and grassy and sometimes muddy, tents, stove, personal belongings such as clothes(for 2 days),pants, caps ,gloves, shorts, flashlight or headlight, jacket or sweater, etc.
For more information and reservation of slots
Note:
The I.T.is not absolute or will not be 100 % perfect
due to many factors such as the weather, participants pacing, the
condition of the mountains,traffic, etc. but we will do as much as
possible to impose to everyone to follow the i.t.
The organizer deserves the right to change or alter or
adjust the itinerary without prior notice to participants due to
weather, pacing of participants, etc.
The slots are up to 35 person only for we
adhere and follow all the environmental rules and
regulations and ethics in low impact hiking.
Interested Participants coming from Manila or other region who will
reserve the slots should do advanced payment 50% (P300) of the total
registration fee in order that their slots will be accommodated and
reserved. And just in case planning to back out, please inform
kadlagan 1 week before the climb in order to accommodate other
climber to join the said climb. Please end your advanced reservation
payment (P300) to Jose Ferdinand C. Villareal, Metro bank account
number-126-3126097906 and its nun-refundable.
For more info,just contact Kadlagan Outdoor
Shop and
services,16 Dimasalang St., Naga city,call
054-4723305 or just contact Jojo Villareal
cel.no.09283807493
Thanks a lot and SEE YOU
Jojo Villareal
Organizer
Kadlagan
MT. ISAROG: KADLAGAN Climb via Patag-Patag Trail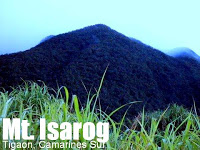 Kadlagan Outdoor Shop is initiating the annual TUKAD KAN ORAGGON 2008, at Patag-patag trail,at Mt. Isarog on Sept.27-28,2008. Registration:P650 includes I.D, certificate, local guide services,Souvenir items and DENR Permit registration which they charge P100 per day for climbing Mt. Isarog Excludes: Fare, food and personal stuff,and climbing equipments.
Interested Participants coming from Manila or other regions who will reserve the slots should do advanced payment 50% (P325) of the total registration fee Please send your advanced reservation payment (P3250) to Jose Ferdinand C. Villareal, Metro bank account number-126-3126097906 and its nun-refundable.
For more info,just contact Kadlagan Outdoor Shop and services, 16 Dimasalang St., Naga city,call 054-4723305 or just contact Jojo Villareal cel.no.09283807493.
MT. APO: Septe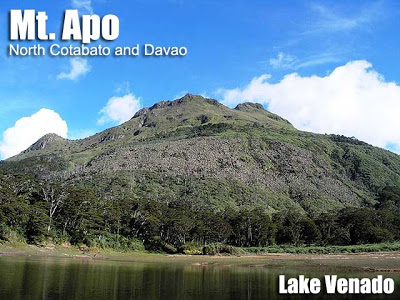 mber Climb 2008
The Municipality of Sta. Cruz, Davao del Sur, is organizing a climb to Mt. Apo on September 25-28, 2008 via the Sibulan trail. The highlight of this trail is bouldering towards the Mt. Apo summit instead of passing by Lake Venado. Interestingly, the September climb will allot one day for daytripping Lake Venado from the summit! The registration fee is P1,800 inclusive of transportation to and from Davao City; climb permits, fees, certificate, ID, and souvenir shirt. For more information, contact Mr. Julius Paner of Sta. Cruz Tourism Office at +639208567991.
MT. ISAROG FUN CLIMB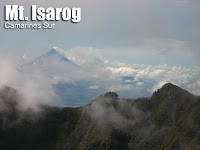 The Society of Active Volunteers and Explorers (SAVE) is inviting interested trekkers to join their fun climb in Mt. Isarog via the Panicuason Trail on October 10-13, 2008. Their schedule coincides with the Eid-al-Fitr holiday marking the end of the Muslim holy month of Ramadan. Check out details by clicking this link. Post a comment on the linked page and leave your email address if you are interested. Click on the image of Mt. Isarog to toggle the Mt. Isarog page in PinoyMountaineer.
LOG OF PAST EVENTS
Mt. Balingkilat: 6th MMS Open climb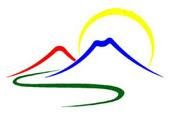 The Metropolitan Mountaineering Society (MMS) is inviting climbers to join its 6th Open Climb this year, at Mt. Balingkilat this coming weekend (September 6-7). Everyone is welcome to participate. For more information, contact Sir Joel Torres, team leader, at [cell number] or email him at Joselito.E.Flores@bitmicro.com. View the article on Mt. Balingkilat for the likely itinerary and expenses for this climb.
Sierra Madre river trek for a cause
The last frontier of old growth forest in Luzon the Sierra Madre Mountain Ranges is under threat. Illegal logging activities continue in the area.
A multi-sectoral group composed of World Wildlife Fund, Conservation International, PTFCF, PFEC, FPE, Luntiang Alyansa para sa Bundok Banahaw, MOVE-ON Mountaineering group,Tayabas Mountaineer, LIFE – COVE and Tanggol Kalikasan is forming a movement to act on it.
Everyone is invited to do their share, register and be counted in this once in a lifetime historical crusade. Join us! Due to the confidentiality of the operation some details are not posted.
Please contact the following:
Jebel Musa, PRO, MOVE-ON – 09204181864
Glenn Forbes, Senior Program Officer Tanggol Kalikasan – 09209230587
jayslim122170@yahoo.com
Tres anyo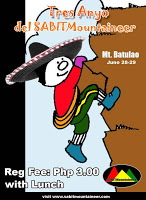 de SABITMountaineer
SABIT Mountaineer, a mountaineering club known for organizing open and invitational climbs (I admire them for their Bakun Trio and other explorations), is celebrating its 3rd anniversary on July 27 and hosting a climb to Mt. Batulao from June 28-29. The registration fee is a whooping 3 pesos! Pre-climb Meeting on June 18, 2008 at EDSA Shangri La Mall, Food court Contacts: JP – 09063064324; DAVO – 09178603384; FRANKIE – 09275443260; RHANDZ – 09274489050; Jay – 09063308775
KIDLAT: Mt. Balingkilat Open Climb
A post by Sir Mel Fabricante (MAISOG Mountaneers) at the PinoyMountaineer Multiply site details an open climb to Mt. Balingkilat on July 12-13, 2008. Registration fee is P350; preclimb is at SM Megamall on July 4. For more information contact mel (09179601388) or migs (09052688275). Check out their post for details.
AMCI BMC 2008

Every journey is started with a single step; and the best way to start your mountaineering journey is to join a Basic Mountaineering Course or BMC. In the Philippines, depending on the organizing group, the BMC consists of different modules that will physically and mentally prepare you for the oudoors. One of the pioneering hiking clubs in the country, the AMCI Mountaineering Club, Inc. is inviting participants to their 2008 Basic Mountaineering Course (BMC). There would be an orientation night on June 11 at A. Monila Hall, Equitable PCI Tower II, Makati Ave. cor HV dela Costa St. Registration is free.
2nd Maricaban Adventure
The Voyager Adventure Club is inviting mountaineers to join "2 days of mountain Hike… diving… camping…. swimming…" from June 14-15 in Maricaban Island off Anilao, Batangas. This is the large island to the left of Sombrero which is very prominent when you are on top of Gulugod Baboy. Registration ranges from P1000-1500. For more inquiries pls. contact: Dhang Estilloso at 0905-3352040; or email add: dhang720@yahoo.com or Al del Barrio at 0917-8364526email add: lenai_bojc21@yahoo.com.