MountainTalk #8: "Mt. Talamitam is burning!" / Other updates from Sir Nick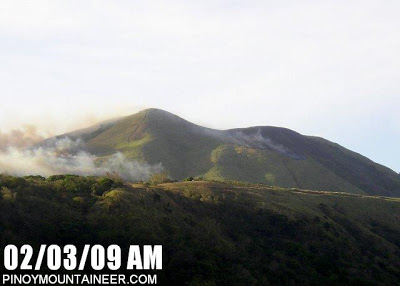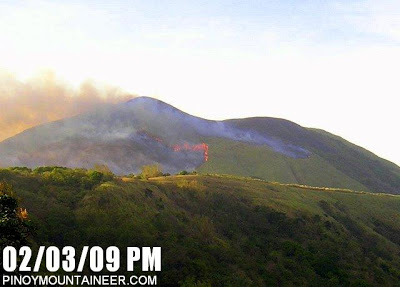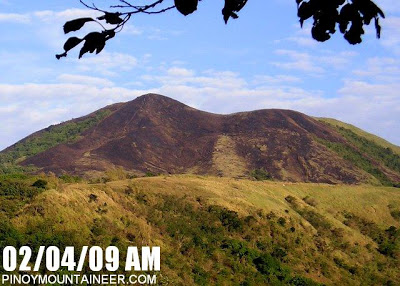 Sir Nicky Wijangco gives an update on the situation on Mt. Talamitam. As we know, he has been replaced as the caretaker of the mountain since last year and we sought to hear out his side. He laments the "neglect" of the so-called caretakers of Talamitam, and he cites a recent burning of the mountain as example – fortunately this episode has been serially photographed and is seen with this article.
PinoyMountaineer.com does not have enough information from both sides to render judgment on the issue and we will refrain from doing so. However, we believe that Sir Nick deserves a chance to air his side on this important matter. Here are some of his initial responses:
1. A lot of people have been saying things about Talamitam. What really happened?
Gideon, what is presently transpiring at Talamitam has happened at other climbing destinations which resulted in their downward spiral into inevitable environmental decay. I will expound on this at some other future time, but the bottom line is that the beginnings of the unscrupulous commercialization initiated by the local vested interests are now beginning to be manifested through various fees extracted from visitors. Aside from the registration fee which has been jacked by five pesos to Php25, payments are now demanded for river bathing, vehicle parking and guide services peddled like native rice cake.
2. Who is Mr. Ted Calimag, and what is the so-called Concernd Citizen of Bayanihan Movement (CCBM)?
Ted Calimag, or "Tsodi", to the locals, is a self -styled "chairman" whose CCBM assemblage is composed mainly of some ten siblings and a handful of syncophants. I know for a fact that some "members" are not now with his so-called movement. It didn't take long for these people to realize that the association was established for selfish interests. Take the cemented portions of the barangay road in point: they opted to concrete the sections directly in front of their properties. That's akin to contructing a bridge that starts at the center of the river. Sure, their properties look good, but poor "Ka Mahirap" could have been spared the backbreaking chore of trying to manually haul his produce to the highway. As it stands, a slight drizzle and no vehicle drives into the interior to pick up farm produce.
3. Do you still live in Brgy. Aga? What keeps you busy nowadays?
Yes I do. I keep busy trying to sculpt to keep my family fed but most of my time is spent networking with concerned local residents. My social work eats into my time too. Just this past weekend (January 31, 2009) a busload of Adamson University students led by Jun de Vera and MESAU spread cheer among 60 of the most needy students of Bayabasan Elementary School. Schools supplies were farmed out, fun games organized and the children fed afterwards. I am presently trying to organize the next dental mission.
4. What is your message to the mountaineering community regarding Mt. Talamitam?
"The buck stops here!" Meaning, "Enough", "No More" and "Tama Na"! After we cure the "mountain mismanagement virus" at Talamitam, we should work towards formulating a system of checks and balances which will hopefully curb the potential abuse of other climbing destinations nationwide. After all, and you may quote me on this: IRRESPONSIBLE MOUNTAIN MANAGEMENT BREEDS IRRESPONSIBLE MOUNTAINEERS!
Thanks for providing me the opportunity to comment on the current state of affairs at Mt. Talamitam. I am also enclosing photos of last Tuesday's (February 3, 2009) razing of Mt. Talamitam. Add that sad assault on Mother Nature to the list of my woes. I enjoin my fellow mountaineers to help stop environmental desecration anywhere. Let us close ranks!
Dissenting points of view are welcome at info@pinoymountaineer.com. Pictures courtesy of Sir Nick.