Hiking matters #40: Maculot night trek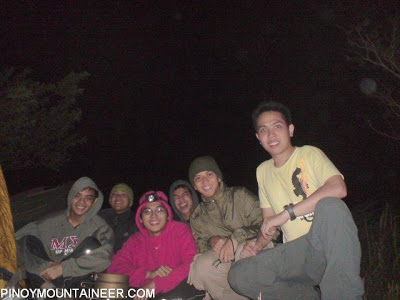 We went straight from the hospital and it was a hectic Friday for a commute, but I'm just glad we pulled it off in good weather and good time – a quick-in quick-out night trek of Maculot's Rockies, last weekend, with the following itinerary:
Friday – January 16
1930 Left LRT Buendia for Cuenca
2200 Arrived at Cuenca; register; start trek
2310 Arrived at campsite, set up camp
Saturday – January 17
0000 Dinner /socials
0200 Lights off
0700 Wake up
0800 Rockies
1000 Start descent
1100 Back at jumoff
1200 Arrived at Lipa for lunch
1600 Back in Manila
Some notes: My GPS unit tells me that the elevation of the campsite is over 700 instead of the 685 previously recorded in the blog. It's nice that the trike drivers automatically redirect climbers to the registration booth before proceeding to the jumpoff – and the police going on night duty to make sure everyone registers is something that is commendable. And although there's still some trash, I think we're seeing some improvement in local awareness (they've set up a "garbage deposit area" near the jumpoff).
This is the first time I night trekked Maculot – or stayed at the campsite for that matter. Thanks to my brods who accompanied me in the climb: Daniel, Jonathan, Pinggoy, Ulysses, and Rolatz!