Gear Review: Timex Expedition Altimeter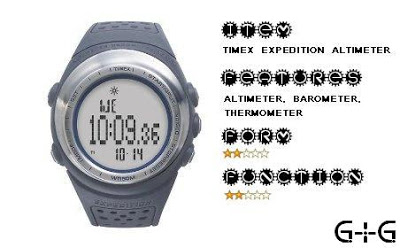 An altimeter watch is cool for two reasons. First, it looks cool. Second – and more importantly – it can give you important information while climbing, such as the altitude, the pressure, the temprature, and direction.
The Timex Expedition Altimeter watch, alas, does not have the stylishness nor the functionality of the Casio Pro-Trek series. It may claim to have a "futuristic" look but for me it looks boring. The brochure states: "The watch also has weather icons that show the current weather, and it measures altitude and barometric pressure. It's water resistant to 330 feet and comes with a one-year manufacturer's warranty." What weather icons? It is now a clear afternoon in Manila and yet my Timex Expedition shows the "Heavy Rain" icon. And, alas, if the Expedition's altimeter is to be believed, Pulag's elevation would be 2600 MASL and Napulauan would be 2200 MASL. Worse, Manila would be underwater, at 20 meters BELOW sea level. Wow!
Actually, nobody expects these altimeter watches to be accurate. But they have to be precise. For example, I did not bring my altimeter to measure the elevation of Mt. Pulag, because that is already well known and GPS data would be more accurate. Rather, I use the altimeter to measure the rate of ascent and a general idea of how high I am.
Of course I tried several times to have it calibrated, but the same altimeter problem keeps going, and I don't use the Expedition anymore for expeditions (no pun intended). New models have been released ever since, but they look just like the Expedition so I don't think I'll be buying any of them anytime soon.
G+G stands for "Gadgets and Gears" and are personal opinions of the blogger on mountaineering and outdoor-related gear.