Actual Itinerary of the Visayan Voyage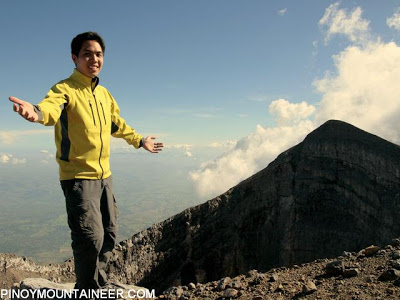 I'm back in Laguna after completing the Visayan Voyage with the successful ascent of Mt. Madjaas, which we can now safely conclude to be in fact the highest mountain in Panay Island at 2107 MASL (vs. 2080 of Mt. Nangtud). It was a difficult 3-day trek, and now I'm very tired after doing 5 Visayan mountains. In the coming days I shall work to post about these experiences. Meanwhile, here is the actual itinerary of the Visayan Voyage:
Day 1 OSMENA PEAK TRAVERSE TO KAWASAN FALLS
0500 Plane Manila-Cebu
0800 Bus Cebu-Dalaguete
1000 Habal-habal Dalaguete-Foot of O-Peak
1100 Start trek
1200 ATA Osmena Peak
1300 Start of Traverse
1630 ATA Kawasan Falls
1800 Back to Cebu
Day 2 TRAVEL: CEBU TO BACOLOD
1030 Bus Cebu to Bacolod
1700 Arrival in Bacolod from Cebu; Dinner
1900 Minibus Bacolod to La Carlota City
2030 Jeep La Carlota City to Guintubdan
2115 ATA Visitors' Inn at Guintubdan
Day 3 MT. KANLAON DAY 1
0800 Start trek to Mt. Kanlaon
1300 Arrival at Margaha junction;
1500 ATA Crater of Mt. Kanlaon
1545 Start descent
1800 Camp at Margaha Valley
Day 4 MT. KANLAON DAY 2
0630 Resume descent
1200 Back to Guintudban
1300 Jeep Guintubdan-LCC
1400 Minubus LCC-Bacolod
Day 5 MT. TALINIS TRAVERSE DAY 1
0300 Bus Bacolod-Dumaguete
0900 Bus Dumaguete-Dauin
1000 Arriva
1030 Start trek via Bediao route (760 MASL)
1300 Lake Yagumyum
1700 Lake Nailig; Set up camp
Day 6 MT. TALINIS TRAVERSE DAY 2
0700 Start descent via Apolong route
1500 Sidetrip: Casaroro Falls
1800 Dinner
1900 Bus Dumaguete-Bacolod
Day 7 MT. MANAPHAG TRAVERSE
0530 Fastcraft Bacolod-Iloilo
0730 Bus Iloio City-Concepcion,Iloilo
1030 Pumpboat Concepcion-Pan de Azucar
1130 Arrival Pan de Azucar Island
1400 Start trek: Mt. Manaphag South Face
1700 Summit of Mt. Manaphag
1730 Descent via North Face
1900 Back in beach resort
Day 8 TRAVEL: ILOILO CITY TO CULASI
0600 Pumpboat Pan de Azucar-Concepcion
0700 Bus Concepcion-Iloilo City
1000 Rest in Iloilo City
1600 Van Iloilo City-Culasi,Antique
2030 ETA Beach resort in Antique
Day 9 MT. MADJAAS DAY 1
0800 Courtesy call with Mayor Alpas
0830 Courtesy call with PNP
1000 Habal-habal Town proper-Brgy. Flores
1100 Start trek
1630 Arrival at New Camp 1 (Batang-Batang)
Day 10 MT. MADJAAS DAY 2
0600 Resume trek
1100 Arrival at Camp 3 / Lunch
1200 Commence summit assault
1430 Summmit of Mt. Madjaas
1500 Head back to Camp 3
Day 11 MT. MADJAAS DAY 3
0600 Descent via Old Trail
1500 Back in Brgy. Flores
1700 Back in Beach resort in Antique
Day 12 BACK TO MANILA
0200 Van Culasi-Iloilo City
0700 Taxi Iloilo-Airport
1030 Plane Iloilo-Manila
1200 Back in Manila. End of Voyage.