Climb of the Month: Mt. Guiting-Guiting Traverse!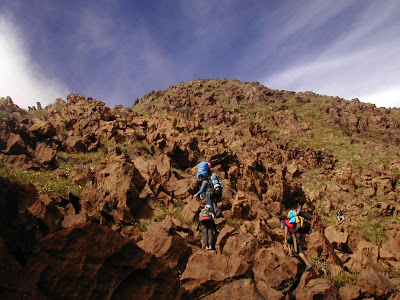 PinoyMountaineer congratulates the mountaineers who have taken the G2 experience one notch higher by performing a G2 traverse. For their daring, courage, and team effort, the Guiting-Guiting Traverse is the Climb of the Month for April.
TEAM MAGITING
On April 6-9, 2009, eight climbers which formed the 'Team Magiting', led by Kat Ocol, started off from San Fernando in Sibuyan Island, reaching Sibuyan Peak, then the summit, then Mayo's Peak — on heavy packs — taking 33 hours of trekking time. Other members included Jonathan Pambid, Richard Visco, Aaron Tijing – with whom I climbed G2 last year. Kudos to your team!
HIGH CONQUERORS
In another development, the nascent High Conquerors Mountaineering Club performed a similar feat from April 11-13, 2009. Theirs were a group of 10 members, mostly from Luzon. Special mention to my friends Emman Palacio and Mijan Pizarro, among others, who were part of this team. Congrats!
PREVIOUS EXPLORATIONS
As early as the 1980s, mountaineers have attempted to traverse G2, with attempts from clubs such as UPM. But the successful traverse did not come until 2004 when a group of DENR personnel performed the traverse. A year later, a AMCI-led group became the second group to the traverse. We are awaiting other groups to come forward and lay their claim if they have also done likewise. But based on all available data, the two groups this month are only the third and fourth group, respectively, to have done the traverse.
DOCUMENTATION
The climb will be inscribed as follows in the PinoyMountaineer registry and an entry will be posted soon in cooperation with the mountaineers who performed the climb:
MT. GUITING-GUITING/TRAVERSE (2,058+)
Sibuyan Island, Romblon
Entry point: Sitio Olango, San Fernando, Sibuyan Island
Exit point: Brgy. Tampayan, Madgiwang, Sibuyan Island
LLA: 12°24'50″N, 122°34'4″E, 2058 MASL
Days required / Hours to summit: 18 hours / 3 days
Specs: Major climb, Exploratory, Difficulty 10/9 (until 12/2009), Trail class 6
Photo courtesy of Richard Visco.