Gear Review: Sandugo Khumbu 40 Pack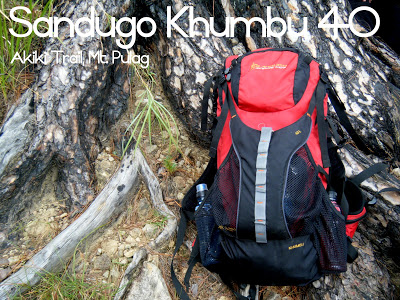 One of my packs is a
Sandugo Khumbu 40
. Because my climb requirements use up at least 50L most of the time, I've previously used it only once –
on a trip up Mt. Kinabalu
– but I decided to use it again this time for a Mt. Pulag Traverse from Akiki to Ambaguio.
The 30-kilometer trail presented some challenges and I took a minimalist approach, bringing just a set of clothes and some extra garments, doing away with my dSLR, among other modifications. A 40L bag would be more bearable considering the steepness of Akiki and the length of Ambaguio.
The Sandugo Khumbu 40 was quite light, and one of its impressive innovations was the customizable configuration of the main compartment. Even if you put an earth pad and stretch its height to the size of the pad, it can accommodate, thanks to the numerous
There is also a mesh outer compartment where you can stuff random things like trail trash, raincoat, or anything that you don't want inside the main, dray, compartment.
As for waterproofing, just like the usual Deuters you have to install some extra measures, like a raincover, a large plastic bag inside, etc. But when we had some rains in the Ambaguio trail of Mt. Pulag it worked perfectly well – no major problem like a bag getting nastily heavy just because it got wet.
The only difficulty I faced with the Khumbu 40 is that it does not automatically "balance" your body. The Deuters, with a back-hugging mechanism, kinda integrates with your body – and with a big hip belt at that that really puts the center of gravity to a manageable position, even with a very heavy pack. The Khumbu, with a a flat back, does not have this mechanism, although it does have a hip belt, and with some adjustments of its rips, it can be a pretty comfortable pack.
The fact that it's Filipino-made is also a plus, because somehow we have to encourage these brands to develop. It also has a price tag that is just a third of its foreign-made counterparts, which makes adding it to your hiking inventory quite easy. At the very least, as a spare bag. In sum, I think the Khumbu 40 is a nice bag and I think it will see more adventures with me in the future!