Hiking matters #71: Bakun Trio Day 3 – Mt. Tenglawan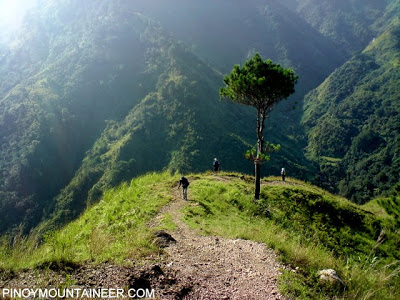 After writing about Batanes and the incredible climb of Di'nem Island, let me complete my account of my Bakun Trio adventure with PALMC. To recap, we had finished Lubo (a wet but nonetheless successful climb) and Kabunian (a dry and very scenic climb) and my index finger injury somehow managed to heal. A subgroup led by team leader Ojie and the guys from Lufthansa camped in Lubo and saw beautiful views from its summit at sunrise, then rested the whole day while we did Kabunian. But for Tenglawan we were all reunited.
We left very early, for Tenglawan is the longest hike of the three. Especially since we are climbing from Poblacion, instead of the the more convenient route from Brgy. Sinacbat. Just like in Kabunian, we had to descend from the Poblacion plateau down to the valleys, pass through a hanging bridge, and go up some mildly elevated, well-established trails. It first led to a village, Sitio Beyeng, which sits on the east side of the mountain. As we approached it, to our right was a breathtaking view of a cascade of waterfalls descending through green fields and slopes.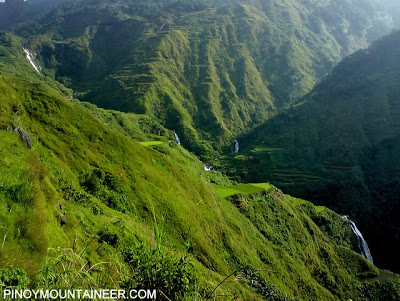 Then the trail plateaus; a rough road that connects Sitio Beyeng with Brgy. Sinacbat is used until you have to make the left turn for the mountain. The rough road is almost Ugo-like in terms of scenery, but it is short-lived. Instead of a straightforward ascent, however, we had to go down some unremarkable shrubland until finally the ascent begins. Here the environment once again becomes "Cordillera-like", and pines re-emerge; and with them the beautiful floral repertoire that unfortunately we weren't able to appreciate due to worsening weather.
By noontime we stopped by a dead creek where we had lunch. At this point even the guides seemed confused as to where the trail is. This is of course one of the cons of climbing off-season. But ultimately the found the trail – it led straight up and even though it was already raining we persisted, until we finally reached the summit of Tenglawan after more than 6 hours of climbing. At about 1940 MASL the promised views of Ilocos and Benguet – including Tirad Pass, the Bakun mountains and even Mt. Osdung signalling the Halsema – were obstructed by clouds. The only sight we could see was the faint blur of that rocky peak with a cross that serves as the landmark of Tenglawan.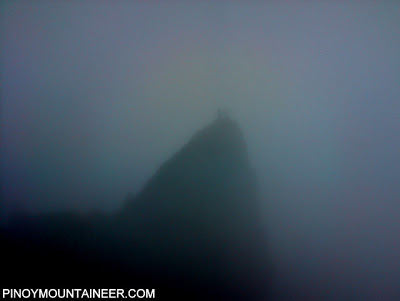 Even so, we were thrilled for we've completed the formidable Bakun Trio. Three days, three mountains – it's really a must-try Cordillera challenge. As if to bid us farewell, as we night-trekked the ascent back to the Poblacion plateau, thousands of fireflies lit the trees, creating a fantastic sight. In concert, the fireflies pulsated with their lights – as if the entire universe of stars twinkled as one. Our summit views may have been rained down, but such a surprisingly magical scene with the countless fireflies remind me that in mountaineering, you never know what epiphany each adventure will bring.
Thus ended our Bakun Trio trip. Again I thank the Philippine Airlines Mountaineering Club for accommodating me in this unforgettable adventure. I not only gained three mountains, but new friends that I will always look forward to meet again in the trails.