Hiking matters #80: For the love of coffee, good food, and fresh mountain air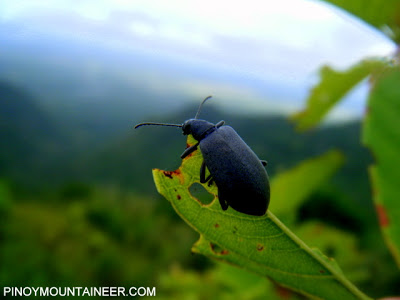 LIPA, BATANGAS – My favorite coffee is none other than the homemade brew prepared by Mang Pirying, the old man who lives along the trail up Manabu Peak in Sto. Tomas, Batangas. Manabu Peak is one my favorite little hikes. I was 17 when I first climbed Manabu Peak. Back then, I didn't know what mountaineering meant. I simply loved to climb mountains. I read about the peak from Long Henson's site and since my hometown of San Pablo was very near Sto. Tomas, I invited my cousin Franz and our childhood friend Ephraim to join me.
We just followed the trail. Back then, I didn't have much climbing experience and soon we got lost. Fortunately, Mang Pirying found us and he showed us the right trail that led to the summit. Since it was a Wednesday, we had the peak to ourselves. I wrote in my travel journal when I was at the peak:
It isn't wet anymore, but clouds continue to hover around us, and we feel like we're on a small island, surrounded by a sea of white clouds. Black-and-white birds circle around the peak, and in the absence of the promised spectacular views we are now sitting here, content at the sight of the birds, insects, trees, flowers, and revitalizing coolness of the wind…


I hope it doesn't rain later. After we arrived here it rained, and we had to hide beneath the sampinit and guava bushes. But the rain didn't last long, and we didn't really get wet. In fact I think I felt wonderful, because the rain and the grass-covered peak here brought to life happy memories of Mt. Pulag, a year ago. We'll wait awhile for the clouds to clear, and we'll also rest and eat sampaloc candies. Until 12:30 we'll stay here and cherish these wonderful moments…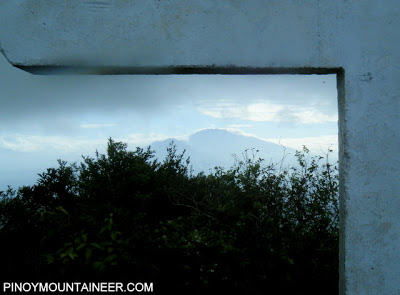 Reading my journal entries six years ago makes me nostalgic indeed. How carefree I was at that time! I can go back to Manabu Peak from time to time but I cannot go back to the time when I was experiencing mountains for the first time.
One of the lingering joys of my first climb was Mang Pirying and the coffee he generously served us. It was barako coffee that he himself prepared from the coffee trees that he planted around his humble abode.
To my surprise, Mang Pirying still remembered me when I came back to Manabu Peak three years later, this time with my classmates from Med school. "You're the boy from San Pablo who got lost. You've grown!" he said. And after the pleasantries there was again Mang Pirying's coffee, which my classmates instantly loved.
Since then I've returned a couple of times and today, once again, I came back this time with my good friend from Binondo, Brznf Yu. The peak was quiet and quaint as ever. Despite the summer heat, Manabu Peak was cloudy just as I remember it; there is a certain beauty in its perpetual haziness. I did not bring any trail food, knowing it would be a quick hike. Besides, the sampinit (wild berries) would give me nourishment just like before… And of course, Mang Pirying was there again, and sharing his coffee, I told him that I think it's the best coffee in the world.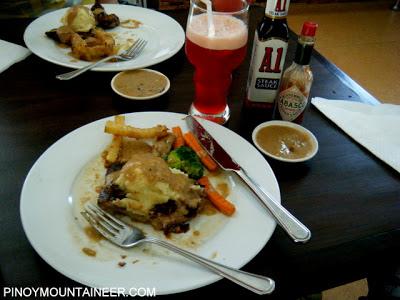 After the hike, we went to Lipa. Instead of my usual postclimb treat of a Mang Inasal chicken, I decided to experiment and I found myself here in Qube Bar and Restaurant near Starbucks, which serves gourmet food at very reasonable prices. I was surprised that my pork tenderloin in "madagascar sauce" would be very filling and delicious! At P150 it was well worth it.
I would have to go back to Manila now, since I have hospital duties tonight. Yet, I feel very much revitalized after having revisited Manabu Peak. I'm glad to see the mountain again, I'm glad to meet Mang Pirying once more – he is one of the reasons why I feel at home in the mountains. He asked me when I will come back. I replied, "I don't know, but I definitely will."
Yes I will, I told myself. For the love of coffee, good food, fresh mountain air — these are the small things that make mountaineering well worth it. These are the things that will keep me going.