Hiking matters #279: Joining the "Twin Dayhikes II" team in Manabu Peak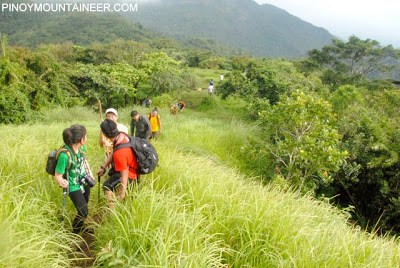 Last Saturday, just as we were on the way to do the Twin Dayhikes II: Maculot and Manabu Peak, I had to go back to Manila for a medical emergency. Fortunately I was able to come back for the second climb, Manabu Peak! I was accompanied by Voltaire, who had joined the 2012 Kinabalu Expedition, and my brod Daniel. By 1515H we were at the trailhead and we quickly trekked to catch the rest of the Trail Adventours group.
The mud and the rains notwithstanding, I enjoyed this latest trek up Manabu. I'm glad that Mang Pirying's kinsman continues to serve free coffee at the halfway hut, and I was also delighted to catch the Trail Adventours team at the summit! We took pictures before another round of rain signaled that it was time to go. We did so via the Grotto trail – where the forests are nicer.
It rained so hard that my Nikon D3000 was no longer working when we got down at around 1815H! I wasn't worried too much, though; the D3000 has survived various conditions and accidents, including a fall on a ravine in Mt. Kalatungan. True enough, after 48 hours of not turning on, it went back to normal, as if nothing happened!
Hiking matters #280: Twin Dayhikes II in Manabu Peak