Gear Review: Therm-a-Rest Prolite Plus sleeping pad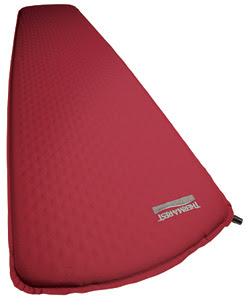 Gear review by Cecil Morella (AMCI)
Equipment Adviser, PinoyMountaineer.com
PinoyMountaineer.com is honored to have Sir Cecil Morella of AMCI as its equipment adviser starting May 2009, providing insights on camping gear and equipment in the website's "Climb Gear" section.
Over the past 10 months I have been packing the latest version of the lightest four-season Therm-a-Rest self-inflating sleeping pad, called ProLite Plus. There is a three-season version, called ProLite, that is half an inch thinner and weighs slightly under half a kilogram, but I chose to carry an extra 220 grams or so because the shape is closer to rectangular. The three-season version tapers radically towards the foot, like a carrot or a mummy-shaped sleeping bag, that your feet would fall off unless you sleep like a corpse, or yes, inside a mummy bag. My legs love to take a stroll across the width of the tent floor when I am asleep. So why go for the basic when you can have the plus at the same cost?
Both versions are made of polyurethane foam and are coloured pomegranate, or red for simplicity. The regular sizes are 20 inches across at the widest section and are 72 inches long, just right for me but maybe a tad too long for a regular-sized male Filipino backpacker who might wish to switch to the 66-inch women's version, which has the same weight but is coloured plum (violet, actually). I have also used a three-season earlier edition of this sleeping pad, the ProLite 3 for women (pink), and felt very comfortable.
As for Filipino women, they may choose to opt for the small size of the men's ProLite models to get rid of the extra bulk. The length is an inch short of four feet and weighs just 480 grams.
The pads can be the difference in having a good sleep on rocky campsites, such as Tarak Ridge, where you do not really have the option of digging up and removing rocks individually. I have used mine at Natib, Daguldol, Simmagaysay, Dulang-dulang, Kitanglad, and Ugo, and I never had to dig out any object beneath my tent floor until I encountered a big pine cone in early October.
Open the air valve at the top corner as soon as you set up your tent and allow it to self-inflate as you prepare dinner. Blow into the valve to increase the firmness then lock; unscrew to let off air. Let the air off before rolling it for packing when breaking camp.The manufacturer insists the foam pads can be rolled to the size of a one-litre Nalgene water bottle, but I have never managed that. Maybe they were referring to the small sizes.