Hiking matters #106: A glimpse from Alto Peak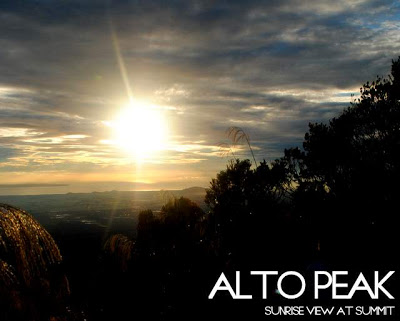 TACLOBAN, LEYTE – Finally, Alto Peak! The highest mountain in Eastern Visayas proved to be a challenging, but very beautiful climb – one that I have waited so long to try and visit. It has been more than two years since I yearned to reach this peak. Information then was quite elusive and incomplete, if not inconsistent, but now at least we can answer the questions and begin to write a more definitive itinerary of Alto Peak.
The Nalda family are our hosts here in Tacloban, and they have been very nice as always. It was a reunion of sorts for us; I have fond memories of their climb up Mt. Tres Marias last November, which I also joined. That was my first time here in Tacloban and since then I've planned to come back. This time I was with the Iron Lady again – the Kiwi tramper Jo Steven. My friend Justin from UST also joined. Uncle Tom, Tita Jezebel, and of course Jhoc Nalda accompanied us to the little-known trail to Alto Peak – a trail that they themselves have blazed some years back.
I will be heading to Davao City for the Mt. Apo Sembreak Climb and a much longer Alto Peak narrative might have to wait until I can finish this upcoming climb.