Roster of Mt. Apo Sembreak Climb participants – Congratulations!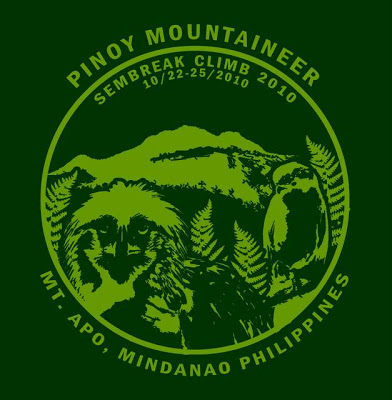 PinoyMountaineer.com congratulates the 68 participants who joined the 2nd Mt. Apo Sembreak Climb last October 22-25, 2010. Your determination to do the challenging Kapatagan-Kidapawan Traverse. Special mention to our youngest participant, Diego Manalastas, age 12; our largest group (Texins Mountaineering Society, Baguio City, 14 participants), as well as our guests from Malaysia (Joseph Yiong, Yeoh Icok Peng, and Ong Hock Seng) and Australia (Hamish Roberston). Here is the roster of successful Mt. Apo climbers:
1. Abesamis, Keziah Agawin
2. Adam, Mark Christian
3. Almeda, Jose Angelo Millena
4. Aquino, Mary Grace Guevarra
5. Aquino, Pamela
6. Avila, Darwin Parillas
7. Badando, Hana Quiambao
8. Bagon, Jefferson De Blas
9. Batayola, Julius G.
10. Blas, Ma. Jean Krisca Nunez
11. Bolina, Argel Placino
12. Brillo, Elmer Cornista
13. Cabales, Phillip
14. Cabusao, Ricardo Jr.
15. Canero, Julian
16. Caoagdan, Bonie Permison
17. Cerezo, Candice Yarra
18. Collong, Elmer Benedict
19. Colmenares, Daniel Gurrea
20. Cruz, Daniel Joseph Gumogda
21. Danguillan, Jose Vicenta
22. Deguzman, Marlie Sarmiento
23. Dela Rosa, Katrina De Jesus
24. Dellosa, Daniel
25. Dumlao, Carlo Polo
26. Estrelon, Geshiela Tolosa
27. Flores, Michelle Kaye Dela Cruz
28. Gamboa, Sherman Kilayko
29. Gopez, Ulysses
30. Hechanova, Marius Lactao
31. Hilado, Ray Lladoc
32. Ignacio, Vic Coronel
33. Joseph Yiong Thiam Woon
34. Juan, Dan Paolo Abutan
35. Kua, Terence Lincolne
36. Macapaz, Dodjaye Rivera
37. Manalastas, Diego Santi Molina
38. Manalastas, John Oliver Torres
39. Mauricio, Mark Jerome
40. Moreno, Carlo Supnet
41. Nadal, Jonald
42. Olipane, Allan Lim
43. Ong Hock Seng
44. Ordona, Maria Teresa Octaviano
45. Orille, Reynaldo Llobrera
46. Parcon, Randell Espiritu
47. Pasamonte, Farrah Caldez
48. Posadas, Estela
49. Quidato, Christian Malunes
50. Revano, Juanito Olarte
51. Robertson, Hamish Monroe
52. Salvacion, Marvin
53. Samar, Regidor Imperial
54. Sangalang, Patrick
55. Santiago, Paolo
56. Sardin, Princess
57. Sarreal, Jacob Gabriel
58. Solano, Connie Campos
59. Soliven, Fredimar Constantino
60. Tanoja, Harry Mamon
61. Tolentino, Reno Chua
62. Tolosa, Eumarlo
63. Varona, Dandin Calves
64. Varona, Jenny
65. Varona, Jose Paolo Reyes
66. Vergara, Jefferson Palma
67. Villanueva, Venancio
68. Yeoh Icok Peng
Again, congratulations! Our sincere apologies for all the lapses in the climb organization. Thank you very much for all the cooperation and patience you showed us and we hope to see you again in the trails in the future!