Hiking matters #207: More outdoor shops in Davao City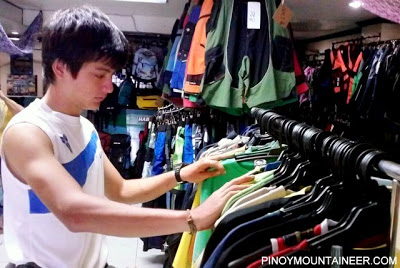 TAIPEI, TAIWAN – After our great
Talomo-Apo Traverse
, Javi and I went around Davao City for outdoor shopping (or, more accurately, outdoor
window
shopping) – this is becoming a pastime for me, and if you notice, my major out-of-town hiking trips are usually epilogued by a tour of outdoor shops. A year ago, after an Apo Traverse, I did the same thiing, and it was chronicled in
Hiking matters #113
.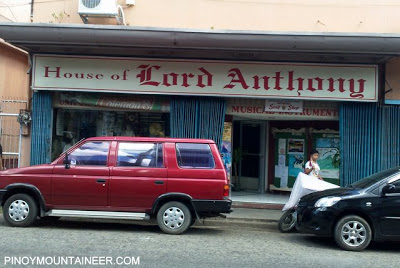 We first went to House of Lord Anthony in F. Inigo (Anda) Street in downtown Davao City, perhaps the largest outdoor shop in Davao City. This shop is of special significance to us now that it will be one of the first stores in Mindanao, together with Viajero Outdoor Store in CDO, to carry the PinoyMountaineer Shirts.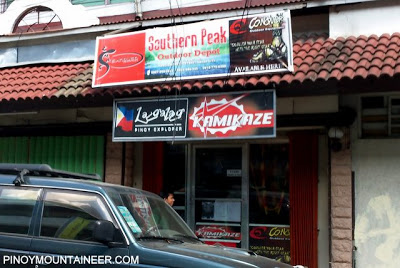 Afterwards, we came upon the Southern Peak Outdoor Depot at Ponciano Reyes St. in downtown Davao. It's a small shop that offer mostly clothing, particularly from local brands such as Lagalag, Kamikaze, Sandugo and Conquer.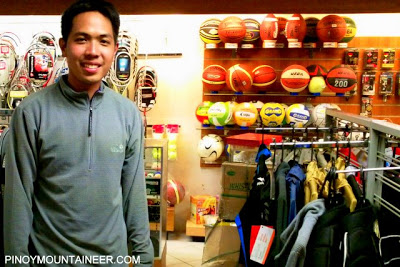 Interestingly, however, the department stores of malls also offer a wide range of outdoor goods. The department store at the Gaisano Mall of Davao has an excellent selection of items, ranging from tents, sleeping bags (with some below-zero ratings made in China!), and even Jack Wolfskin long sleeves! Our Malaysian friends were very happy with outdoor shopping too, and they say NCCC Mall also had its own surprises.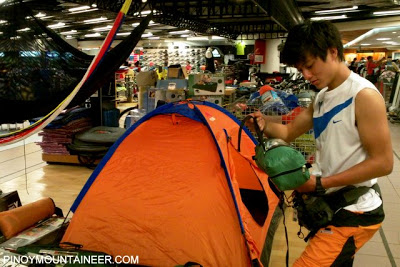 Davao City is truly a nice place to buy outdoor gear occasionally! There was more than durian bars in my bag when we came back to Manila on the same day.