Hiking matters #110: Mt. Apo Sembreak Climb Part 1: Kapatagan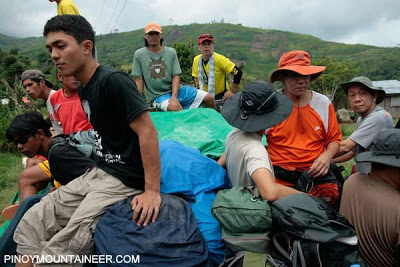 Hiking is not a battle between man and mountain; it is a struggle between man and his own self. And the ultimate victory is not reaching the top, but reaching beyond one's limit.
One fine October morning, all 68 participants of the 2nd Mt. Apo Sembreak Climb gathered in People's Park in Davao City, where two buses took us to the center of the highland Brgy. Kapatagan. And from Brgy. Kapatagan, much to everyone's bewilderment, we were carted off by a truck to Sitio Mainit, the final jumpoff for the Kapatagan trail! I heard allusions to concentration camp send-offs. Later on, Jaime Aldeguer, our Davao organizer, explained that there were supposed to be two trucks and we had been betrayed. "As you go more and more local, dealing with people gets more and more difficult," as I put it to some of our participants later on. Nonetheless, I knew that trucks are really the way to go in many mountain roads and though seemingly precarious, they actually deliver.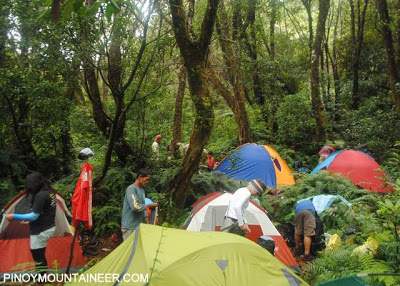 From Brgy. Mainit, it was a long Day 1 that pushed well into the night. There was, I felt, a need to push for Camp Gudi-gudi in order to make a more relaxed Day 2 – when the scenic (and physically demanding) Boulders need to be crossed. We entered the forests of the Kapatagan trail, and slowly marched towards the campsites: Upper Sabwang, Tinikaran river, and finally, Gudigudi. I was part of the sweep team and when we arrived just before midnight. There was no time to inquire whether Gudi-Gudi was derived from a Bagobo word, or merely a "goody-goody" place to have a good time. I quickly set up my tent in the remaining patches of land and after accounting for everyone, immediately fell asleep.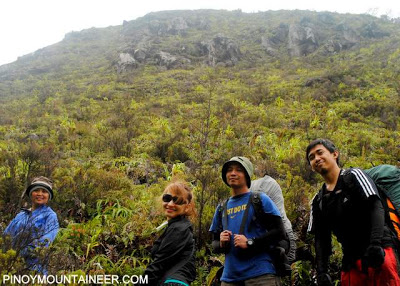 The next day, we woke up to gloomy weather at Camp Gudi-Gudi, and began crossing the famed Boulders of Mt. Apo. These volcanic rocks are the collapsed remnants of bygone eruptions; and they make for a very dramatic hiking trail. Yet, sensation is not confined to vision; olfaction was at work too as the sulfuric vents spewed forth their noxious gases. So too did our hands work against the the surface of the rocks – pulling ourselves up this otherwordly scene amid intermittent rains and the threat of night.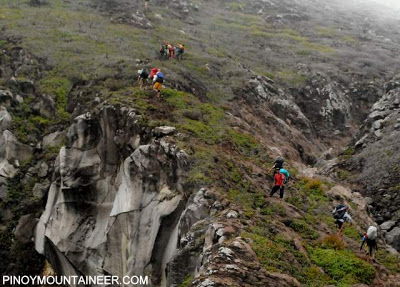 By mid-afternoon, the first sets of participants had reached the summit – the highest point in the Philippines. When we arrived at around 1505H, I immediately revisited the rock where I stood five years ago, then a teenager who aspired to reach the country's highest peak; now a mountaineer who wished to share the thrill of the summit to others. Whereas it was a solo climb before, now it was a large expedition; things inevitably change yet there must be the awareness that each step you make along the trail makes you a better man. Since less than half have yet to summit; I did not feel the usual joy I have upon reaching a peak. Only until the last man (or woman, as it turned out in our case) has summitted could we celebrate.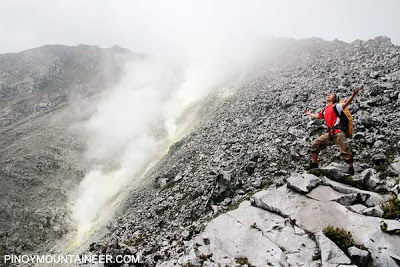 It would take another few hours before the sweepers would arrive at the campsite; but it was a much more peaceful evening at the summit campsite, compared to the previous night at Gudi-Gudi. The campsite was benign, the land was softened by moss and volcanic soil; and the fierce winds were buffered by the surrounding peaks. As the full moon shone over our tents, there was a feeling of relief and joy – after all, everyone had summitted and we were ready to descend the following day. Yet the perils of the Kidapawan Trail still lay ahead of us…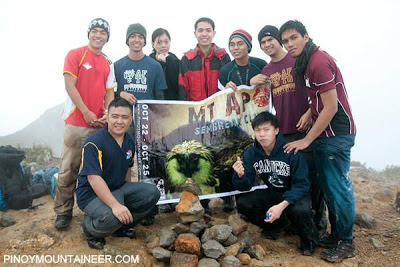 Hiking gear I used for this climb:
Pack: Deuter Futura Vario 40+10
Pants: Zebra Platinum Trekking Pants
Jacket: Aigle Actimum Gore-Tex

Raincoat: Mountia Raincoat Blue
Shoes:
Teva Forge Pro eVent
Tent: SwissGear Hiking Tent
Sleeping Bag: Coleman Crescent Sleeping Bag
Altimeter: Casio Protrek Waveceptor
Cameras: Nikon D3000 + Fujifilm Finepix Z33 WP
DAVAO TRIP 2010: MT. APO SEMBREAK CLIMB + MT. TALOMO
Hiking matters #110: Mt. Apo Sembreak Climb Part 1: Kapatagan
Hiking matters #111: Mt. Apo Sembreak Climb Part 2: Kidapawan
Hiking matters #112: Mt. Talomo's mystical forests and Mt. Apo views
Hiking matters #113: A tour of outdoor shops in Davao City