Gear Review: MSR Hubba Tent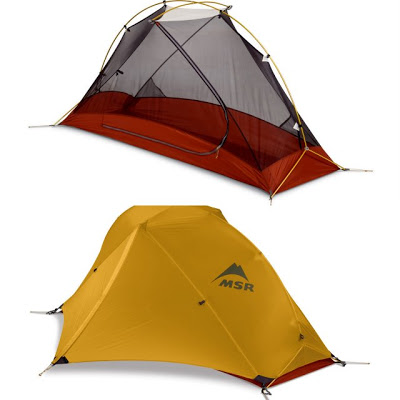 Gear review by Cecil Morella (AMCI)
Equipment Adviser, PinoyMountaineer.com
The main downside of tiny, gramme-shaving gear is that they could easily get lost, or, in the case of an ultra light tent, get carried off by the wind while pitching camp on a windswept ridge. On the plus side, it would be light enough to pack even on day hikes, as emergency gear.
I started using an MSR Hubba solo this year, slashing my shelter weight by nearly half to about 1.5 kilos including the groundsheet, but also cutting the floor space by more than half. I am quite happy with the trade-off, though I would have liked to have the newer-edition colours. Mine has a red-rust polyurethane floor and bright yellow rip-stop nylon fly while the new, 2011 versions, which have the same material and dimensions, come in more earthy brown canopy and green fly.
The pole-and-hub design, which comes with six tiny needle stakes, makes for easy pitching, once you get the hang of it (clue: canopy grommets go through the pole ends first, before the fly), though the brow pole section is a tight fit and the fly does not really go all the way down on the other side, the one away from the single door. With its all-mesh clip-on walls and no fly vents, it could get draughty at night if the latter is staked out haphazardly. At Nagsasa Cove in mid-February the tall, stand-alone modified dome tent admirably withstood the brisk winds, but wind-blown sand penetrated inside.
I have yet to use this tent in the rain, but a friend who used the same model in a multi-day climb across the tropical rainforests of Leyte said he stayed absolutely dry. The tent wall design is nearly vertical, which at least in theory means the condensation on the inside of the fly would slide off safely to the ground instead of dropping onto the mesh and down the tent floor.
Unless you stand a lot more than six feet tall, your head and feet would not touch the ends. I got the R.O.X. salesmen both in Cebu and the Fort to allow me to lie down inside their display unit before purchasing at a discount abroad. The main tradeoff for the weight is really in the width of the floor — it is advertised as 26 inches, but in actuality the flat section only measures 22 inches across. High-end solo three-season tents made by Big Agnes and Marmot have slightly bigger floor acreage for the same weight. Still, there is more than ample space for your standard 18-inch sleeping pad and a mummy-shaped sleeping bag. Everything else would have to be stored under the huge single vestibule.