Hiking matters #140: Hiking up Mt. Trus Madi in Sabah, Malaysia's 2nd highest peak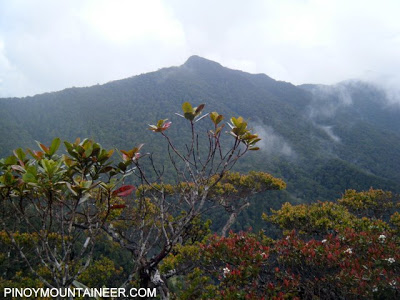 KOTA KINABALU – Everybody knows about Mt. Kinabalu, the highest mountain in Malaysia;
I had climbed it in Christmas 2008 with my father and younger brother
. But for Malaysian hikers, an equally important hiking destination in Sabah is Mt. Trus Madi (Mt. Trusmadi) the second highest peak in Malaysia, standing at a respectable elevation of 2642 MASL. Moreover, since Kinabalu is a "tourist mountain", Trus Madi is the highest mountain in Malaysia for climbers, and even though since 2010 the trail has been abbreviated by a rough road, it still lives up to its name.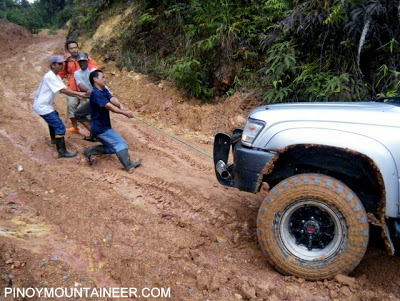 From March 7-8, 2011 I joined members of the Orang Gunung Kuala Lumpur (OGKL) hiking club on a hike up Mt. Trus Madi, upon the kind invitation of expedition leader Deeno Lot. We left Kota Kinabalu for Tambunan town in Sabah on the 7th, and headed off to the basecamp via four-wheel drive trucks. Since weather has been rainy in Sabah, negotiating the muddy rough road was a challenge in itself; fortunately the skillful drivers managed to carry us safely and successfully.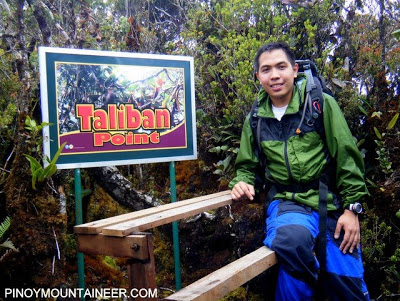 The next day we commenced the climb – at 0830H. The trail was only 4.9 kilometers, by both Malaysian and Philippine standards an easy to moderate climb. The starting point was already at 1700 MASL, so there was less than 1000 meters to gain. Yet, the trail was very nice and mossy, replete with flowers, insects, and yes, pitcher plants not the least of which was Nepenthes trusmadienesis, found in that mountain alone!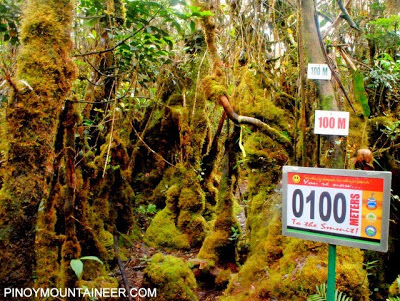 Interestingly, there are trail signs every 100 meters updating you of your progress. A few pondoks, huts, serve as rest stops. Wooden steps and planks and steel ladders are features of the trail – which not only make the trail easier to take; they also protect the trail from damage. Purists may feel the trail signs are a bit overdone – they include a big metal signboard at the summit proclaiming "You've reached the summit of Mt. Trus Madi", but the great thing about Mt. Trus Madi is that it is well-maintained – you can see plenty of birds chirping along the trail; the jungle is very much alive.
We summited at 1300H, had an ephemeral glimpse of lofty Mt. Kinabalu, so high in the clouds, before descending back to the starting point, which we reached before sundown. The return 4×4 trip was easier, but it was somehow bitten by a Bornean bee or wasp which, by some misfortune, stung me in my mandible, close to the mental nerve – thereby causing a lot of pain. Still, it is a small price to pay for a beautiful day up the mountain.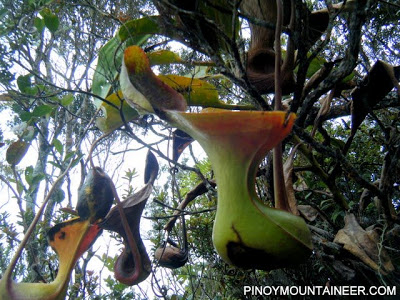 Back in Kota Kinabalu, I am very grateful to the guys and gals of Orang Gunung Kuala Lumpur (OGKL) f0r accommodating me. Hiking up a Malaysian mountain with a Malaysian team was a novel, very enriching experience for me and I look forward to coming back for more gunungs, hopefully in the Peninsula. Terih Makasih!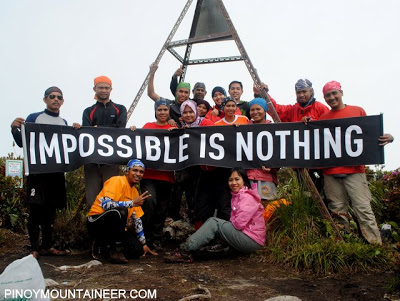 The blogger thanks Deeno Lot and the Orang Gunung Kuala Lumpur (OGKL) hiking club for accommodating him in this climb from March 7-8, 2011.
EXPLORASI SABAH 2011 with OGKL