Zaidi Bidin's keepsake in Mt. Pulag, Luzon, Philippines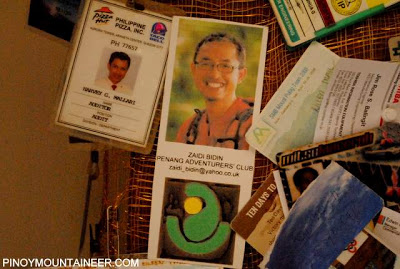 Zaidi Bidin, my friend who passed away in Sabah last March 2011, climbed Mt. Pulag in the Philippines in 2009, and last weekend, when I visited the mountain, I was surprised to see that he his has left his photograph in the hall of memories in the Visitors' Center. Together with his name and photo he wrote his club name, "Penang Adventurers' Club" and his email address.
Mt. Pulag at 2922 MASL is the highest mountain in Luzon island, Philippines and Zaidi Bidin and I began our correspondence when he requested my help in climbing this beautiful mountain. Seeing this photo brought back
memories of our fateful climb
in Mt. Nambuyukong and of Zaidi himself – and these memories live on.