Mountain News: Mt. Mayon, Taal Volcano, and Mt. Bulusan currently off-limits to hikers; same is true for Mt. Halcon and Mt. Banahaw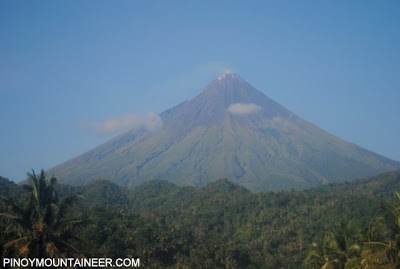 Summary: Mayon, Taal, Bulusan, Halcon, and Banahaw are currently closed to the public as of May 31, 2011.
Mt. Mayon status: Alert Level 1
Since volcanic
earthquakes were reported
in Mt. Mayon last May 15, 2011, the provincial government of Albay has ordered a moratorium on hiking activity up the mountain. March-April saw a resurgence of interest up Mayon Volcano, with Trail Adventours organizing a landmark Mt. Mayon open climb, and with many people using the New Trail. I myself climbed Mayon twice, consecutively, in April 2011. Sadly, people may have to wait for quite a while before Mayon opens up again.
According to the
latest NDCC bulletin
, DOST-PHIVOLCS recommends that the public should not enter the six (6) kilometer radius Permanent Danger Zone (PDZ) due to the continuing threat from sudden small explosions and rockfalls from the upper and middle slopes of the volcano. Moreover, "Active stream/river channels and those perennially identified as lahar prone areas
in the southern sector should also be avoided especially during bad weather conditions or when there is heavy and prolonged rainfall."
Taal Volcano: Alert Level 2
Taal Volcano is one of the most active volcanoes in the world, so it is not surprising that it is showing volcanic activity again. Since last year, Taal Volcano has been closed to the public, and although at times this restriction is not strictly being imposed, there have been reports of tourists blocked by authorities as they attempted to go up the volcano.
According to the
latest NDCC bulletin
: "PHIVOLCS advises the public that the Main Crater, Daang Kastila Trail and Mt. Tabaro (1965-1977 Eruption Site) are strictly off-limits because sudden hazardous steam-driven explosions may occur and high concentrations of toxic gases may accumulate. Breathing air with high concentration of toxic gases can be lethal to
human, animals and even cause damage to vegetation."
Mt. Bulusan: Alert Level 1
Bulusan is still closed. According to the
latest NDCC bulletin
: "Entry to the 4-kilometer radius Permanent Danger Zone (PDZ) is strictly prohibited, since the area is at risk to sudden steam and ash explosions "
Mt. Halcon and Mt. Banahaw updates
In the absence of an enabling ordinance, Mt. Halcon is still officially off-limits to hikers, even though the five-year moratorium on hiking has already lapsed, and a reopening has already been agreed upon in principle by the people concerned.
As for Mt. Banahaw, access is restricted; permits may be issued for special circumstances (i.e. for the purposes of research and documentation) but Banahaw is not scheduled for reopening until April 2012, due to a two-year extension.