Hiking matters #161: Introducing Mt. Binanderahan in Rapu-Rapu Island, Albay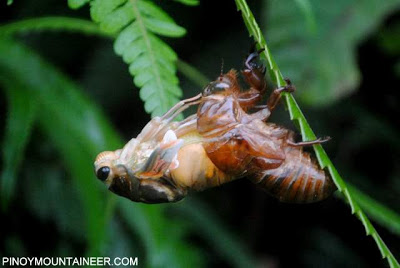 I am pleased to make the first online account of Mt. Binanderahan, the highest point in Rapu-Rapu Island, Albay. At almost 600 MASL (we were not able to determine exact elevation at the peak), this island peak possesses scenic beauty on its trails, and, more interestingly, a pristine ecosystem that contains some astounding fauna – from flying lizards, varicolored birds, unusual insects, and land amphibians and snails.
Our adventure in Rapu-Rapu comes at the invitation of Dr. Yousef Marino, one of my best friends in medical school, who is currently the municipal health officer (MHO) in the municipality of Rapu-Rapu, as part of the Doctors to the Barrios program of the Department of Health. I visited him on April 13, 2011 together with Iron Lady Jo Steven, with whom I was doing the 7-climb 'marathon' in Bicol.
We took the boat that leaves the Legazpi Port (beside Embarcadero) every 0700H and 1200H daily – specifically the earlier schedule. We arrived in Rapu-Rapu at 1000H, and, after a quick brunch courtesy of the very hospitable staff of the municipal guesthouse, we tried to follow Dr. Marino and his staff, on their immunization mission to Brgy. Guadalupe – at 250 MASL the most distant (and only non-coastal barangay in the island.
We came too late, unfortunately, for it took more than 2 hrs 30 mins to reach it. We came upon them along the trail, however, and we agreed to visit the barangay nonetheless, as a courtesy. After this brief visit which took us to a very nice village, we proceeded to the "trail less traveled" and went up the forested slopes leading to Mt. Binanderahan.
Our guide Charlie took us up Mt. Binanderahan. It was set in a dense forest, as beautiful as an island peak can be – albeit too densely covered with plants (and thorns). The pictures with this blog entry are an evidence of the great biodiversity that greeted us along the trail! They delayed our pace, but truly enlivened our ascent, because, seemingly, each leg of the trail brought about a discovery. Indeed, I've never seen a Philippine mountain so alive!
Our 'Bicol Express' has covered famous mountains like Mayon, not-so-famous ones like Mt. Malinao, but this time, we are glad to introduce something new, and something definitely worth visiting. Although the trails can be muddy especially during rainy season, the 'Rapu Rapu Nature Trail' leading to Guadalupe, as well as the bonus trek up Mt. Binanderahan, are great treks for biologists, nature lovers, and those seeking the trail-less-traveled. This highly recommended trek will be inscribed in PinoyMountaineer soon!