Hiking matters #202: Outdoor shops in Osaka (大阪), Japan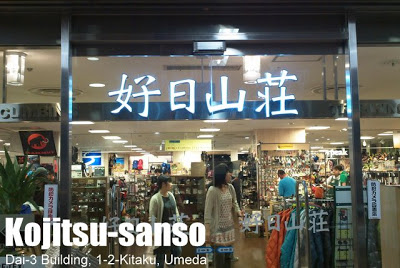 After my three dayhikes in Kansai., I stayed in a hotel near the Osaka Main Station (大阪駅) in Umeda (梅田), and surprisingly, the outdoor shops were very near! My top two picks are located close to each other, just in front of the Osaka Main Station, near Tower Records, along Umeda 1-chome. So actually this post is more precisely "Outdoor shops in Umeda (梅田)".
1. Kojitsu-sanso (好日山荘) Umeda Branch,
Dai-1 Building, Umeda-1-chome 1-2-Kitaku, Umeda (see
website in Japanese
). This is a chain of over 40 outdoor shops in Japan, and they've got sale items.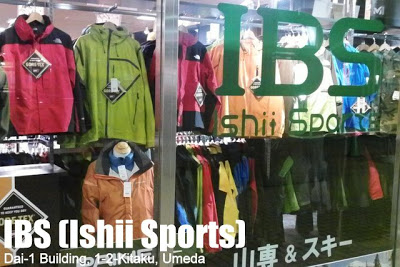 2. Ishii Sports (IBS), Dai-3 Building, Umeda-1-chome, 1-2-Kitaku, Umeda. They've got some really wide assortment of gear, including alpine needs, and I got my first set of Merino wool baselayers in this store! If walking from the Osaka Main Station, cross the road to Umeda 1-chome and you can see its billboard on the wall of the second floor. Enter the building and go up to the 2F, where you'll find it. Again, some items on sale, and lots of selection, including books on hiking in Japan (Hyakumeizan, anyone?)
3. GARE WEST, just adjacent to the Sakurabashi Gate of the Osaka Main Station, has an entire floor devoted to outdoor gear, with brands such as Mont Bell, TNF, Columbia, Lafuma, Millet, and even some unknown-to-me Scandinavian brands well represented. Some pictures of the outdoor shops: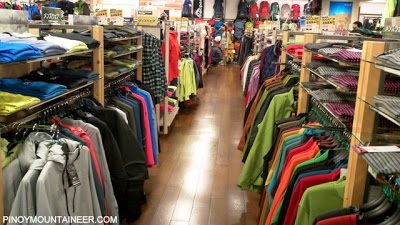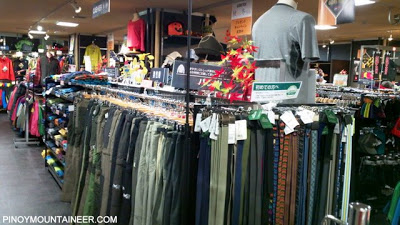 Overall, I think the prices in the outdoor shops in Japan are more expensive that those of Korea and Taiwan, where I got real bargains. But items on sale in Japan can really be pleasant surprises!