Hiking matters #209: Successful ascent of Snow Mountain (雪山), 3886 MASL, Taiwan's second highest peak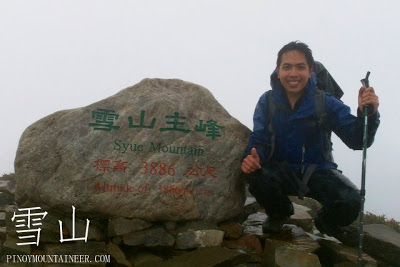 TAIPEI, TAIWAN – I am about to return to Manila, but before leaving this beautiful country, it is with great joy and thanksgiving that I relay the news that our team of seven successfully reached the summit of Snow Mountain (Xueshan; 雪山) at 1615H, November 11, 2011 amid inclement weather that threatened to thwart our bid to reach the summit.
From the trailhead in Wuling Farm, we stayed at Cika Cabin on the evening of the 10th, and pushed onwards to 369 Cabin, before performing the summit assault, during which we were faced with a chilly weather that reached 3 degrees Celsius. Finally, after inching our way up the 10.9 kilometer mark, we reached the summit at 1615H, in the auspicious date of 11/11/11.
I will be narrating the entire climb, with pictures and videos, when I get back to the Philippines. Meanwhile, congratulations Coby, Doc Koko, Farah, Julian, Lear, and Mafel for all making it to the summit, and thank you for the team spirit and camaraderie! I really enjoyed this climb, and will definitely be back for more climbs in Taiwan.