Mountain News: Romi Garduce, Levi Nayahangan, to scale Vinson Massif, highest peak in Antarctica, in Seven Summits bid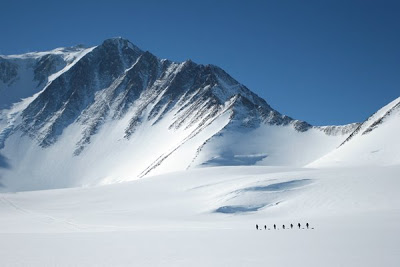 Two Pinoy mountaineers, Romi Garduce and his hiking partner Levi Nayahangan are leaving Manila on December 23 to travel to Antarctica to climb Vinson Massif, which would complete Romi's bid to complete the Seven Summits of the World. Both Romi and Levi and members of the UP Mountaineeers, and they had most recently climbed Cartensz Pyramid in Irian Jaya, Indonesia.
Romi Garduce told PinoyMountaineer.com that Vinson Massif will be "a mental climb". The Vinson Massif climb normally takes 13 days, so we are expecting them to reach the summit in the last few days of the year.
GMA Network
is supporting Romi and will surely provide live updates and news about their expedition. ROX Philippines is also supporting them.
Their climb has a special significance for me as I will climbing one of the Seven Summits, Mt. Kilamanjaro, hopefully my first, also later this month, as the organizer of a six-person, all-Filipino team that will ascend the mountain via the Rongai Trail.
We will be praying for the success of Romi and Levi in their Vinson Massif climb, which would make them the first Filipinos to climb Antarctica's highest peak.