Hiking matters #223: Mt. Kilimanjaro, Day 3 – From Second to Third Cave via the Moorlands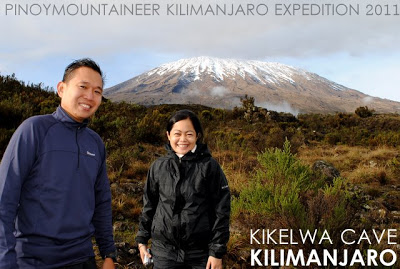 On our third day in Mt. Kilimanjaro, we woke up to a splendid view of the snows of the mountain! To us, it was both a blessing and a sign. It was not yet chillingly cold at our 3450 MASL campsite; the goal was to push to 3900 MASL.
Past the second campsite, we trekked across the Moorlands of Kilimanjaro. It was another easy day of trekking, which kinda bothered me into thinking that perhaps all the difficulty will be concentrated on our final days!
Along the trail, I saw many remarkable flora, and there were some reptiles too, including the one below, which our guide Freddie told me was what they call a chameleon. Indeed, the wildlife so far has been stunning – I also glimpsed on some blue monkeys on our first day of trekking.
After another four hours of trekking, we arrived at the Third Cave Campsite. Since some groups go to the Mawenzi Tarn Campsite, there were only a few groups in our campsite, so it was a very quiet and peaceful place. In a rare burst of elation, I sang a song as the faint glow of Kilimanjaro's snow quietly dominated the night sky.