Hiking matters #297: Stok Kangri (6153m) Day 2: From Zingchan to Stok La Base Camp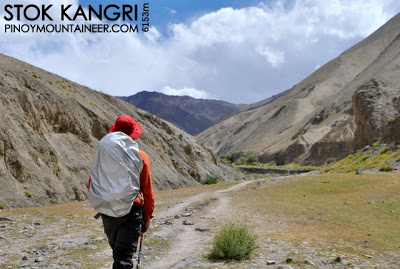 On Day 2 of our Stok Kangri trek, we proceeded from the initial camp of Zingchan to Stok La Base Camp, which is at the foot of a steep pass called Stok La, the summit of a highland path which connects two villages. "La" means pass, as in Khardung La and Chang La, which we passed through in order to reach the famous Pangong Lake.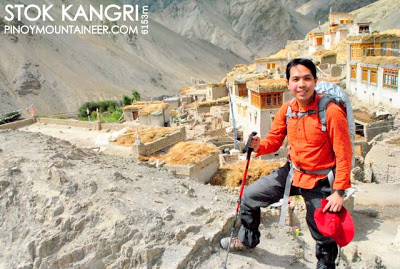 Once again, the trek was easy and uneventful, reminscent of the Kilimanjaro trekking days. The only attraction of this part of the trek was passing through the village (Zingchan proper?) which had gompas (religious edifices shaped like mini stupas) and houses made in the traditional style.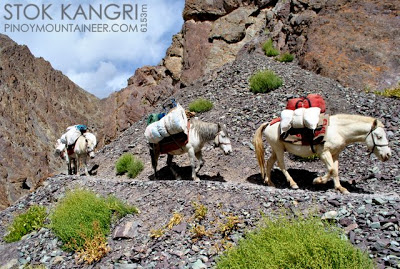 At this point, let me share with you some interesting things about how the trek is done. Our supplies and duffel bags are carried by donkeys, which struck us as sure-footed, well-oriented, and obedient animals. There was a local. Then, there was a cook and an assistant cook, who cooked all our meals. Finally, for the guiding part, we had a lead guide and an assistant guide. Both were relatively young and seemed to be familiar with the different mountains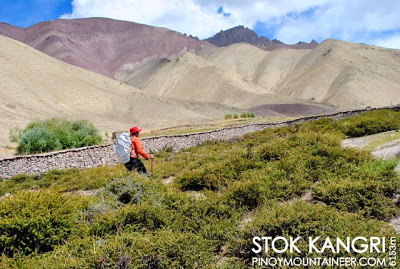 We are provided with tents, two persons on each, and there is a separate tent for cooking, and another for dining. This is where we have our breakfast and dinner, as well as afternoon tea after finishing the day's trek. The food is – unfortunately for us carnivores – mainly vegetarian, Indian dishes – but I actually learned to appreciate the
chipati
and the
dal
. As the trek progressed, the moral lesson of "Bring beef jerky and corned beef as baon!" was not lost on us.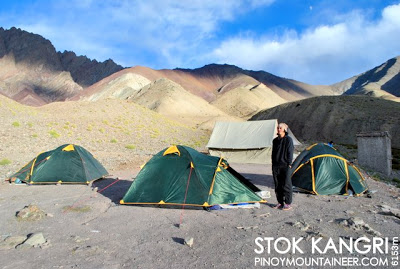 Going back to the trek, on our second day, we began practicing the
pole-pole
pace of trekking: slowly but surely. It took us about 5-6 hours to reach the Stok La Base Camp; which stood at 4400 MASL – higher than Mt. Kinabalu. We could see the snowcapped peaks on the other side of a brook that served as the campsite's watersource, and formidable mountains leading to Stok La (4900m) loomed ahead.
STOK KANGRI EXPEDITION 2012
HM#296: Day 1 Spituk-Zingchan
HM#297: Day 2 Zingchan-Stok La
HM#298: Day 3 Stok La-Mankorma
HM#299: Day 4 Mankorma-Basecamp
HM#300: Day 5: Summit assault
HM#301: Day 6 Basecamp-Stok Village