Mountain News: First-time female hiker, 27, dies in Mt. Batulao in tragic fall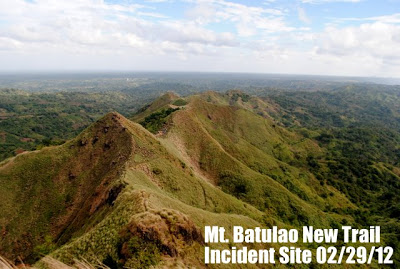 Update (3/2/12): Mt. Batulao remains open on both trails to the public. There are no changes in the status of Mt. Batulao.
Update (3/1/12): Diana Fajardo's wake is at Evergreen Memorial Chapel C. Raymundo in Pasig City.
(UPDATED 0052H, 3/1/12) MANILA – Multiple sources have confirmed to us that Diana Fajardo, a first-time female hiker, 27, from Cainta, Rizal died in Mt. Batulao's New Trail while crossing the ridges from Peak 8 to Peak 9 late morning today, February 29, 2012.
One barangay official told PinoyMountaineer.com that the fall may have been caused by sudden dizziness, whereas
ABS-CBN reports
that "The victim's friends said they stopped to take a photograph at Peak 8 of Mt. Batulao's New Trail when Fajardo lost her balance." Various accounts estimate the height of the fall from 250-300 ft. The incident happened at around 1100H.
Multiple sources say that Diana was part of a group of six hikers from Cainta who went up Mt. Batulao on a dayhike.
Our statement regarding this tragic incident is as follows: "We wish to convey our deepest condolences to Diana Fajardo's family and loved ones. This is very sad news for all of us, even as we wish to assure everyone that hiking is a very safe activity as long as proper safety measures are practiced."
REACTIONS FROM HIKERS
As soon as the news of the tragic incident came out in the Internet, an outpouring of sympathy came from the mountaineering community, with hundreds of hikers expressing their condolences and their personal reflections on the incident in the PM Facebook page. Here are some of their sentiments:
@Joey: "There's a peak in the new trail of batulao(im not sure if its peak 9) that should not be climbed. I accidentaly climbed it with my brother last december due to the confusion with the blurred warning sign below, and it was indeed a very steep and dangerous trail that will lead you to nowhere! I strongly suggest to put a fence there to keep mountaineers away from that trail."
@Indigo: "On behalf of Kislap Mountaineering Society (KMS), our deepest sympathy to a fellow mountaineer. May this be a reminder to us all the value of life and the journey that begins in each and every step we take."
@El Tarik: "Nakikiramay ang mga kagrupo ko sa namatayan::: Ang Mpuntaineering ay isang larong nakakamatay, nakalagay na yan sa encyclopedia nuong panahon na unang kong pagreresearch about sa mountaineering (1989), dangan nga lamang ay hindi na yan itinuturo sa BMC101, ang pinalalabas ngayun sa mga training ay masaya, rock on, bisyo, alak, yosi, raggae ang mountaineering. inalis ang mga salitang babala, ito ay nakakamatay."
@Lakan: "Condolence po sa pamilya at kaibigan. We should always be careful sa lahat ng climb – minor man o hindi. Take care mountaineers."
@Mai: "It doesnt mean we have to stop hiking…wherever you are right now you may rest in peace…i salute you for being brave in conquerring mountains…pag umaakyat talaga laging handa dahil hindi natin alam what will happen only god knows kung kailan niya tayo kukunin..condolence to her family…"