Mountain News: News from Makiling / Changes in the Maktrav Trail coming soon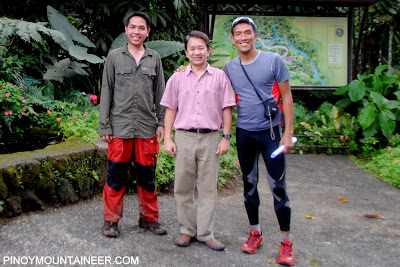 After doing Maktrav last Wednesday (Hiking matters #236), Leo Oracion and I proceeded to pay a courtesy call to the Prof. Robby Cereno, director of the Makiling Center for Mountain Ecosystems (MCME) who also fulfill the role of the "PASU" of Mt. Makiling.
Tito Robby (he is a college classmate of both of my parents) told us that soon there will be changes in the Maktrav Trail, saying that soon, the Sipit Trail will be the designated and established trail from Sto. Tomas. Over 30 locals of Brgy. San Vicente have been trained as guides, and there will be a proper registration area for hikers. Also, a drop-off point along Maharlika Highway will be set, with tricycle drivers on that site informed that hikers will be coming in, and they will know where to bring them. Furthermore, the Palanggana Trail will be closed; it is not advisable to use the trail as it passes by private property.
This is a welcome development, and I told Tito Robby that I will reflect the changes in the PinoyMountaineer articles on Mt. Makiling as soon as it is implemented. For me, the fact that there are trained guides from Sto. Tomas, and there is coordination between the two sides of the mountain, are important safety measures.
On a personal note I am glad that I have taken the old Palanggana Trail, about to be phased out, twice this week. I also look forward to using the Sipit Trail again — this is actually the first trail I took up Sto. Tomas, during the time when the Maktrav Dayhike wasn't popular yet.
The Maquiling Quest 2012 will be held tomorrow (Leo Oracion will participate as part of the Salomon Team) and will feature the newly-designated Maktrav trail for the first time. PinoyMountaineer wishes the best for the organizers and participants of this race!