Hiking matters #235: Makiling Traverse – It's nice to do the Maktrav dayhike again!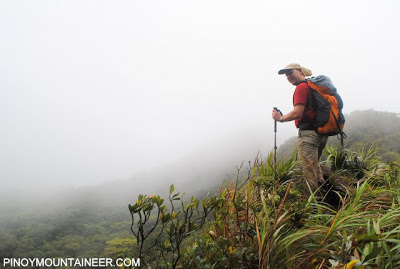 I'm very glad that today, I was able to do the Maktrav dayhike again, this time with my American friend Chris, with whom I did my previous Makiling climb – a regular Makiling in November 2011 (Hiking matters #217). With today's climb, I have been able to continue my personal tradition of climbing Makiling at least once a year – something I have done since 1999.
We took the Lucena-bound bus from LRT Gil Puyat, got off at Sto. Tomas Public Market (P91) and from there, took a tricycle to the barangay hall of Brgy. San Bartolome (P50/trip), where we logged in and paid a fee of P20. Then, we started trekking.
Like I've written before, the trickiest part of MakTrav is getting to the main trail. The trail I used to pass by was gone, and instead of passing by the crosses, I managed to connect via the main trail through a muddy path that was fenced by bamboo, with a couple of signs saying "Plantation".
Anyway, not long after this confusing part, we reached the Palanggana Ridge, which is a grassy slope with some scattered rocks that make for nice vantage points. Past this ridge came Palanggana Peak, then the Melkas Campsite: between these points, the winding trail went up and down and at this point, it was raining.
Fortunately, though, there was no rain when we began the ascent up the famous Melkas ridge, the visual highlight of the Maktrav, with its sheer cliffs and expansive view of the forests beneath Makiling's peaks, plus an intermittent view of Taal Lake, Mt. Malipunyo, and the towns of Batangas.
The ropes were thin and/or old, and the rocks slippery, but we managed to reach Peak 3 after negotiating the ridge and taking some time to enjoy the view. From the Peak 3, there was a major descent that was made interesting by some recent landslides; at times there were ribbons to guide us, but many times it was memory that reassured me that we were on the right track.
Aside from the trekking, there was the concomitant activity of dodging your head and limbs from thorn, branch, and spider web; there was also the necessary act of doing limatik checks every now and then. Fortunately (and we attributed it to the fact that there were just two of us trekking) we didn't have any limatik bites!
The intensity of the trail continued until we started ascending – this is the sure sign that Peak 2 was nearby. And true enough, after a few more segments of rope and cogon-assisted ascents, by 1315H we were at Peak 2, the summit of Mt. Makiling! I've been in that place many times – I have lost count but at least 15 times – but it feels different when coming from the Sto. Tomas side!
The descent was unremarkable, and I was beginning to lament at the thought of having to walk through the endless rough road from the Nursery to the trailhead – a road that seemed to get longer and longer each time I take that path. The offer, then, of motorcycles to take us down made a lot of sense and we took it, for P70/person. Since I actually live in Los Banos, I was home by 1630H!
In this climb, I realized that the Makiling Traverse is on a class of its own, among the dayhikes near Manila. Considering that I spent less than P500 on this climb, food and transpo to and from Manila included, it's one of the cheapest climbs too! Chris, who has climbed throughout the globe, said that it's really one awesome dayhike and I agree: I think that rather than always taking the bus to Los Banos, I would consider more often the option of doing the Maktrav on the way home!