Hiking matters #238: Into Maria Makiling's Realm – My first Maktrav attempt in 2008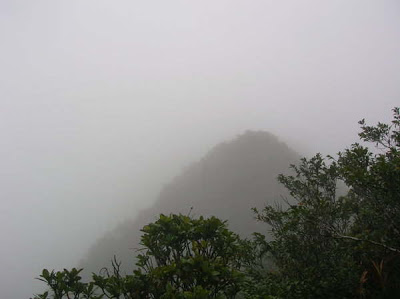 by Gideon Lasco
January 12, 2008
Blogger's note: This climb was held during a time when the Maktrav dayhike as we now know it was not popular yet. Interestingly, when I wrote this article, I did not use the term "Maktrav" yet! The term "Maktrav" was first used in our account of a Mt. Makiling via Sto. Tomas on January 18, 2008.
THE GRASS IS ALWAYS GREENER ON THE OTHER SIDE. this expression couldn't have been more apt and literal for a Los Baños kid who used to climb Mt. Makiling on the UPLB trail. Climbing the Sto. Tomas trail on that day of perpetual rain and hardship, I could only hope that we were already descending via UPLB. The trail was much easier on the other side.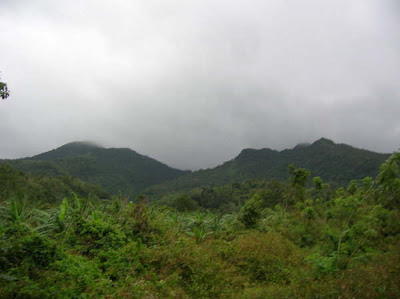 We started very early from San Miguel, Batangas. The night before, I took the last trip from Buendia to my friends' house in Sto. Tomas. It was the ideal base for staging a Mt. Makiling traverse climb. By 620, we began trekking from Brgy. San Miguel. This was not the usual jump-off – perhaps not even the usual trail. Without a guide, we were left to our navigational skills.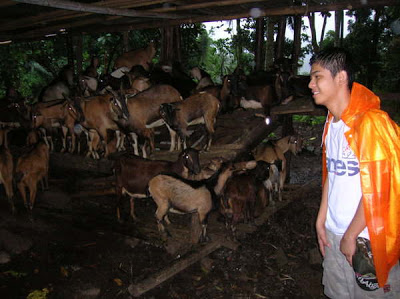 Fortunately, we encountered some locals who gave directions. Unfortunately, they were conflicting and oftentimes vague (the lesson here is not just to double check, but triple check!). In 30 minutes, however, we knew we were onto something, having spotted the Station 1 sign, and very soon, Station 2. We saw more than a hundred goats huddling together in one shed, fearful of the rain. Then we encountered the 'Rocky River'. From here there were no clear trails, but we took a path on the left.
The trail was established somewhat, but with no clear trail markings. At this point the limatik have began their steely resolve to bleed us to death, and my disposable poncho was beginning to get shredded by rattan thorns. Finally, just as when we were about to lose hope, we stumbled upon the real trail, reaching what I think is the Palanggana Peak. We used the compass to decide which direction we'll head, and from here we followed the white and red ribbons. Timecheck: 1110hr. I took some pictures to document our arrival here.
We followed the trail NW, and we rejoiced upon seeing the signboard at Melkas Ridge campsite! I guess this is also the Gubatan. Here we feasted on Skyflakes and Mentos. Then we began the trek up to the ridge, reaching Haring Bato at noontime. The clouds obscured all views, but I could imagine the scenic vista, of the Batangas towns and mountains such as Mt. Maculot and Mt. Malipunyo. I took time to take pictures of Haring Bato and the pitcher plants. Further up the ridge, there was the sense of thrill of walking between two ravines, but also of danger: this place has taken its toll on climbers past. Ropes assisted us in the steep inclines, and by 1300, we were already in the cogon-surrounded clearining which I held to be Peak 3.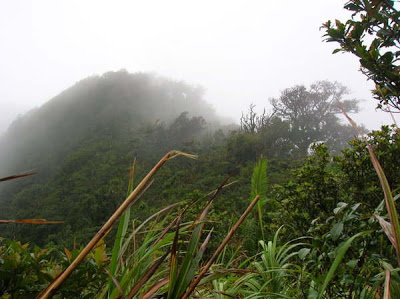 But from there, the trail began to be even more difficult: the trails were barely discernible and
the overgrowth was a major impediment to our progress. By 1400, although there were some trail signs, the trail grew more and more obscure, the weather grew worse (we were already chilling) and we were already crawling our way on muddy soil just to press forward. Finally, when it became clear that pushing to Peak 2 carries risks of uncertainty, we decided to turn back. It was 1430hr.
The decision was painful because we knew we were close. Unfortunately, we had only few meters' visibility and there was no way of monitoring our progress. The trails would, and we could not afford to spend the night on this weather, let alone trek Melkas Ridge at night. If we decended now, we thought, we could be in the forest by nightfall, and from there we'll just retrace our steps back to the jump-off.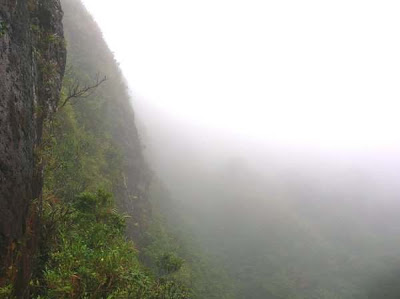 And so the descent to Haring Bato begun, amid the gusty winds and rain. The trails got even more slippery this time. It was already 1600 when we reached the campsite. To add to our woes, a limatik entered my left eye and couldn't be removed. Not long afterward, my companion Ephraim realized that his bag had been open and his clothes, our food, and his cellphone were gone! Time was 1630. We were still at Palanggana Peak, the rains wouldn't stop, and there I was, entertaining thoughts that I might go blind with the limatik sucking my optic nerve even as I tried to comfort Eph with the loss. We decided to eat whatever food we have, and press on. Morale was at its lowest point but we were still in high ground.
Soon it was nightfall. I opened my headlamp (the only light we have) and navigated our way through the jungle maze, following the straight, open lines, bending low to see its continuity. I no longer minded the thorns or the ocassional abrasions: what was important was for us to get back to safety tonight. From time to time I checked my compass to see if we were still headed SE.
Things seemed to get worse: we encountered a green snake, more than two meters long, slithering through the cogon. It was just two feet away from me.
Still, we had to get down.
Finally, after 2 hours of descent, we encountered some trail signs that we also saw earlier. Things got better and better: we began to hear the Rocky River, now raging with rainwater, and finally we exited the forest. Fortunately we remembered the exact place where we entered Great was our relief when we saw the goats at Station 2! Euphoria amid the rain and our thousand rattan cuts!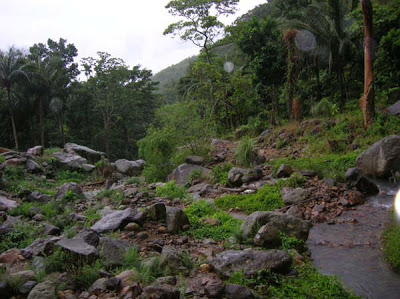 2030hr found us in the Resthouse, at home with the friendly family there. Corned beef and rice never tasted so good. Brothers Glenn and Denmark entertained us with their tales of the forest, while their father plucked one of the limatik from my right eye. What was the feeling like? In case you want to know, it was like having my eyeball plucked away from me! The limatik on the other eye refused to leave, it stayed there, until later that night, asleep in the Resthouse, I felt something exiting my eye. I let it be.
The next day was an easy walk to the highway. After several hours in my grandparents' house in San Pablo City, I returned to Manila.
Here in my dorm, back with my PC at hand, I was able to confirm that we were so close from the UPLB trail, and our elevation was virtually summit-level before we headed back. Oh well. Had we stumbled upon the UPLB trail it would have been a complete success, but it is during setbacks that our outdoor skills are put to the test, and great adventures are experienced.
It took me 45 minutes to take a bath right after the climb – a personal record.
Just before writing this account, I consulted PGH-Opthalmology. The diagnosis? subconjunctival hemorrhage secondary to leech bite.
Kris asked me if I took pictures of the limatik in my eye.
"Of course not!" I answered.
"You should take pictures next time!" she responded.
"There is no next time!" I gleefully retored.
Even then, I knew in my heart that there would be a next time. If and when it happens, I will take pictures. After all, as an outdoorsman, it is all that I can take.