Mountain News: Pico de Loro in INQUIRER front page today / Kudos, PDI!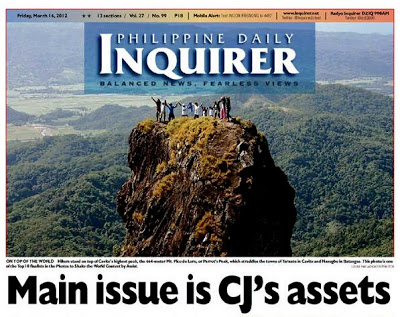 Isn't it nice to see one of our favorite peaks featured in the front page of the country's leading newspaper? And it is not just Pico de Loro, whose parrot's beak today hover above the headline of the Philippine Daily Inquirer. We have seen Mt. Pulag featured a number of times in the same daily.
Moreover, the Inquirer has been very strong in reportage that is relevant and specific to mountaineers. Banahaw's status, for instance, has been covered with news writer Delfin Mallari, and we have seen some of the significant events in hiking documented by Inquirer, including the recent tragedies that .
This, I believe, augurs well for the hiking community, both a sign and support of the growth of mountain climbing as a mainstream sport and recreational activity in the Philippines. I have a suspicion that there are mountaineers working in Inquirer, or at least some of them love the mountains, too. And I say this not just because my friend, Inquirer columnist and former UP law dean Raul Pangalangan, climbed Mt. Pulag last weekend!
Who will tell the world of the beauty of our mountains, and the richness of the culture that is intertwined within them? The power of the press to project the images of beauty that reside within these places, even alongside and above tidings of our national discourse, is awesome, and when used, commendable. We have beautiful beaches, yes, but we have beautiful mountains, too! This is one of the reasons why it's more fun in the Philippines!
Kudos, then, to Inquirer for highlighting the heights! We look forward to seeing more mountains (and mountaineers) in your pages in the future.
Now, if only Patricia Evangelista would climb a mountain!