Mt. Arayat/Traverse (1,030+)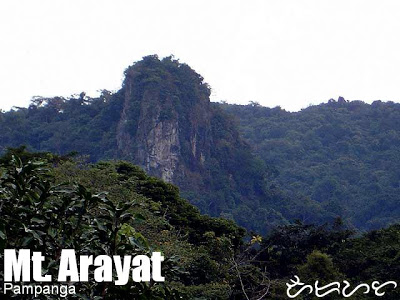 Mt. ARAYAT (MAGALANG-ARAYAT TRAVERSE)
Arayat and Magalang, Pampanga
Entry point: Brgy. Ayala, Magalang, Pampanga
Exit point: Brgy. Juan Bano, Arayat, Pampanga
LLA: 15.2067N, 120.7441E, 1030 MASL
Days required / Hours to summit: 1-2 days / 5 hours (NP) 8 hours (SP)
Specs: Major climb, Difficulty 5/9, Trail class 1-4 (10kms)
Features: Tropical forest, scenic views of Central Luzon
BACKGROUND
The popularity of traverses has not abated. As a trivia, there are even traverses for the three most difficult mountains in the country. A Mt. Guiting-Guiting Traverse has been done by at least three Filipino groups including that of Romi Garduce; A Mt. Halcon Traverse is said to be once a favorite of the AMCI; and a Mt. Mantalingajan traverse – virtually crossing the width of southern Palawan from Brooke's Point to Rizal – has been reportedly done by a Japanese mountaineer a few years ago. Of course, one of our country's great mountaineering feats was the Mt. Everest traverse done by Noelle Wenceslao, Janet Belarmino, and Karina Dayondon in 2007.
Closer to home we have a traverse of Mt. Makiling from Sto. Tomas to Los Banos. Its northern counterpart is a traverse of Mt. Arayat from Magalang, Pampanga to the more popular trail down Arayat Ecological Park in Arayat town. This traverse, with its difficulty comparable with that of a Maktrav, takes you to the two peaks of Mt. Arayat: North Peak (Peak 1; 1030 MASL) and South Peak (Peak 2; 1008 MASL). Between these peaks is a ridgeline where much of the difficulty of the traverse lies. After 3 hours, its back to the familiar, forested Peak 2 of Mt. Arayat.
At the North Peak, which serves as the campsite of an overnight traverse, the view is 270 degrees, and encompasses the Central provinces of Pampanga, Nueva Ecija, Zambales, and Bataan. The landmark here is the police outpost / tower. On the other hand, there is a viewdeck near the South Peak where a more southern view may be seen. Between these two peaks stand the major geographic feature of the mountain – the 'White Rock' which is visible from Magalang and other towns in Pampanga. Legend has it that this stone was hurled by the mythical personification of Mt. Pinatubo.
For more information on Mt. Arayat, visit the Mt. Arayat (Arayat Trail) page.
ITINERARY
Traverse from Magalang to Arayat
DAYHIKE
0400 Take bus from Manila (Cubao) to San Fernando, Pampanga
0600 ETA San Fernando. Take jeep to Magalang
0700 ETA Magalang; take trike to jumpoff in Brgy. Ayala
0800 ETA Brgy. Ayala; start trek
1100 Arrival at North Peak. Major rest stop
1130 Resume trek
1230 Haring Bato
1300 Arrival at South Peak. Lunch / Visit the viewpoint
1400 Start descent
1700 ETA cement road / monitoring site / End of trek
1730 Tidy up at the Arayat National Park complex
1800 Back to San Fernando via Arayat town
1900 Dinner at San Fernando, Pampanga
2030 Take bus back to Manila
2300 Back in Manila (Cubao)
OVERNIGHT
Day 1
0630 Take bus from Manila (Cubao) to San Fernando, Pampanga
0900 ETA San Fernando. Take jeep to Magalang
0930ETA Magalang; take trike to jumpoff in Brgy. Ayala
1000 ETA Brgy. Ayala; start trek
1600 ETA North Peak (Peak 1); set up camp at tower grounds
1800 Dinner / socials
Day 2
0600 Wake up call
0700 Start traverse to South Peak via ridgeline
1000 ETA South Peak (Peak 2); visit viewdeck. Lunch.
1200 Start descent
1430 ETA National Park; bathe at the natural pools
1500 Head back to Manila or to Angeles City for side trips
Note: If there is enough time it is also possible to add another 1.5-2 hours on Day 1 and camp at the South Peak instead of the North.
TRAIL AND NAVIGATION MAP
Click on the image to see the full-size map. Note that some of the data are approximates and the map is only meant to be a fairly-reliable overview of the trail and topography.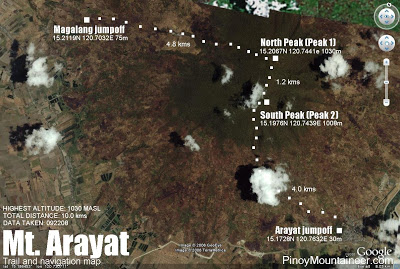 PRACTICALITIES: MT. ARAYAT TRAVERSE
Transportation

Public

(1) Bus or Van, Cubao to San Fernando [P110; 1.5-2 hours]

(2) Jeep, San Fernando to Magalang [P35/person or P800 for the whole jeep; 45 mins]

(3) Tricycle, Magalang to Brgy. Ayala [P60/trike; 15 mins]

RETURN
(1) Tricycle, Arayat National Park to Arayat town [P15/person; 15 mins]
(2) Jeep, Arayat to Angeles City (P28, 30 minutes]
(3) Bus or van, Angeles City to Manila via San Fernando or directly [P120; 2 hours]


Alternatively, charter a jeepney to pick you up from the Arayat National Park jumpoff back to San Fernando

Approximately 3-3.5 hours travel time per day because of various stops and delays.

Registration

(1) Logbook at the trailhead in Brgy. Ayala
(2) Logbook at the military outpost at the North Peak
(3) Logbook at the monitoring site at the end of the cement road at San Juan Baño

Not required
Available at the trailhead
Fees are negotiable


Please share contact numbers if you have them

Campsites and waypoints

Camping is possible at the North Peak and South Peak campsites.

Water sources

No water sources along the trail.

Cellphone signal

Sporadic throughout the trail

River crossings

None

Roped segments

Just a short section past the Haring Bato area in the traverse trail from the NP to SP

None

Few

Rattan

Few

Hiking notes

There's a lot of mosquitoes in the trail (and campsites) so consider bringing insect repellant! Mt. Arayat can also be very hot and dry.

Sidetrips

There are no nearby mountains but Pampanga is famous for its cuisine so you may want to hang out in San Fernando after the hike for a food trip — with halo-halo or buko pandan for dessert.

Alternate trails

Yes

Facilities at jumpoff

(+) Sari-sari stores -at San Juan Bano
(-) Carinderias / paluto
(+) Wash-up / shower places – at San Juan Bano, with swimming pool

500-700 (dayhike)
800-1000 (overnight)
MT. ARAYAT PICTURES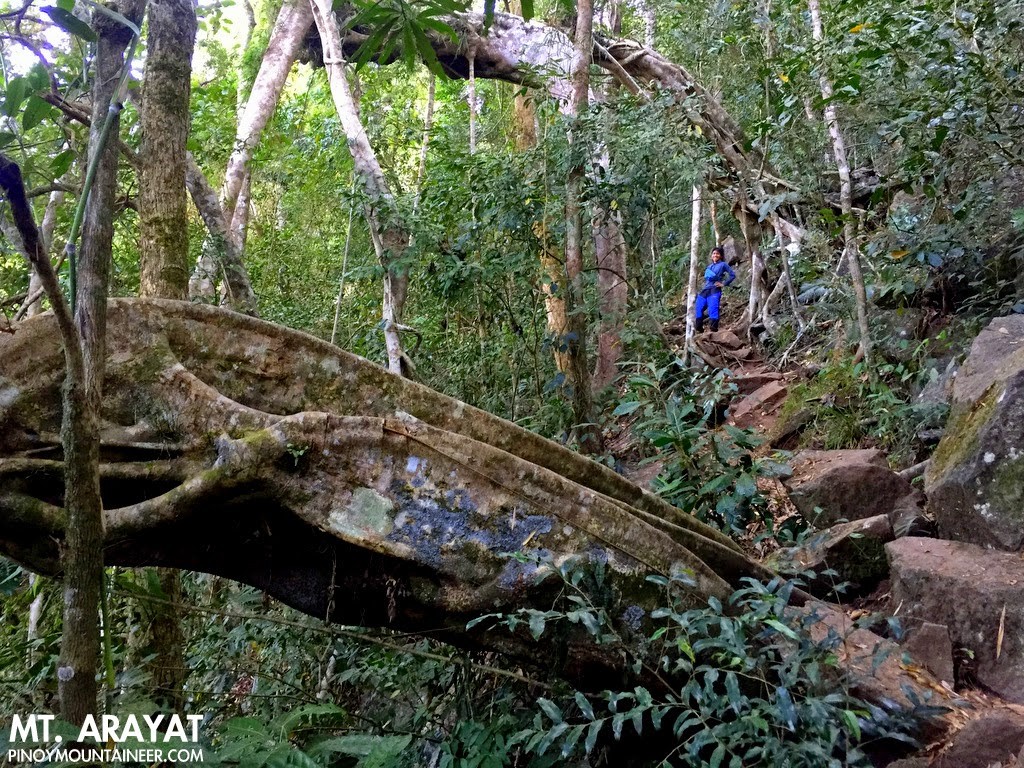 The trail is characterised by rocky, well-established trails surrounded by a spacious forest graced with mighty dipterocarps with wide buttresses.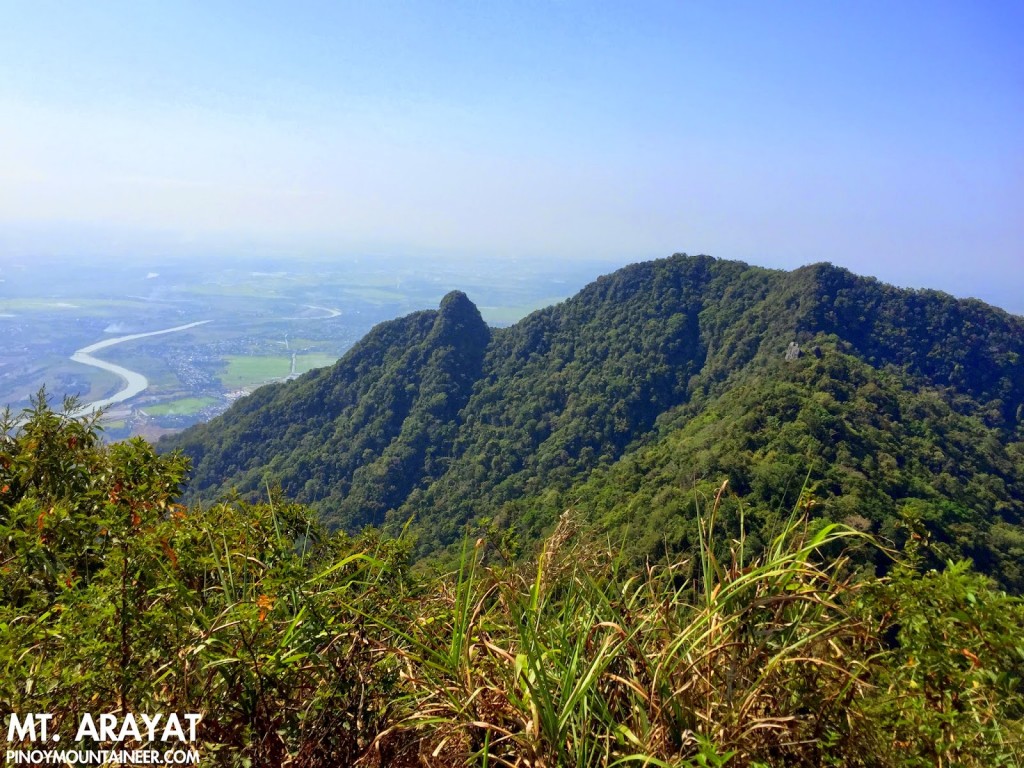 The South Peak as viewed from the North Peak. Take note of the ridge where the traverse trail passes through.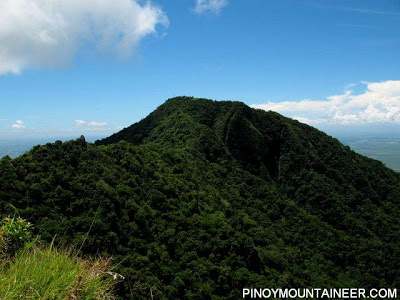 The North Peak as seen from the South Peak viewpoint. You can also see the ridge where the traverse trail passes through.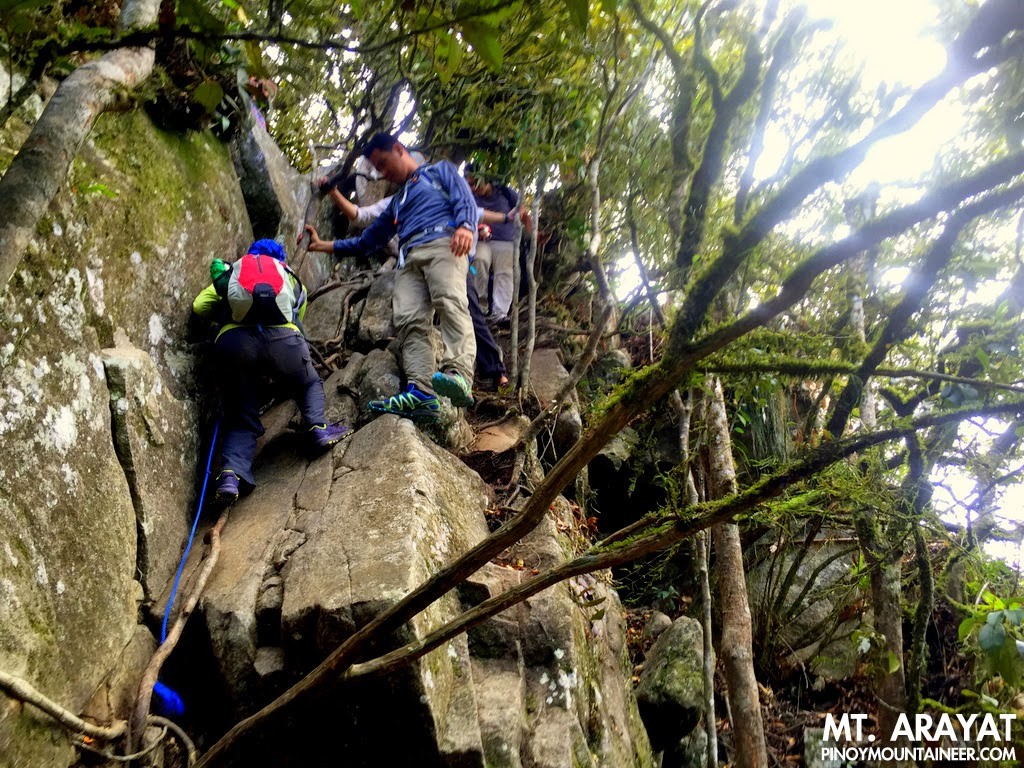 There are some steep portions on the traverse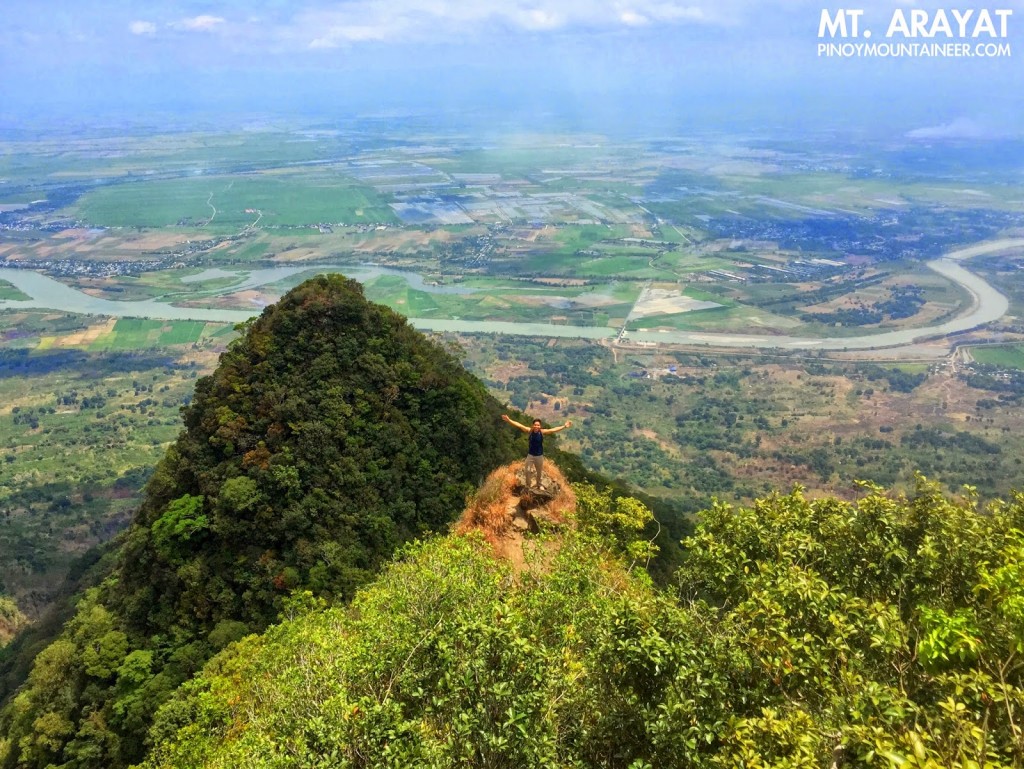 At the South Peak, with Pampanga River on the background, during a Mt. Arayat Traverse dayhike on March 2015.
TRIVIA
Change in convention: To avoid confusion, PinoyMountaineer naming the peaks according to their position; hence in this itinerary they are officially called "North Peak (Peak 1)" and South Peak (Peak 2)".
The blogger has hiked Mt. Arayat thrice, the first in 2007 (before the blog was started), the second in 2009 as a traverse (Hiking matters #49: A dayhike traverse of Mt. Arayat) and the third as another traverse, in March 2015 (Hiking matters #450).